You are here
Arts BC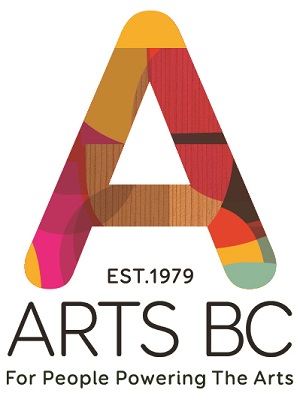 Arts BC is a provincial arts service organization providing individuals and organizations the tools and support to excel at arts and cultural leadership of all types and forms. For forty years, their mandate is to support and develop the central role of arts and culture in building sustainable, vibrant and economically diverse communities in BC.
Arts and culture leaders are the living, breathing force in BC's creative ecology. They are our most precious resource and help generate vibrant communities and artistic activity throughout our province. Arts BC works to cultivate community cultural development through knowledge-sharing and serving its province-wide network of 300 arts councils, arts, culture and heritage organizations, individual artists, creative entrepreneurs, community and partner groups. In other words, the people powering the arts in BC!
We know the challenges that community arts and culture leaders face on a daily basis. More importantly, we help solve problems.
Arts BC is a charitable organization that relies on the support of its donors, members and supporters. The Legacy Fund will be used to support Arts BC's annual conference, which provides quality training and networking opportunities to volunteers and professionals working in community arts in BC.
One of the most important services offered is the annual Arts BC conference and community cultural forums held around the province. Each year, the conference provides the opportunity for community arts leaders to come together, share stories, foster peer learning and offer deeper skill development for administrators and volunteers. The community cultural forums provide the same opportunity at regional and community levels throughout B.C.

Contact the Organization:
To properly recognize all donors for their contributions, Vancouver Foundation will share your name and donation amount with the fund advisor unless you have checked the anonymous box on the donation form.
Donations to this fund will support the charity's general charitable purposes. Statements about the fund's purpose or how donations will be applied are reflective of the charity's current intent and are subject to change. 
All donations to this fund will be permanently endowed.
For questions about this fund or Vancouver Foundation, please email Mandy Pui.