You are here
The John H. McArthur Distinguished Fellowship

The John H. McArthur Distinguished Fellowship was established by the Asia Pacific Foundation of Canada (APF Canada) to honour the late John H. McArthur, an exemplary Canadian, world-renowned business educator and former Chair of the APF Canada Board of Directors. Dr. McArthur, a native of Burnaby, British Columbia, was an Officer of the Order of Canada and Dean Emeritus at Harvard Business School.
Supported by the creation of a $2-million fund and a growing number of generous donors, the Distinguished Fellowship is awarded to an accomplished Asia Pacific thought leader who will conduct actionable research and elevate the work of APF Canada.
The recipient of the Distinguished Fellowship will make a significant contribution to APF Canada and global development through: policy-focused research, speaking engagements and workshops, published opinion pieces, and networking among experts and specialists on Canada-Asia relations.
The APF Canada executive in consultation with the John H. McArthur Distinguished Fellowship Selection Committee and the APF Canada Board will determine the selection of successful candidates. We invite you to support us in this historic initiative commemorating the remarkable legacy of John H. McArthur.
Giving Options for American Donors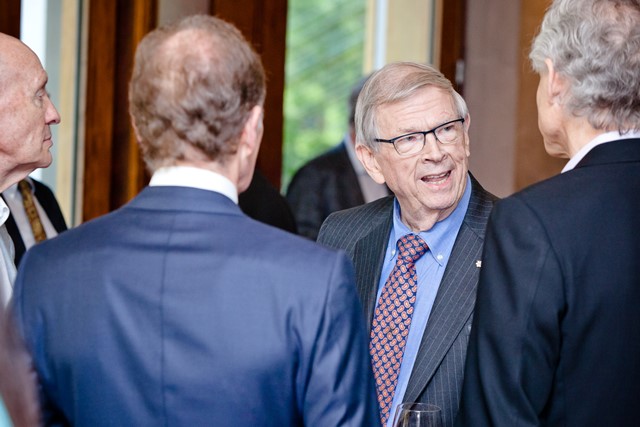 We welcome donations from the United States. Click here for giving options for American donors. Thank you for your generosity.
About the Asia Pacific Foundation of Canada
The Asia Pacific Foundation of Canada (APF Canada) is a not-for-profit organization focused on Canada's relations with Asia. Our mission is to be Canada's catalyst for engagement with Asia and Asia's bridge to Canada.
A leader in research and analysis on Canada-Asia relations for over 30 years, APF Canada partners with government, business leaders, academics, and opinion makers in Canada and across the Asia Pacific region to offer clear, specific, and actionable policy advice.
Established by an Act of Parliament in 1984, APF Canada's thematic priorities include: promoting trade, investment, and innovation; mobilizing energy assets; building skills and competencies; and, understanding Asia now.
For more information, visit APF Canada's website. 
For questions about this fund or Vancouver Foundation, please email
Calvin Fong
or call 604.629.5357
Asia Pacific Foundation of Canada
900 - 675 West Hastings Street
Vancouver
BC
V6B 1N2
Please note:
This fund's granting purpose is subject to change.
In order to properly recognize all donors for their contributions, Vancouver Foundation will share your name and donation amount with the fund advisor unless you have checked the anonymous box on the donation form.
Your gift will be made available to make an immediate impact in the community.
Funds:
Asia Pacific Foundation of Canada Fund