You are here
British Columbia Bursary for Students with Visual Impairments & Blindness (BCBSVIB)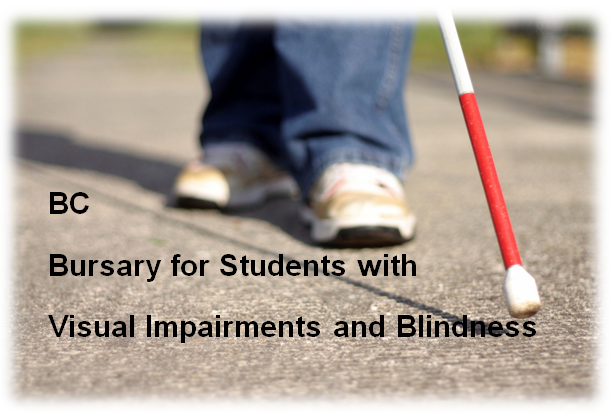 BCBSVIB was established to provide support for BC students who are visually impaired or blind in pursuing a post-secondary education. Student eligibility for the scholarship is based on financial need, academic performance and demonstrated leadership in the community.
The bursary promotes education and life-long learning for students with visual impairments. BCBSVIB will endeavor to provide opportunities for those students who have demonstrated commitment to their high school studies and community activities. Students with visual impairments, who may be limited in their ability to pursue post secondary education due to financial constraints, will be encouraged to apply to Vancouver Foundation/BCBSVIB for financial assistance. The development and growth of BCBSVIB is dependent on the generosity of our community of donors. The goal of this bursary is to create sufficient revenue to ensure that our students will benefit from this bursary for many years to come.
During this time of development, the scholarship fund is actively seeking donors and all donations to the fund are tax deductible. Scholarship funds will be released once a solid fund principle is reached. In the near future we look forward to welcoming student applications. The application process will be detailed once the funds become available.
For more information on bursaries currently available to students with visual impairments please visit the website. 
Please note:
This fund's granting purpose is subject to change.
In order to properly recognize all donors for their contributions, Vancouver Foundation will share your name and donation amount with the fund advisor unless you have checked the anonymous box on the donation form.
All donations to this fund will be permanently endowed.
Funds:
British Columbia Bursary for Students with Visual Impairments or Blindness (BCBSVIB)