You are here
Cody's Fund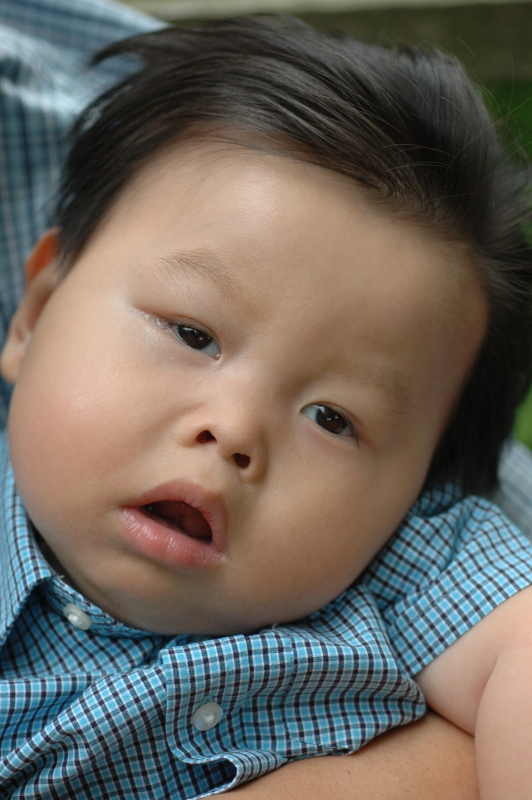 Cody's Fund was established in loving memory of a brave little boy who showed others how strong the human spirit can be.
Cody passed away on May 7, 2009 at the age of 3 ½ after suffering from what we now know to be a rare genetic disorder.  The defective PIGA gene caused Cody to have seizures which resulted in severe physical and mental developmental delays.
Notwithstanding these limitations, Cody embraced life and lived it with resiliency and fortitude. He showed others how precious life is and taught all those who met him about acceptance, compassion and love.
Cody enjoyed and did many things. He loved Mother Goose music and infant massage classes. A good cuddle and tummy rub will bring a smile and a satisfied croon. He learned to stand with assistance and even though his condition prevented him from eating, he always enjoyed the pepperoni and popsicle licks that were snuck to him. He travelled to the Rockies, made it up the Space Needle and loved the annual family treks to Kelowna (except when it got too hot).
More than anything else, Cody loved swimming. He helped inspire the creation of and actively participated in the Baby Beluga swimming program, a unique swimming program that uses water buoyancy to help kids with special needs while having a great time in the pool with mom or dad. Since its creation, the program has helped hundreds of special kids in the Lower Mainland. Cody's fun times at Baby Beluga are cherished memories for his family.
Cody embraced life and lived it with resiliency and fortitude and taught others how precious it is.
The goal and purpose of Cody's Fund are to make grants to organizations helping special kids and the Fund is actively seeking grant opportunities that benefit and enrich their lives. Since its establishment, Cody's Fund has granted in excess of $20,000 to a number of organizations including:
Baby Beluga Swimming Program
Vancouver Infant Development Program – tablet purchases
Blind Beginnings – an organization helping children who are blind or partially sighted
BC Lions Society – Easter Seal Camps for special needs children
Little Mountain Baseball – grant to send a team to the first ever Little League Challenger Baseball World Series
For questions about this fund or Vancouver Foundation, please email
Kristin Helgason
or call 604.629.5186
Please note:
This fund's granting purpose is subject to change.
To properly recognize all donors for their contributions, Vancouver Foundation will share your name and donation amount with the fund advisor unless you have checked the anonymous box on the donation form.
All donations to this fund will be permanently endowed.