You are here
Cool Aid Housing, Health, Shelter and Community Services Fund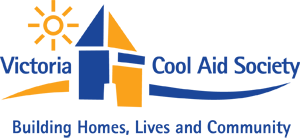 The Victoria Cool Aid Society builds homes, lives and community. We create opportunities for people who are homeless or living in poverty. We make a difference through housing, health care, support and emergency shelters. Founded in 1968, Cool Aid helps over 9,000 people in the Capital Region every year, at 14 locations in Langford, Victoria and Saanich. The Society's major new campaign is "Help End Homelessness", to build an additional 360 apartments for people in the community who have no home.
The Society's vision is to eliminate homelessness and improve quality of life in the Capital Region by working in partnership with others to build a community where:
No one is forced to sleep on the street or go hungry.
Everyone who needs supportive housing is getting it.
Integrated health care service is provided to treat illness and promote wellness.
Integrated services are provided to those with mental health and addiction challenges.
For more information about the Cool Aid Society please visit our website.
We invite you to support the Cool Aid Housing, Health, Shelter and Community Services Fund, managed by the Vancouver Foundation.

For questions about this fund or Vancouver Foundation, please email
Mandy Pui
or call 778.309.0960
Please note:
To properly recognize all donors for their contributions, Vancouver Foundation will share your name and donation amount with the fund advisor unless you have checked the anonymous box on the donation form.
Donations to this fund will support the charity's general charitable purposes. Statements about the fund's purpose or how donations will be applied are reflective of the charity's current intent and are subject to change.
All donations to this fund will be permanently endowed.
Funds:
Cool Aid Housing, Health, Shelter and Community Services Fund