You are here
Dal Richards Foundation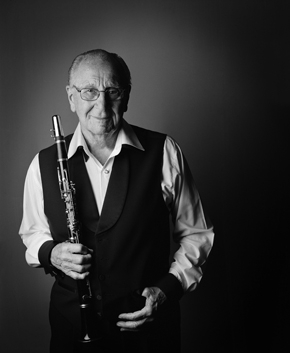 Dal Richards was known in Canada as the King of Swing and his music career spanned eight decades from the 1930's until 2015.
His musical journey began at the age of nine when his parents bought him a clarinet. In high school at Magee Secondary, Richards started a small band, which played local Vancouver golf clubs. He rode the rising tide of swing all the way to the Hotel Vancouver.
At 22, Richards played the Panorama Roof at Hotel Vancouver for the first time on April 26, 1940. The gig lasted 25 years and made him famous.
Dal passed away on New Year's eve 2015 at the age of 97 - a few days shy of his 98th birthday. Up until his passing, Dal still played the clarinet, alto and tenor sax, and conducted his band through more than 100 gigs a year.
Richards always championed and nurtured new talent, usually by giving them a chance to play or sing with the band. But he wanted another way to give back to the musical community - on his 90th birthday he set up the Dal Richards Foundation to help future generations of musicians.
The Dal Richards Foundation supports music programs for kids and young adults across B.C., promotes musical education, and relieves some of the financial pressures most young musicians face.
Read more about the King of Swing here.
Please note:
This fund's granting purpose is subject to change.
In order to properly recognize all donors for their contributions, Vancouver Foundation will share your name and donation amount with the fund advisor unless you have checked the anonymous box on the donation form.
All donations to this fund will be permanently endowed.
For questions about this fund or Vancouver Foundation, please email Nicole Jeschelnik.