You are here
Fresh Voices
Now that important progress has been made, Vancouver Foundation is returning the Fresh Voices initiative to the community that inspired it.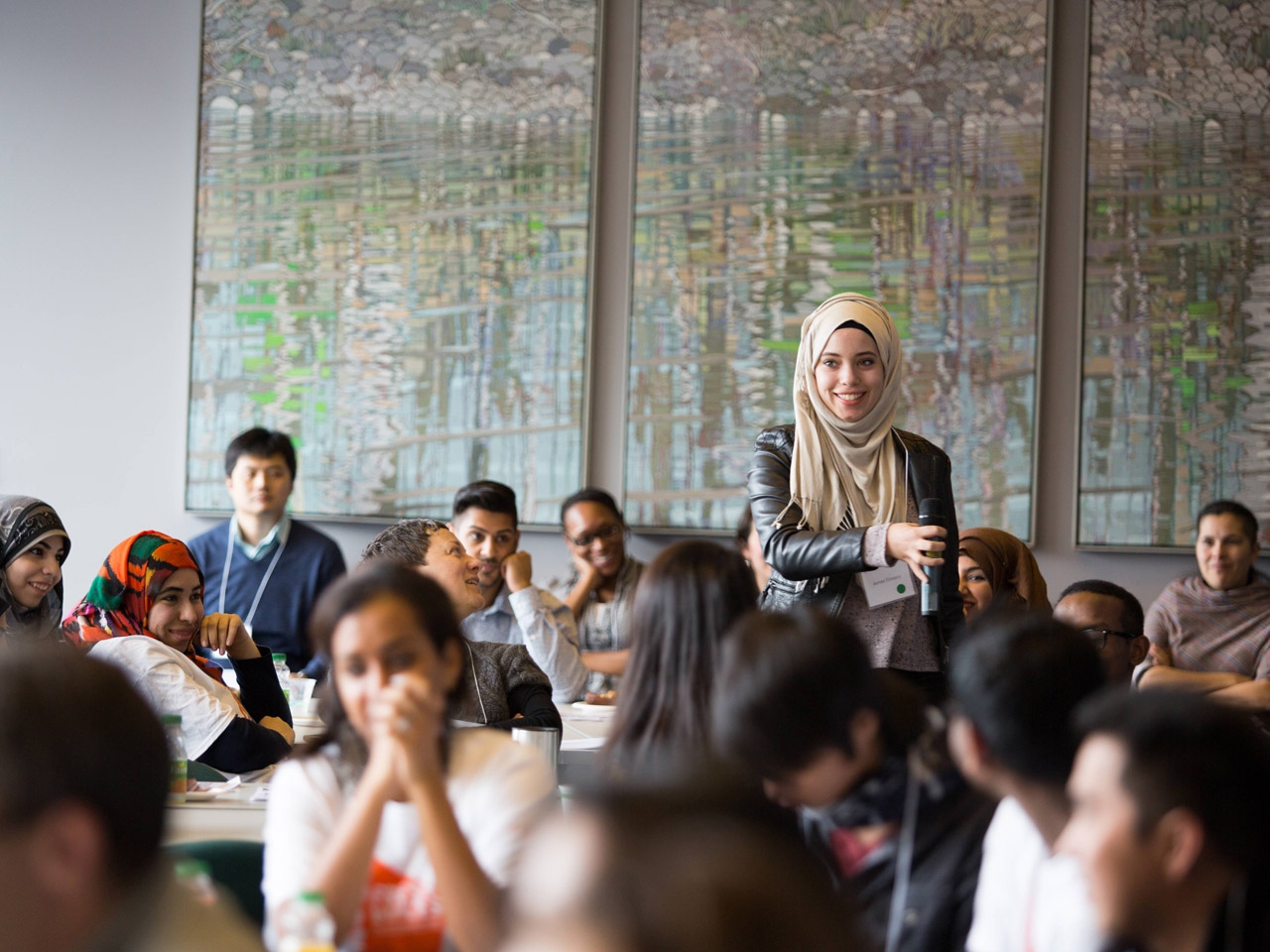 Fresh Voices emerged from a partnership between Vancouver Foundation and the Representative for Children and Youth in B.C. By convening a summit to share their experiences, we learned about issues within our education system, and a lack of opportunities to connect immigrant and refugee youth with key decision makers.
Since 2011, Vancouver Foundation has invested significant time, energy, ideas and money in bringing together immigrant and refugee youth, listening to them, and empowering them to address issues that affect them. This group became know as the Fresh Voices Youth Advisory Team, or just "Fresh Voices".
Our work together
Fresh Voices focused on improving policies and practices that affect racialized immigrant and refugee youths' sense of belonging in British Columbia and Canada as a whole, and empowering newcomer youth have more voice and influence in planning and decision-making processes that affect their lives.
We did this together through a number of activities including Community Grants to support non-profits providing services to immigrant and refugee youth, Public Engagement to raise awareness and demonstrate public will for policy change, Research to highlight opportunities for change, and Youth Engagement.
Some key achievements:
Convening over 1,000 immigrant and refugee youth to discuss programs and policies that affect newcomer youth and solutions to improve these practices and policies
Meeting the Federal Minister of Immigration, Refugees and Citizenship to discuss removing transportation loans for Government Assisted Refugees and improving family reunification policies
Renaming English as a Second Language to ELL (English Language Learning), and continuing advocacy for ELL class graduation credits through our Make It Count campaign
Facilitating the first ever Syrian Refugee Consultation in partnership with Immigrant Services Society of BC to capture refugee youth experiences within the first 100 days of settling in Canada
Creating the Fresh Voices Awards to recognize the contributions of immigrant and refugee youth, in partnership with Vancity Credit Union, Michaelle Jean Foundation, TELUS and MOSAIC B.C.
Undertaking research into the physical, social and economic mobility of newcomer youth in the metro-Vancouver region, including provincial policy recommendations
Launching Lost Votes: a public education and engagement campaign to extend municipal voting rights to permanent residents who live, work, and raise their children in Vancouver
None of these achievements would have been possible without the exceptional leadership of the Youth Advisory Team – a group of young immigrants and refugees with an authentic perspective on issues such as education, family, immigration, and cultural diversity, dedicated to improving the experience of newcomers to B.C.
Now that important progress has been made, Vancouver Foundation is returning the Fresh Voices initiative to the community that inspired it.
Fresh Voices will work with Peer Net BC to continue making a difference
The Fresh Voices initiative will be supported by Peer Net BC – a charitable organization that provides professional advice and resources to peer-led groups made up of members who work together to make decisions.
Fresh Voices youth advisory team members, facilitated by Peer Net BC, will continue the work of Fresh Voices from March 1, 2018 onwards.
To keep up with the work of Fresh Voices, including stories from immigrant and refugee youth, community champions, news and events, resources and more, please visit the website.