Youth Empowerment in the Arts
An innovative approach to bring arts education to remote communities
Lack of funding, remote location, and inclement weather present challenges for youth in rural communities in accessing various arts opportunities easily available in urban settings. The District of Fort St. James and Nak'azdli Whut'en are working with the local high school to bring professional artists and students together to create engaging arts programming that enhances limited education options.
Overview
Program:
Arts & Culture, Test Grant
Organization:
District of Fort St. James
Partners:
SONAR Youth (Youth Arts Advocacy), Community Arts Council of Fort St. James, Music on the Mountain Society, Music Makers Society, Nak'azdli Band, Fort St. James Secondary School, En Pointe Dance Studio, One Sparc Consulting Inc., Theatre NorthWest, Meegwun Fairbrother, and Sarah Koehn
 
Project Details
I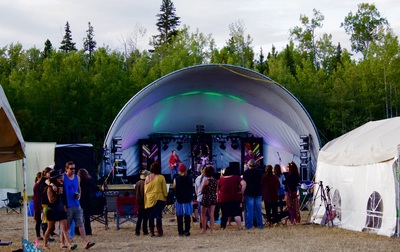 n 2015, under the leadership of the SONAR youth group, over 90 students signed a letter formally requesting access to the arts for the community youth over concerns around mental health and wellbeing. They felt that the development of an arts program for youth "would make a huge positive impact on our youth giving them a positive activity to participate in, in our community."  Based on this letter and with BC Arts Council funding, the Community Arts Council piloted the 'Collective Creations Theatre' and the 11 student participants volunteered to lead the way by becoming an informal youth arts team. Effective youth arts programming depended on the communities' ability to really listen to the youth.  A collective community response and the Fort St. James Secondary school's ability to accommodate and champion these new programs through additional teacher resources were essential to success.  
A self-sustaining arts program is born
In 2017, the Youth Empowerment in the Arts project was born. It united students, professional artists, municipal and Indigenous government, arts organizations, businesses, and the public education system into a community team to deliver media and theatre arts programming.
Working with professional artists and a dedicated teacher support team, students actively participate and voluntarily commit many additional hours to program projects. Students alternate between leadership roles and as team members to create, act, produce, direct, and edit their theatre and original digital media productions. Students receive credits toward graduation and post-graduates become peer mentors to new program participants. In this way, Youth Empowerment in the Arts is building capacity to become a self-sustaining, long-term program.
The program's fluidity will continue to respond to meet local youth's ever changing needs.
Students create a theatre production and youth film festival
Youth Empowerment in the Arts launched in 2016 with Digital Media and Collective Creations Theatre, which saw 24 students and 100 percent attendance.
Professional actor/writer, Lauren Brotman guided students in writing, directing and performing The Ones That I Love production. Professional Indigenous actor/film director Meegwun Fairbrother and actor/director Sarah Koehn mentored students, creating seven original films premiered at the first annual Youth Film Festival. Students demonstrated positive personal growth and strengthened self-confidence. 
Changes in the 2017/2018 year responded to student preference, participation, and leadership. The program's fluidity will continue to respond to meet local youth's ever changing needs, fostering an environment where future leaders and conscientious global citizens thrive. The community believes this unconventional model can serve as a best practices template for other small communities.
Project Resources
Arts in Fort St. James | Caledonia Courier | Article