You are here
What we fund
Field of Interest Grants are guided by the intentions of our donors, priorities identified by the community, and our goal of achieving meaningful outcomes. Vancouver Foundation is best positioned to fund social innovations that fall within the intersection of these three influences.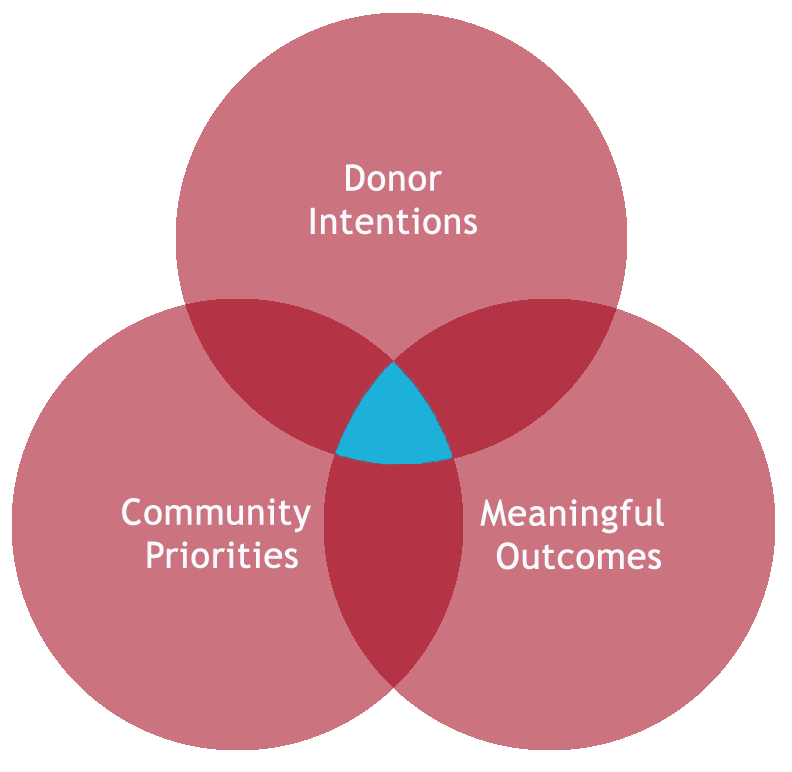 Matching donors, community priorities, and meaningful outcomes
Our donors often specify which charitable causes they would like to support – we call these donor intentions. We also identify funding priorities by analysing the trends in the proposals submitted to us over time, from discussions with our Volunteer Advisors and with participants at community events, and through research such as Connections and Engagement – we call these community priorities.
Vancouver Foundation honours donor intentions and community priorities by matching them to meaningful outcomes through four fields of interest. These outcomes are inspired by measurements of healthy, vibrant and livable communities by the Canadian Index of Wellbeing and Vital Signs measurement tools.
Social innovation
We know that communities are complex and it can be challenging to make meaningful change. That's why we focus our Field of Interest Grants on social innovations that look at problems or issues in a new way.
A social innovation is an approach that may be more effective, fair, or sustainable than present solutions – often by addressing the root cause of an issue. Poverty, homelessness, isolation, climate change and loss of biodiversity are just some examples of complex issues that social innovation can tackle.
A formal definition of social innovation may help you start thinking about how your project can do things differently.
We define social innovation as a project, process or program that changes a social system by changing one or more of the following:
the basic routines (how we act and what we do)
the flow of resources (money, knowledge, people)
the authority flows (laws, policies, rules)
the beliefs (what we believe is true, right/wrong)
Adapted from Westley, Frances & Antadze, Nino (2010). Making a difference. Strategies for scaling social innovation for greater impact. The Innovation Journal: The Public Sector Innovation Journal, 15(2), article 2.
Case studies
We have developed a case study of social innovation for each field of interest. Reading these may help you understand what kinds of projects we fund through Field of Interest Grants.
Download our General Funding Guidelines
Our general guidelines explain Vancouver Foundation's Field of Interest Grants in more detail, describe our focus on social innovation, identify the key elements of successful projects, introduce the four fields of interest, explain our three types of grants, and describe who is eligible. You will find answers to some common questions and understand the thinking behind our granting focus. This will help you make informed decisions about your application.
Open Licensing Policy
Vancouver Foundation has adopted an Open Licensing Policy to help promote intentional sharing of socially innovative ideas, resources, and knowledge across the charitable sector. Vancouver Foundation requires Field of Interest grantees to openly license materials created through our grant funding (reports, videos, curriculum, and the like) under a Creative Commons Attribution license. For more information and exceptions, please refer to the full policy or contact open@vancouverfoundation.ca
What we don't fund
Vancouver Foundation does not fund the following through Field of Interest Grants:
Individuals (see grants for individuals)
Projects that take place outside BC
Travel to and/or attendance at conferences, competitions, symposia, or annual events (unless part of a broader project proposal)
Event sponsorship (unless part of a broader project proposal)
Bursaries, scholarships, and/or awards (unless part of a broader project proposal)
Operational expenses, capital and public infrastructure, fundraising, costs prior to application
Capital expenses (unless they are small expenses and are part of a broader project proposal)
On-going operations
Fundraising expenses
Capital campaigns and infrastructure projects
Debt retirement or reserves
Mortgage pay-downs
Endowment matching