You are here
Fresh Voices Grants
Grants of up to $10,000 for youth and community-led activities, to activate ideas and solutions that address the top 10 priority areas identified by over 200 immigrant and refugee youth.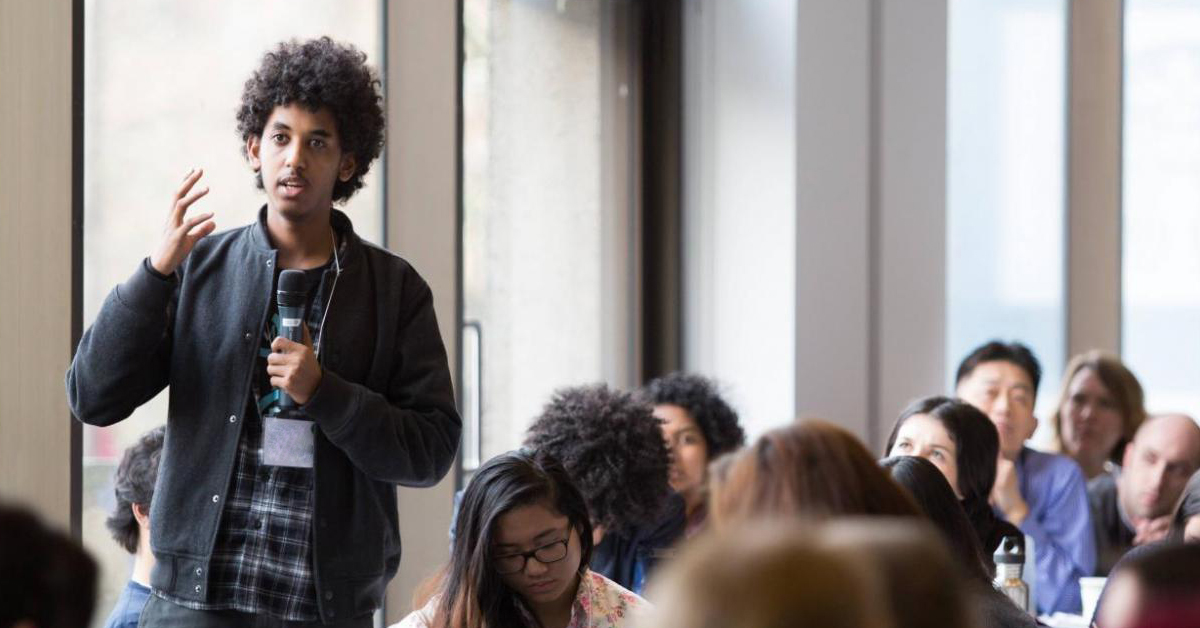 Fresh Voices is an initiative of Vancouver Foundation to offer a way for immigrant and refugee youth from across B.C. to engage in dialogue and action to identity and remove barriers to their success. The initiative works with a Youth Advisory Team (YAT) comprised of immigrant and refugee youth leaders from across the metro-Vancouver region. To achieve its goals, the initiative engages diverse youth from racialized immigrant and refugee communities, adult allies, service providers and collaborates with key decision-makers to affect systemic change.
What we fund
At the Fresh Voices Forum in December 2016, over 200 immigrant and refugee youth from across B.C identified 10 priority areas that required action or attention. Fresh Voices Small Grants provide an opportunity to develop, try out and explore creative community and youth-led projects/solutions that address any of the ten priorities listed below.
Access to essential services. All children and youth in Canada should have access to essential services such as education and health care, as outlined in the Convention on the Rights of the Child, and irrespective of their immigration status.
Educator and staff training. Provide anti-oppression, anti-racism and cultural awareness training to teachers and other school staff who work with immigrant and refugee students and communities.
Mentorship. Develop mentorship programs where older immigrant and refugee young adults support younger peers to overcome difficulties.
Family reunification. Speed up family reunification efforts by enabling provincial staff to inform and influence federal immigration decision-making timelines.
English Language Learning. Allow English Language Learning (ELL) - also known as English as a Second Language (ESL) - courses to count towards high school graduation credits.
Consistency in ELL system. Ensure ELL/ESL testing, assessment, placement and academic guidance is consistent across the province.
Local governance. Include more immigrants and refugees on the governing bodies of school districts, parent advisory committees, and student councils.
National Dialogue. Convene and foster dialogue on federal policies and nation-wide issues that affect immigrant and refugee youth.
Peer-to-peer support. Provide more opportunities for immigrant and refugee youth to come together and support each other in safe and welcoming spaces.
Transportation loans. Remove transportation loans for all government assisted refugees.
Our Approach
Learn from communities This includes an annual Fresh Voices Forum, and consultations in partnership with other organizations where immigrant and refugee youth and diverse stakeholders gather to share the barriers they face and their vision for a better future.
Support Youth-Driven Solutions Fresh Voices receives a key part of its guidance from the Youth Advisory Team (YAT). The YAT is a group of racialized immigrant and refugee youth leaders and youth workers who meet regularly to address challenges faced by migrant communities, develop innovative youth-driven solutions, participate in policy and research and facilitate meaningful public engagement activities.
Advocate for Change Fresh Voices supports a range of public awareness campaigns, mobilizes communities, and convenes diverse stakeholders to promote positive policy, practice, and systems change. This can include participating in the creation of new policies or advocating for systemic change with elected officials.
Application Process
Fresh Voices Small Grants is a one-stage application process. Through the RFP process, staff have invited a number of grassroots communities and organizations working with immigrant and refugee youth, and particularly those who attended the December 2016 Fresh Voices forum, to submit a project idea.