You are here
Youth Engagement Grants
Grants of approximately $20,000 to $50,000 for charities and other qualified donees with projects that increase racial equity by bringing together and empowering Indigenous, immigrant, and refugee youth.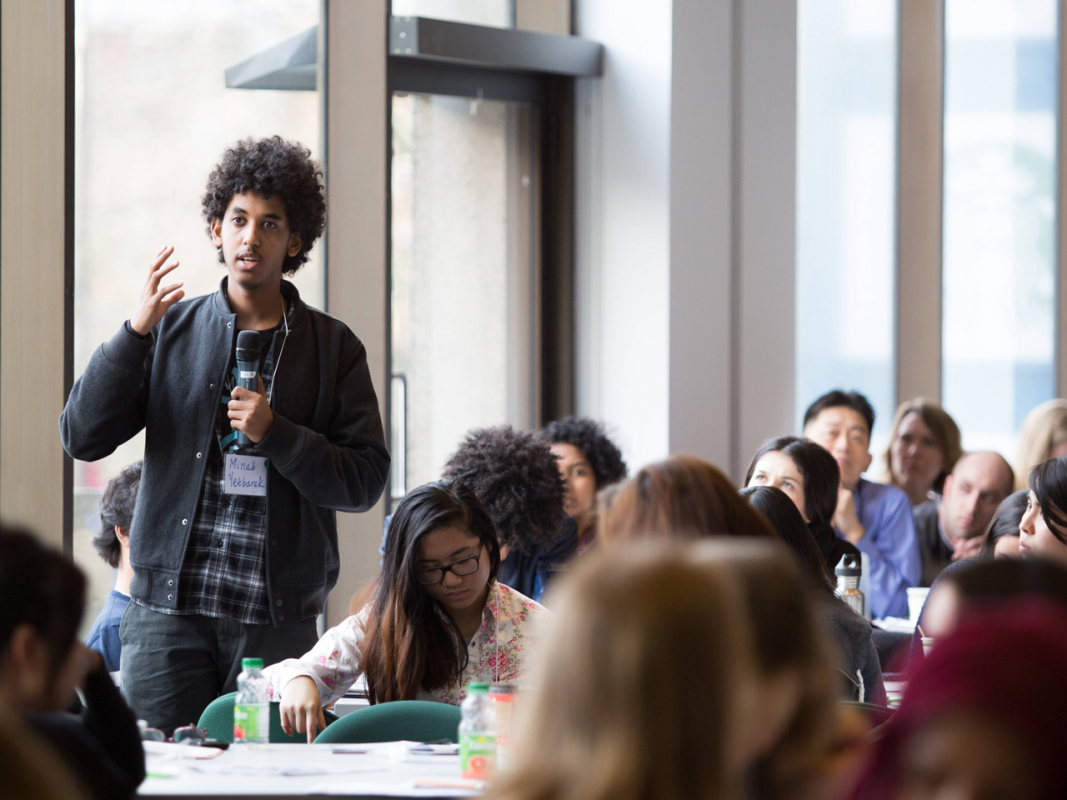 Over the last few years, Vancouver Foundation has learned a great deal about the disproportionate barriers to success that Indigenous, immigrant, and refugee youth face, compared to many other young people. Through this work we have developed and learned from a very effective model of youth engagement, where youth inform and lead the work, as active and equal partners.
In 2018, our youth engagement program will build on these learnings by investing in leadership skills among Indigenous, immigrant, and refugee youth, supporting their future work on issues that affect them.
One way that we will achieve this by providing strategic grants to charities and other qualified donees with projects that create opportunities to engage Indigenous and immigrant and refugee youth in staff leadership and board governance.
We will add more information to our website in the summer, and open for applications in fall 2018.
Types of grants
The types of Youth Engagement Grants available in 2018 are still being finalized. In the meantime, further information about the focus of these grants is included below.
Vancouver Foundation recognizes that all young people need support and opportunities to succeed. However, through our work with Indigenous youth in Fostering Change, and immigrant and refugee youth in Fresh Voices, we have learned that both groups face disproportionately higher barriers to success. They have far fewer opportunities to access the kind of support that would allow them to advocate for public policy change, participate in civic engagement activities, or become leaders in the non-profit sector.
Our Youth Engagement Grants will fund projects that increase racial equity, providing support and opportunities for youth that need it most.
Guidelines
Guidelines for our Youth Engagement Grants available are still being finalized. The guidelines will provide an overview of the program, eligibility criteria, an introduction to our areas of focus, practical questions to help you think about your project, and tips for making a successful grant application.
In addition, our guidelines will include step-by-step application instructions, including every question you will be asked throughout the online application process.
Key dates
We appreciate grant applicants need to plan their time in advance to work on new proposals. We will publish key dates here for the fall grant cycle in the early summer.
Early summer: Guidelines available on the website
September: Open for grant applications
End October: Deadline to submit Letters of Intent
End November: Deadline to submit Full Applications (invite only)
Grant Alerts
Never miss another deadline. Sign up to receive updates about workshops, calls for proposals, and application deadlines.
Workshops
Vancouver Foundation will host a number of community workshops throughout the fall to support Youth Engagement Grants applicants.
You will hear about grant eligibility, the different funding opportunities available, and what our advisory committees look for in the proposals they review. There are opportunities to ask questions throughout the workshop.
Contact
Our team is here to help. We aim to provide advice before you apply, support during the application process, and opportunities for successful applicants to manage their grants and share their work.
Alejandra Lopez Bravo, Manager
Email Alejandra
Natalie Ord, Coordinator
Email Natalie
Kristina Chan, Grant Administrator
Email Kristina