You are here
JA British Columbia
JA British Columbia (JABC) is an organization dedicated to educating young people about business. JABC works with the business community, educators and volunteers to prepare and inspire youth to reach their potential and succeed in today's global economy.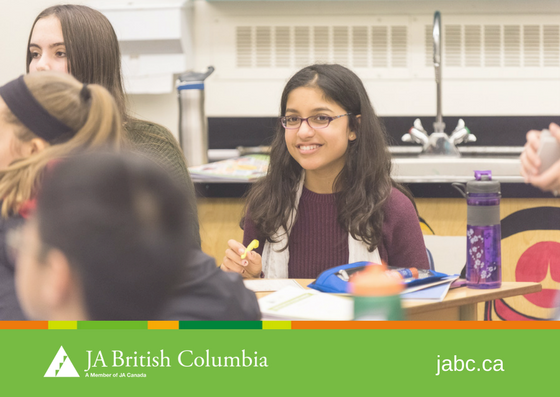 JABC is member of JA Canada and part of JA Worldwide, the world's largest not-for-profit organization dedicated to educating young people about business. Since 1955, British Columbia schools have relied on JABC to inspire and prepare youth to succeed in an ever-changing global economy. Last year, over 40,000 BC students in grades 5-12 benefited from JABC programs delivered free of charge by volunteers from local business communities, who bring their real-life experience into the classroom.
JABC programs focus on work readiness, financial literacy and entrepreneurship, giving students the confidence and skills they need to become the next generation of business and community leaders.
To find out more about this organization, please visit their website.
For questions about this fund or Vancouver Foundation, please email
Mandy Pui
or call 778.309.0960
Please note:
To properly recognize all donors for their contributions, Vancouver Foundation will share your name and donation amount with the fund advisor unless you have checked the anonymous box on the donation form.
Donations to this fund will support the charity's general charitable purposes. Statements about the fund's purpose or how donations will be applied are reflective of the charity's current intent and are subject to change.
All donations to this fund will be permanently endowed.