You are here
Jewish Historical Society of British Columbia Endowment Fund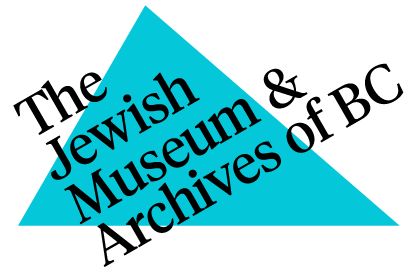 The Jewish Museum and Archives of BC (JMABC) is dedicated to the collecting and sharing of community memories of Jewish life in British Columbia. Originally founded as the Jewish Historical Society of BC in 1971, the JMABC now cares for an ever-growing collection of documents, photographs, artifacts and oral histories that recount the history of our community. Through innovative exhibits and programming, the JMABC builds bridges with the diverse communities of BC and heightens awareness of the 150 year history of Jews in BC.
The archives are housed in dedicated facilities and comprise over 300 linear metres of textual records, 300,000 photographs and 750 oral history interviews. The archives are available to researchers and form the basis of much of our public programming, including walking tours, online, traveling and temporary exhibits, and our annual journal, The Scribe.
Thank you for your support
Your contribution to the Jewish Historical Society of British Columbia Endowment Fund ensures that the JMABC is able to continue preserving and sharing the history of Jews in BC for years to come.
For questions about this fund or Vancouver Foundation, please contact Claire Vivier at 604-630-5026.
Jewish Historical Society of British Columbia
Please note:
In order to properly recognize all donors for their contributions, Vancouver Foundation will share your name and donation amount with the fund advisor unless you have checked the anonymous box on the donation form.
Donations to this fund will support the charity's general charitable purposes. Statements about the fund's purpose or how donations will be applied are reflective of the charity's current intent, and are subject to change.
All donations to this fund will be permanently endowed.
Funds:
Jewish Historical Society of British Columbia Endowment Fund