You are here
The John M. Trepp Memorial Fund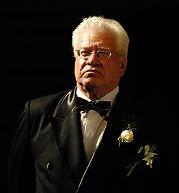 This memorial fund has been established to honour the caring spirit of John Trepp and to support his passion of teaching choral music by offering scholarship awards for choral students in British Columbia.
John or affectionately known as JT, papa Trepp or just Trepp, was widely known for his successful tenure at Magee High School, where he taught award-winning choirs and vocal jazz ensembles from 1977 to 2007. John's service to the BC Choral Federation reaches back to Vernon in 1983, when he conducted the Chorfest Youth Choir. He was subsequently called upon to develop the original curriculum of the Choral Directorship Course and most recently, worked as a faculty member in 2009.
John's many accomplishments include being a Life Member of American Choral Directors Association, an Honourary Award recipient from BC Music Educators, an Honourary Member of Vancouver Welsh Men's Choir and a former Choral Chair for MusicFest Canada. He also served as the Choral Editor for Hal Leonard Publishing Co. and Choral Advisor for Canadian Rocky Mountain Festival.
John holds degrees from St. John's University in Minnesota, the University of Arizona and the University of Montana where he received a choral music assistantship scholarship. Upon coming to Canada, he established choral music divisions at Northwest Music, Ward Music & Tom Lee Music, all in Vancouver. After his career at Magee High School, he worked as Artist-in-Residence for the Vancouver School Board and often worked as a choral music clinician and an adjudicator throughout Canada, USA, Thailand and Mexico.
To continue to provide assistance to choral students and carry out John's life passions, his friends have established this fund in admiration of John.

We welcome you to make a donation in tribute of John M. Trepp.
Please note:
This fund's granting purpose is subject to change.
In order to properly recognize all donors for their contributions, Vancouver Foundation will share your name and donation amount with the fund advisor unless you have checked the anonymous box on the donation form.
All donations to this fund will be permanently endowed.
For questions about this fund or Vancouver Foundation, please email Kim Macphee.
Funds:
The John M. Trepp Memorial Fund