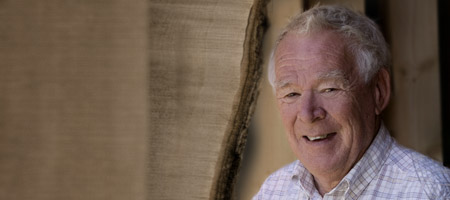 Keeping up with the Joneses
Windsor Plywood
Randle Jones didn't hammer a nail til he was almost 20. Now, more than 50 years later, he is the owner of Windsor Plywood, and head of a network of building supply stores that stretches across western Canada and into the US.
His career in hardwood floors, doors, plywood and other finishing products, started with a summer job…
"I was studying commerce at the University of Victoria (Victoria College at the time), and selling ads for the UVic annual, when I met one of the owners of Stewart and Hudson lumber company. I sold him an ad and then asked if there was any chance of summer employment. That was 1952. I ended up working for him part-time and then full- time till 1960."
After working for a couple of other firms, Jones had the opportunity to buy Windsor Building Supplies – a small, one-store operation in Surrey at the time. He has been at the helm of the company ever since, and has overseen its expansion to 63 corporate and franchise locations.
Now 76, Jones is slowing down a bit – "I don't come in on evenings and weekends as much as I used to." But he's still in the office every morning around 8 am, and generally doesn't leave until 6 pm. And he endures some good-natured scolding from Fran, his wife of 55 years. "I've been trying to get him to retire for 15 years," she says.
"I feel in a way, a little bit trapped," says Jones. "You either have to be in or out. You also have to be fair to other people. If the staff thought I was on the golf course every afternoon, I just don't think it would go over very well."
"And quite honestly, I haven't found a lot of things that I like to do better. I like the people. I like our customers. And I enjoy joshing with them."
The growth of his company over the years has given Jones a great deal of satisfaction. It has also provided generously for his family, and enabled him to give back to the community.
The couple has always supported healthcare, education and the arts. But they are expanding their giving with the help of Vancouver Foundation.
"We got involved with Vancouver Foundation about two years ago, as part of an estate planning process, and it's been very interesting. Last year the Foundation came up with the Book of Opportunities."
(The Book of Opportunities is a collection of innovative community projects across BC that are seeking support. Put together by the Foundation, it gives donors access to hundreds of pre-screened community proposals they might otherwise never hear about.)
"Many of these projects are attractive, if for no other reason than they're all over the province. It might be a music concert on Denman Island or an education program in Prince George. Often, these are areas where we have stores. And it makes you aware of a lot of good causes."
Jones and his wife were keen to broaden their support of charities throughout BC, which fit with the Foundation's mandate. Jones is also proud of the fact that more suggestions for projects are coming from the Windsor stores. "Our store in Penticton wanted to support Okanagan College. A prostate cancer initiative came out of our Winnipeg store. And Red Deer and Edmonton are considering adopting a village in Africa to provide clean water for."
"I don't know that our story is particularly inspiring to anyone," Jones says, with typical understatement. "But it's a BC company, one that's grown significantly. And one that's benefitted some charities along the way."
Both Fran and Randle Jones intend to continue donating. If they bring the same quiet rigour to philanthropy as they did to the business of building supplies, who knows how many more charities will benefit?
For more information or to become a donor, call Vancouver Foundation or visit our website www.vancouverfoundation.ca