You are here
St. Paul's Indian Church Preservation Trust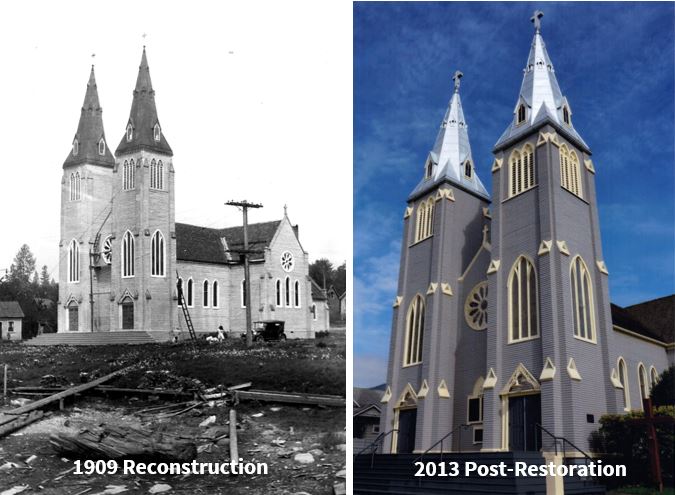 St. Paul's Indian Church is found on the Mission First Nations Reserve, on the north shore of the Burrard Inlet in British Columbia. This is the oldest surviving mission church in the Vancouver area and has long been a focal point of the Mission Reserve.
The church is an admirable example of Gothic Revival architecture that features pointed-arch windows, a rose window and octagonal towers with dormers along with a Coast Salish motif of geometric shapes around the church's interior arches. Based on its unique history and character, the functional heritage building was designated as a Canadian national historic site in 1980.
This heritage building has undergone many changes in the last 150 years. The church was erected in 1868 and was restored in 1909 along with the installation of the corner towers, transepts and stained-glass windows. After the reconstruction of the church it was renamed St. Paul's to honour the second Catholic Bishop of Vancouver. In 1983, an extensive restoration of the building was conducted. It wasn't until 2013 that further restoration of spires, crosses, windows, cedar rafters, gutters, downspouts and front entrance stairs took place. The most recent work was completed in 2017, with the installation of a much needed new roof.
The St. Paul's Indian Church Preservation Trust, managed by representatives of the Squamish First Nation, the parish priest and the local community, serves to ensure that St. Paul's Church continues to stand as a legacy to the generations it has served and to support the enjoyment of future generations.
For questions about St. Paul's Indian Church Preservation Trust, contact Donna Oseen, Secretary Treasurer. 
Contact the Organization:
St. Paul's Indian Church Preservation Trust Fund
c/o 443 East Windsor Road
North Vancouver
BC
V7N 1K4
Please note:
To properly recognize all donors for their contributions, Vancouver Foundation will share your name and donation amount with the fund advisor unless you have checked the anonymous box on the donation form.
Donations to this fund will support the charity's general charitable purposes. Statements about the fund's purpose or how donations will be applied are reflective of the charity's current intent and are subject to change.
All donations to this fund will be permanently endowed.
For questions about this fund or Vancouver Foundation, please email Mandy Pui.
Funds:
St. Paul's Indian Church Preservation Fund
A donation to the St. Paul's Indian Church Preservation Trust supports the continuing maintenance, preservation and restoration of the of the St. Paul's Indian Church.