You are here
Another view of Main and Hastings
Vancouver Foundation - DTES Small Arts Grants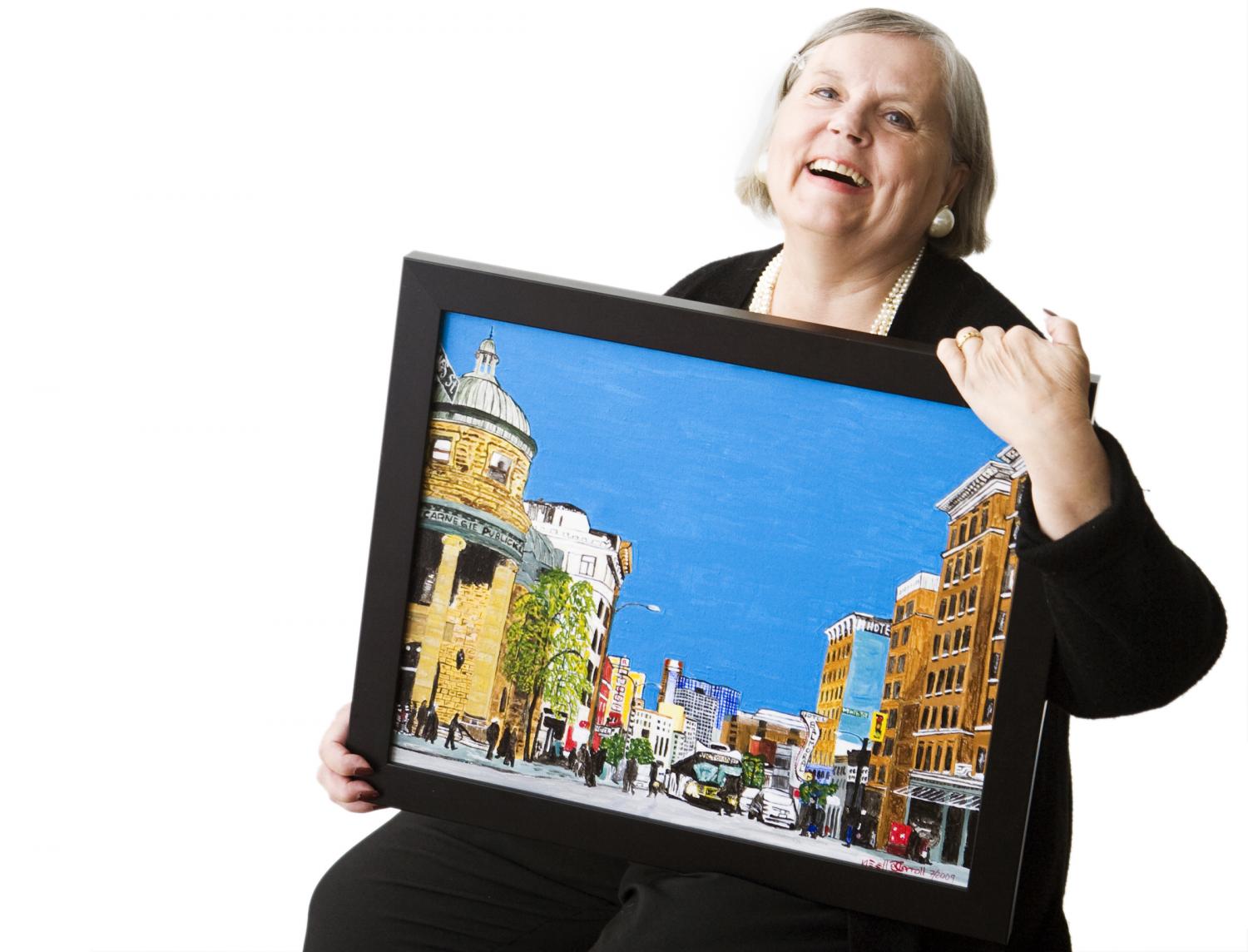 Sometimes we are so mired in the challenges of the Downtown Eastside, we don't see the neighbourhood's beauty. Artist Colleen Carroll, who lives just steps from the Carnegie Centre at Main and Hastings, wants to show people the other side of Canada's poorest postal code.
"People might not have much here. They can't afford a fancy gym, but they get together and go out to McLean Park every morning and they do tai chi. They might not have anything more than a little bit of music, but they get together and do ballroom dancing. People here make memories and those memories build the community."
The brightly coloured Sunrise Market on Gore Street. A painting of pink-blossomed Sakura cherry trees in Oppenheimer Park, planted as a memorial to Japanese citizens interned in the war. A group of Chinese men concentrating on a chess game in the basement of the Carnegie Centre.
This is Colleen Carroll's Downtown Eastside. And in October she shared it in her first-ever solo art show, thanks to the Downtown Eastside Small Arts Grants Program. The one-year pilot program, which was established with $100,000 from Vancouver Foundation and its donors, is run in partnership with the Carnegie Centre.
"Few people realize the Downtown Eastside is a hotbed of artistic activity," notes Faye Wightman, CEO of Vancouver Foundation. "Thanks in part to cheap rent, and a vibrant sense of community, the area is home to so many different types of artists. Some have been practicing for years with very little support. For various reasons they can't access grants from typical sources, so their careers don't progress despite their skills and talent."
The Downtown Eastside Small Arts Grants Program offers grants from $500 to $1,000 to artists in the area. The hope is that the money will give the artists the boost they need to take their careers to the next level and realize their potential.
To date, more than 30 artists have benefited from the program. Robi Smith used his grant to turn six paintings of everyday "superheroes" — like the street nurse, the vegan and the bus rider — into printed trading cards. Photographer Milasa Grady created books focused on urban farming, diverse cultures and active living in Strathcona. And Daniel McRory used his grant to buy vegetable tanned leather, which will be the medium to recreate the story of The Velveteen Rabbit. He is tooling the text into the leather in Braille.
For Carroll, her grant meant she could use real canvas for her acrylic paintings rather than masonite board, frame her work, and have a show.
For many years, Colleen had worked in a sawmill in Houston, a town near Smithers in northern BC where she raised two sons as a single mother. A lung condition forced her to stop working in 1994. Her health continued to decline, to the point where she could no longer live in the north.
By the time she moved to Vancouver in 2002 to be closer to her sons, she could barely walk. She took a $350 bachelor apartment in the building where she lives now. In an attempt to make herself useful in spite of her poor health, she began donating her art to charity, and starting all types of community projects.
Carroll decided to have her show in Smithers because the town is facing terrible poverty from the recession and forestry crisis. She felt the area could benefit from the lessons of the Downtown Eastside: the camaraderie, the beauty, and the strength of the people. Along with her show at Smithers' Kokopoli Café in October, she gave a talk called Building Community in Hard Times.
Although Carroll never believed she could qualify for an arts grant — "I didn't think I was good enough to get an arts grant because there are so many real artists out there" — it is clear this artist is making a lasting impression. She already has a second art show booked at the Smithers Art Gallery for next summer.
"The small grants to these artists may seem like a drop in the bucket," says Wightman. "But every drop creates a ripple."
For Carroll, the ripple has become a wave. "What I love about small grants is they let us build on our resources. They don't just focus on our needs. It's not really just about me and my grant. There are things done with just a couple of dollars down here that would never, ever have come to pass without Vancouver Foundation's support."
For more information about the Downtown Eastside Small Arts Grants Program and how you can support artists like Colleen Carroll, call Vancouver Foundation at 604-688-2204 or visit our website www.vancouverfoundation.ca
Your Comments:
February 22, 2012
Colleen, It was great reading your story. So many times i felt the same way as mainly a self taught artist but now with learning to carve I am able to combine Haida art form with all the other arts I have learned through out the years, and i so understand when you say "I did not think I was good enough" so many times artist are afraid to say that and yet so many of us have felt that way on more then one occasion. thank you for sharing your story.
Marilyn mckee, Vancouver