You are here
Bead by bead
Vancouver Foundation - DTES Small Arts Grants Program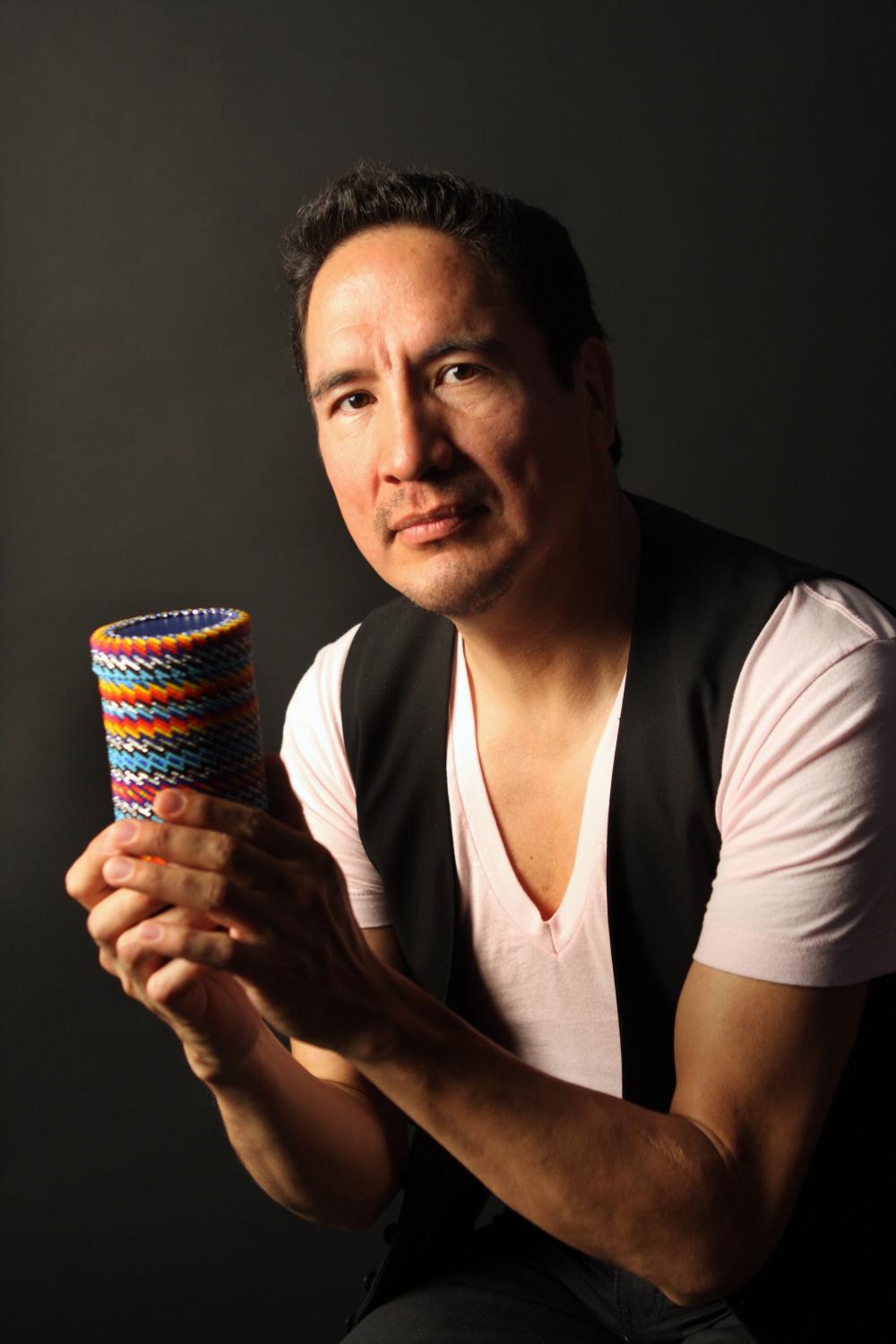 Doubt clouded Ron Horsefall's mind. "Can I really do this?" he asked himself, as he began to craft his first piece. He had the potential – he'd always had that. He had beads and materials, thanks to a $1,000 grant from the Downtown Eastside Small Arts Grant Program, a partnership between Vancouver Foundation and Carnegie Centre. And because of this grant, for the first time in his 44 years, he had the confidence to call himself an artist.
"The grant made me accountable and responsible for my artwork," says Horsefall. "I'd been commissioned to do work before but this was different – this was a whole body of work."
This time, Horsefall wasn't giving in to the naysayers in his head. This time, he says, he just did it. "I had all of these ideas inside of me I wanted to express. Once I got out of my head and got over myself and started doing the work, it all started coming out."
The stunning result is Out of the Ashes, a collection of 18 intricately crafted, brilliantly coloured beaded containers that represent the spiritual journey of Horsefall's life – from surviving the nightmare that was Canada's residential school system, overcoming nearly a quarter-century of substance abuse and reclaiming his lost culture as a member of the Pasqua First Nation.
He says: "When I sit there beading, all the feelings start coming – they range from happy to sad and everything in between. Sometimes I'd be sitting there crying and sometimes I'd be laughing. That's what goes into each piece, it's me."
The Downtown Eastside Small Arts Grants Program was established with $100,000 from Vancouver Foundation donors. Over the last year, the program has given 68 grants of $500 to $1,000 to artists like Horsefall who live or work in the Downtown Eastside or otherwise have a strong connection to the community.
"The Downtown Eastside is a great breeding ground for artistic talent, but many people lack the means to make progress with their art, and they aren't eligible for traditional arts grants," notes Faye Wightman, CEO of Vancouver Foundation. "This program aims to give talented artists the support they need to develop their skills, improve their marketing and take their art to the next level, artistically and/or financially."
Horsefall, who is gay and HIV-positive, receives disability assistance from the provincial government and lives in native housing. The grant allowed him to buy more beads in more colours, which made it possible for him to produce bigger pieces like Phoenix Rising Out of the Ashes, a beaded container that stands 20 centimetres tall and took 150 hours to produce. The work is all the more impressive considering he is self-taught.
Ten years ago, Horsefall stopped drinking and started beading. The slow, methodical nature of the art became a meditation for him. "People are so distracted by the world they don't allow themselves to catch up to themselves," he says. "They ignore their feelings. When I am beading, I catch up with myself and the world slows down."
Beading was also a way to reconnect with his culture and spirituality. Horsefall's family belongs to the Pasqua First Nation in Saskatchewan. But whatever knowledge of culture and spirituality he might have had was obliterated by residential school abuse. First his grandparents attended, then his parents, and finally Horsefall, who was sent when he was only five years old. At the age of 10, he left the school and started drowning his feelings with alcohol.
As a young adult, he studied art history at the University of Calgary, then dropped out and gave in to his addictions. "I told my mom I would never end up on skid row, and after years of drinking and drug abuse, that's where I ended up," he recalls. In 1996, he was faced with a sobering reality – an AIDS diagnosis. The choice was simple: go clean or die.
Horsefall chose to go clean. But after nearly 25 years of substance abuse, it took a few more before he succeeded in detoxing. He moved back to Saskatchewan for a couple of years and became an AIDS activist, sharing his story to help others come to terms with the disease. With better health and effective medication, he no longer displays the symptoms of AIDS.
This past May, Horsefall had his first show ever at the Carnegie Centre. He says he's so proud of the collection that he's not ready to sell it, he just wants to share his creations with the world.
And as always, he is amazed that he's still here – alive, sober and talking – after what he has been through in his life. "When I see the people on the street mired in their addiction, I feel for them because I know where they're at," he says. "And I know their potential. There's so much potential down there. I know because I rose out of that." Like a phoenix from the ashes.
For more information on Downtown Eastside Small Arts Grants, visit www.vancouverfoundation.ca/smallarts or call 604-688-2204.
Your Comments:
January 18, 2011
Thank you to Ron for sharing his story and his art work with the world; and for your voice! You remind me of how important it is to be with ourselves, our life stories and work through pain. Creation is a powerful way to do this.
Sara Dent, Vancouver