You are here
Beautiful flowers begin with a ...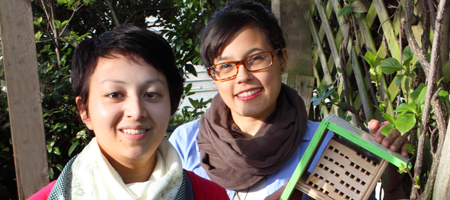 When you think about bees, what comes to mind? Honey? Hives? Yellow and black stripes? Stings? Well, Tanya Otero would like you to think again, and introduce you to BC's native pollinator: the mason bee.
"These are truly West Coast bees," Otero explains. "They're the only bees that work in the rain!"
 Found along the west coast of North America, mason bees don't produce honey and only sting if in mortal peril. They are also solitary bees, so you won't find them in hives. Our local species – the blue orchard mason bee – is small and black, with a bluish tint, meaning you may mistake one for a fly. So how do you spot one? Otero says the big giveaway is that some mason bees have a yellow spot on their back, and males have pale yellow hairs on their abdomen. They are also slow-flying and fuzzier, with three distinct body parts (head, thorax and abdomen).
 Otero and her friend Breanna Kato set up the Bee the Future project, which has introduced some 60 people to BC's native bee at workshops designed to teach the community how to support the mason bee population by making gardens and lanes bee friendly, and building bee houses.
 "Mason bees are prolific pollinators and benefit gardens across our community – they are an incredible community asset," explains Otero. "When you think that one-third of what we eat is on the table because of bees, you realize how much we need these pollinators. It's important to learn how to support them."
 Otero and Kato were awarded a Greenest City Neighbourhood Small Grant – a program co-sponsored by Vancouver Foundation and the City of Vancouver to support community-led green projects in Vancouver. The grant enabled them to run workshops at Kiwassa Neighbourhood House in the Hastings-Sunrise community, and provide budding beekeepers with materials to make their own mason bee houses.
 Each brightly coloured wooden house provides an ideal habitat for mason bees to lay up to 140 eggs. It may look simple from the outside, but inside it is carefully constructed with 28 narrow tubes at least five inches long. In spring, the bees can lay about five eggs in each tube, separating each one with a layer of mud (hence the name "mason") and ensuring each egg has a supply of nectar and pollen. By fall, the eggs have developed into fully formed bees, but stay in a cocoon over winter and then hatch the following spring. Otero and Kato showed workshop participants how to give nature a helping hand by carefully removing and storing the cocoons in their fridges over winter and how to release the bees in spring. The houses can be cleaned and reused year after year.
 "I'm excited that so many people are as interested in supporting bees as I am," says Otero. "I thought there would be families with curious kids, but there were also many enthusiastic young adults who showed such a spirit of community," she says. And she already has another project in mind – this time, educating her community about honey bees and beeswax production and uses.
 Talking of honey bees, Jenny Ma, another Greenest City Neighbourhood Small Grant recipient, is working to make beehives a far more common sight across Vancouver. "Honey bees have hit hard times and often aren't recognized for the huge role they have in our lives," she says. "I wanted to spread the word and share the long-time tradition and skill of keeping bees with my community."
 To that end, Ma designed her Pollinating Our Communities project and put her grant to good use, building three observation hives and sourcing protective veils and gloves for budding beekeepers. She taught hands-on beekeeping workshops in East Vancouver and also visited an alternative-learning school in Kitsilano to teach children the impact bees have on our everyday foods. "Honey bees are wonderful teachers," says Ma. "In many ways, a beehive reminds us what it means to be in a community – to share, be and work together."
 The projects run by Otero, Kato and Ma are just two examples of many successful community initiatives set up following a resurging interest in bees, according to Danielle Gauld, grant co-ordinator for the East Vancouver communities where both projects took place. In fact, she describes last year as "the year of the bee." "We had many exceptional bee-related projects seeking funding – and it looks like there are more for this year. Projects like those run by Tanya and Breanna and Jenny have proved to be great community builders, as well as providing incredible green benefits," she says.
 "We consider bees themselves to be community assets because they pollinate gardens throughout the neighbourhoods they're in, so they're a great fit with our program and we're excited to be funding more this year." VF
 For more information on Greenest City Neighbourhood Small Grants, visit http://vancouverfoundation.ca/initiatives/greenest-city-fund
To donate to the Greenest City Fund, visit https://s.vancouverfoundation.ca/GreenestCityFundDonate