You are here
Capturing the past ... for the future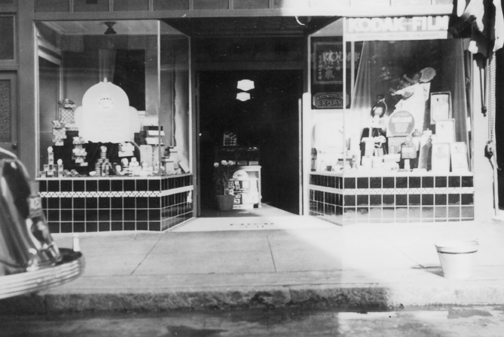 Bill Nimi's memory isn't as good as it used to be. But even at 80 years old, he can still recall many details about his father's drugstore.
"The address was 331 Powell Street," he says without hesitation.
 
It was one of dozens of Japanese businesses that operated in the area of Vancouver once dubbed Japantown. Today, the area located near the Downtown Eastside's Oppenheimer Park bears little evidence of the prosperous Japanese community that existed here before the Second World War.
 
"Drugstores for Asiatics, they were not allowed to dispense medication, just patent medicines. Things like Aspirin,"
Nimi recalls while holding a faded black-and-white picture of the store- front. "We even sold Minolta cameras and we were Kodak film sellers. One of the big items was 78 [rpm] records. We ended up selling a huge amount."
 
He fondly describes the other businesses on the street including a mechanic's shop called the Safety Garage, owned by the Otsuji family. "In those days, auto repair was not like today. You didn't just replace some parts, you fixed it piece by piece."
 
Nimi Drugstore, with its simple entrance of white octagon tiles and black letters that spelled "NIMI 331," was opened in 1918 by Bill's father, Torgoro, who had arrived in Canada from Japan around 1905.
It would be forced to close, along with all the other Japanese businesses in the area, in December 1941, shortly after the Japanese Imperial Army bombed Pearl Harbor. Despite any evidence of sabotage or espionage by Japanese living in Canada, an irrational and racist fear gripped B.C. after the attack in Hawaii. Leaders of local government, businesses and the media demanded that Japanese Canadians be forcibly removed from the coast. Even those born here were not spared suspicion.
 
Within a few weeks, Nimi's parents lost everything – their business, their home and most of their possessions.
At only nine years old, Bill joined approximately 22,000 other Japanese-Canadians in the province who were forcibly shipped off to internment camps in the rugged and remote B.C. interior. There, left to fend for themselves, they crowded into tiny, wooden cottages with other families. There was no running water, no food and no government support. Allowed to carry only 25 pounds each, families took only the basics: brown wicker or leather suitcases filled with clothes, linens and cooking utensils.
For four years they languished in what looked like a prison camp, only to be told at the end of the war that their choice was either to "return to Japan, or move east of the Rockies."
By 1951, only 7,100 Japanese remained in B.C. Their businesses, fishing boats, houses, finances and other possessions were never returned to them.
 
Documenting these stories, and collecting the photos, papers and other artifacts from early Japanese-Canadian families, is the mission of the Nikkei Museum in Burnaby. Headed up by Beth Carter, its enthusiastic, multitasking director/curator, the museum undertakes a number of projects each year to gather and make accessible a wide array of material that showcases Japanese-Canadian history, culture and arts.
Carter is proud to show off the thousands of items the museum has gathered so far. Besides a vast array of family photos and documents, the museum's storage room also includes clothing, suitcases, household items and tapes of interviews all stacked neatly on the museum's floor-to-ceiling shelves. Even the entrance tiles from Nimi Drugstore (the original building was torn down) have found a home at the Nikkei Museum.
Over the years, Vancouver Foundation and its donors have supported a variety of projects organized by the museum. Most recently, the Foundation helped fund a community out- reach project with a grant of $30,000. The museum's goal was to reach out to other, smaller Japanese-Canadian organizations in B.C. to help properly document and preserve their holdings and then share them through a central, online database.
 
"Most people don't want their artifacts to leave their community," Carter explains. "By helping these small groups gather, digitize and catalogue these artifacts, we are preserving them and making them more accessible to future generations."
 
Last year, Carter and her small team worked with the Japanese-Canadian Cultural Centre in Kamloops. This year, they will turn their attention to New Denver, one of the last remaining sites of an internment camp that still has structures standing. There, the Internment Memorial Centre has a vast collection of artifacts that desperately need to be itemized.
"Anyone who experienced the internment camps is a senior today. They understand the significance of some of these photos and artifacts," explains Carter. "As they pass away, we will lose this knowledge unless we properly catalogue it now."
 
Carter admits the work is slow and methodical, but rewarding. Missing pieces of history are found in the back of a photo album. Treasures are recovered at the bottom of some old, dusty box: a coat worn to the internment camp with money sewn inside the lining; a box of recipes; a hand-sized doll dressed in purple and red brocade. These are the objects of a troubled past that the Nikkei Museum is preserving: an archive of memories; a catalogue of commemoration; pieces of a lost puzzle lovingly laid out for future generations to discover. VF
Vancouver Foundation and our donors have supported many archival projects; you can help preserve the past for future generations by going to our website at www.vancouverfoundation.ca
 

By Catherine Clement
Photos courtesy of Nimi family and Nikkei Museum