You are here
Catching a Dream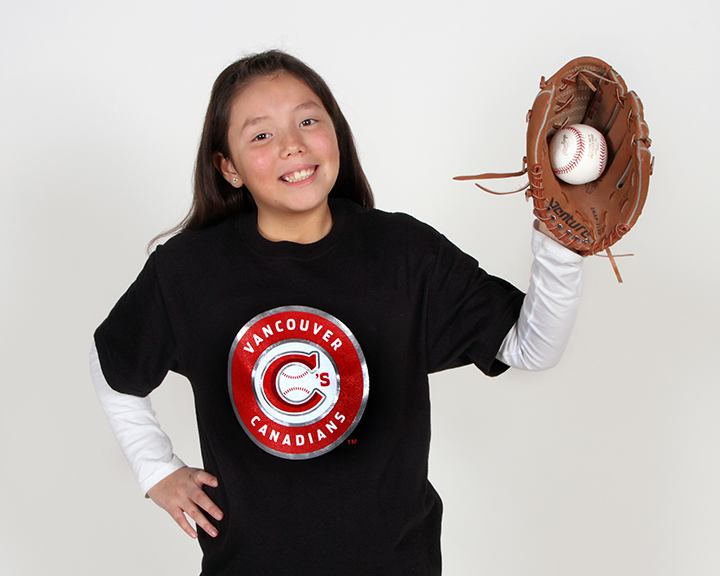 Shea Jim is standing on the pitcher's mound at Nat Bailey Stadium. At nine years old, she's almost lost in this huge field of green.
The people in the stands, including her family, can barely pick her out.
She's calm, waiting.
It's July 31. The Vancouver Canadians are taking on the Salem- Keizer Volcanoes. And  while most kids are standing in line to buy popcorn and corndogs, Shea is about to throw the ceremonial first pitch.
She knows the importance of this long-standing ritual; that it's an honour often saved for someone who is (in her words) "famous or rich." But she's not nervous. As a pitcher for her baseball team in Burnaby, she knows what she's doing.
She gets the nod from the umpire, winds up and lets the ball fly. Shea says she wasn't nervous about throwing in front of all those people. However, she didn't realize how big the field really was until she was standing on the pitcher's mound. "I had to throw it pretty far," she recalls, "a lot farther than I thought."
"This was a really exciting moment for my daughter," says Olivia, Shea's mom, who was in the stands cheering her on. "Shea loves baseball. She plays on a team, plays with her siblings and watches it on TV. So for her to be able to pitch at a professional game really was a highlight."
It was a highlight made possible by the Vancouver Canadians in partnership with an organization called Kids Up Front, which collects and distributes event tickets to underprivileged children. To make it even more fun, one young fan is chosen to throw the opening pitch and attend a home game with his or her family. Shea was picked because she and her mom are part of Helping Spirit Lodge, a community-based organization that helps alleviate family violence and abuse in the Aboriginal community.
Helping Spirit Lodge is one of more than 115 partner agencies where Kids Up Front distributes tickets. Basing their work on the motto, "one little ticket, one big lift," Kids Up Front is filling empty seats in theatres and sporting and concert venues throughout Vancouver. In just four years they've provided 110,000 tickets worth more than $2.6 million.
Vancouver Foundation, seeing the value in the experiences Kids Up Front makes possible, provided a $45,000 grant to help deliver two Kids Up Front programs –
Can't Use Your Ticket? and Kids Count. Both programs allow children and families to participate in entertaining, educational and recreational activities they might otherwise not have the opportunity to experience.
It's a night Shea won't soon forget. The umpire yells, "Play ball!" and Shea sprints to her seat to watch her favourite game on a warm summer night, on her very own field of dreams.
For more information visit www.kidsupfront.com/Vanabout