You are here
Cathedrals of Science
Vancouver Cantata Singers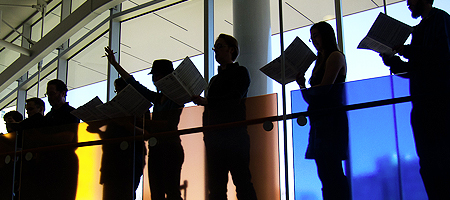 What do Google, a security guard, Vancouver Cantata Singers, the Blusson Spinal Cord Centre, and Vancouver Foundation all have in common?
An unlikely combination, they are changing the face – and sound – of choral music in Vancouver and contributing to spinal cord research at the same time.
Many performing arts organizations in Vancouver are having a difficult time finding the right space. For Dave Carlin, general manager of Vancouver Cantata Singers, there are a limited number of appropriate venues in the city in which his 26-member ensemble can perform: the Orpheum, the Chan Centre, and churches.
Each of these venues presents problems. The Orpheum and Chan are heavily booked. And if you perform only in churches, people think you're a religious entity, which, despite their fondness for sacred choral music, VCS is not.
That's where Google comes in.
Almost three years ago, Carlin was looking online for unique spaces in Vancouver.
"I was looking for a number of things," he says. "We wanted to find a new space that was acoustically appropriate for what we do, and ease our reliance on churches. We also wanted to experience a different venue to stretch ourselves. And we wanted to reach a differ­ent audience and allow people to experience us in a different way.
"I was doing a Google search, and the Blusson Spinal Cord Centre came up under 'interesting architectural spaces.' The build­ing at 10th and Willow wasn't yet open to the public. It wasn't even finished. But the photographs were intriguing. It wasn't far from our offices, so Eric Hannan (artistic director of VCS) and I just walked over to have a look.
"It was still under construction; one of the workers let us in. Of course, as a musician, you're interested in the acoustics, so Eric walks into the space and starts to clap and sing. I'm sure the construction workers were wondering, 'What kind of nuts are these?'
"A security guard came up to us, and we explained who we were and what we were doing. He said you should really meet with Cheryl Niamath from ICORD (International Collaboration on Repair Discoveries). He said she's upstairs right now. 'If you'd like, I'll bring her down and you can meet with her.'"
CarlinandHannanmet withNiamath, administrativemanager of ICORD. That was the start of a unique collaboration between two seemingly disparate organizations:Vancouver Cantata Singers, an award-winning choral ensemble; and ICORD, an interdisciplin­ary UBC Research Centre focused on spinal cord injury. At the centre of that collaboration is the Blusson building.
"The Blusson" is an amazing circle of coloured glass and concrete pinched in the middle, forming two lobes: it looks like an infinity symbol. The most dominant feature is a 200-metre long ramp that winds sinuously around the inside perimeter of the building.
Designed by Vancouver's Musson Cattell Mackey Partnership in consultation with ICORD's researchers, the Blusson is one of the world's most accessible buildings. It's home to the Rick Hansen Institute, VGH's Brenda and David McLean Integrated Spine Clinic, and ICORD. The ramp is a vital part: it's used for exercise and access for people who use wheelchairs.
Besides being a beautiful building, the Blusson also happens to have amazing acoustics. The sound and the amount of reverbera­tion varies depending on where you are in the building. It was a challenge learning how to use those qualities effectively. For Carlin and the Cantata singers, it was like learning to play a huge, six-storey, $45-million instrument.
The partnership between VCS and ICORD deepened after suc­cessful fundraisers in 2009 and 2010. Carlin felt they were finally ready to present a full evening concert to a wider audience. He approached Vancouver Foundation for funding and got a grant of $20,000 to proceed.
On February 26, 2011, with snow gently falling outside, the atrium of the Blusson was packed with more than 400 people. It was standing-room-only, and you could hear a pin drop as the program, Cathedrals of Science, began.
It began with Processional, a piece by local composer Jordan Nobles. Written specifically for this evening and for this space, it set parts of the Hippocratic Oath to music. The singers moved about the space in groups of three, looking for all the world like monks pacing the stones of some ancient cathedral, chanting as they walked along the ramp, their music lit by LED lights instead of candles.
It was a magical evening of modern choral works and Renaissance masses more than 500 years old. Art and science came together under one roof in a grand experiment: liturgical music performed in a non-sacred space – a space designed first and fore­most for people in wheelchairs.
You can hear the results yourself. When CBC found out about the project, it became a media sponsor and broadcast the concert nationally on CBC Radio Two. It also made the concert available on the CBC website (look in the "Concerts on Demand" section).
This collaboration between VCS and ICORD, between musi­cians and scientists continues. Later this year, Cantata singers may participate in a study that will look at breathing techniques that singers use and how these could be valuable in a therapeutic way for people who have spinal cord injuries.
Interdisciplinary is a word we use too frequently. But in this case, it really does apply, as Google, an un-named security guard, Vancouver Cantata Singers, the Blusson Spinal Cord Centre, and Vancouver Foundation all worked together to create a celebration of sound.
For more information about Vancouver Cantata Singers, visit the website at www.vancouvercantatasingers.com