You are here
The Culinary Cathedral: Turning the classic food charity model on its head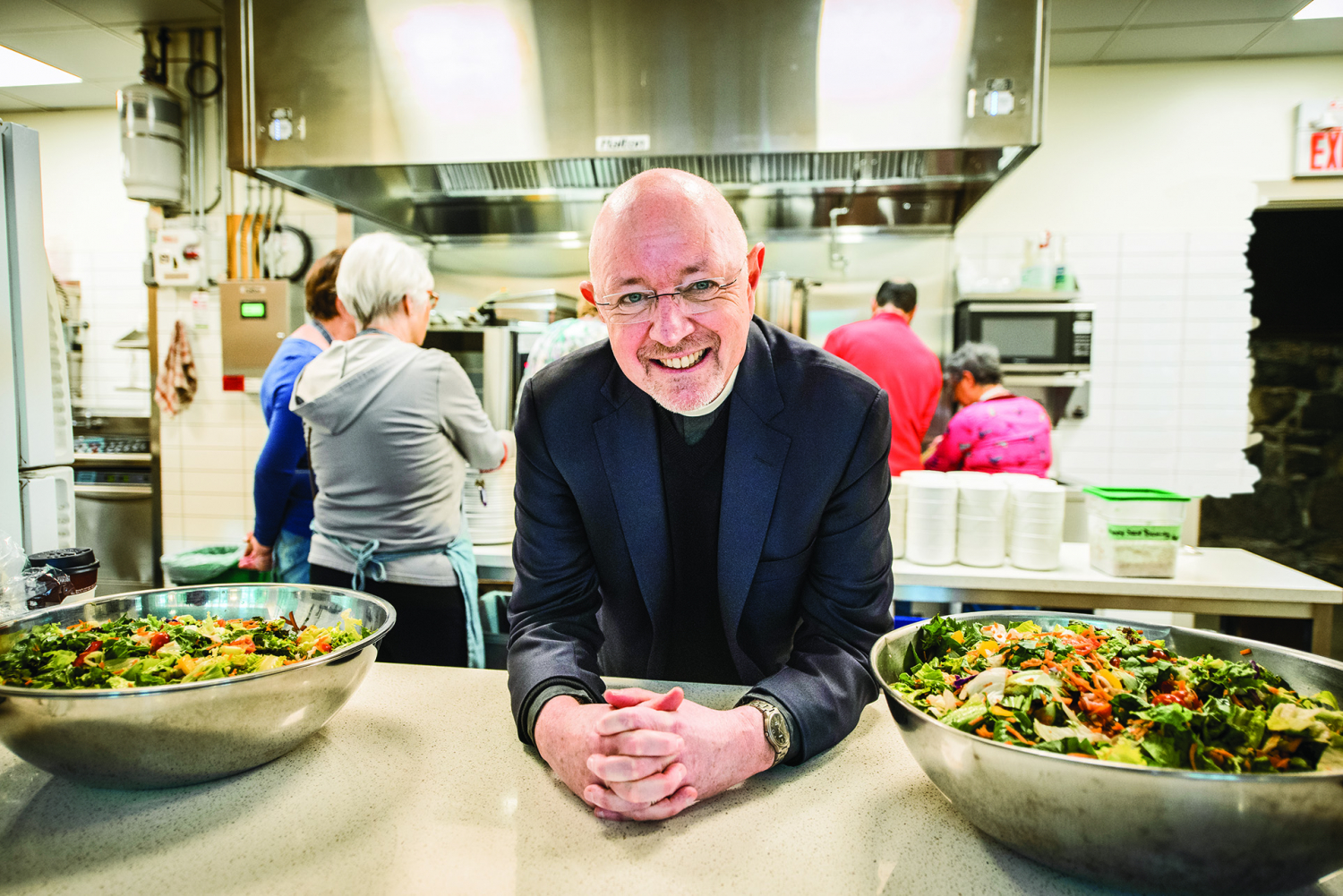 This story was originally published in the 2018 issue of the Vancouver Foundation Magazine.
Written by Robin Brunet
Restaurants may be a risky proposition in as competitive a place as Vancouver, but Maundy Café in the heart of the city's business district is unique in both intent and execution – and as a result, it has seen a steady influx of patrons since opening in September of 2017.
Typically, the unassuming eatery is filled to capacity. The atmosphere is peaceful, the food is fresh and delicious, and staff members are friendly and accommodating – to the point where they routinely take time out to converse with the guests.
As with any successful café, Maundy Café attracts a specific demographic, and this is what distinguishes it from all other food venues. As part of Christ Church Cathedral and supported by a $225,000 grant from Vancouver Foundation, Maundy Café was created for, and caters to, vulnerable populations. "Our intent was to get away from the soup kitchen concept and create a place of hospitality and connection for one and all," says Dean Peter Elliott. "But more than that, it's to undermine the typical power dynamics at play in charity food programs – including our own."
The Cathedral has always used food to nourish its communities in ways that cultivate connection and community resiliency, and Maundy Café's genesis began when church members made sandwiches at home and distributed them to those in need. "They did this for 10 years until the early 2000s, when we modified our kitchen to prepare and distribute the sandwiches," recalls Elliott.
The idea for a café came one rainy day when Elliott observed the usual lineup of people outside and decided to open the church's dining room every Thursday for them. "Considering we receive anywhere from 30 to 120 people daily, the idea caught on, and Maundy Café took further shape when we kept the dining facility open five days a week," he says.
But providing a comfortable eating environment was only one step toward making the café different from the classic charity model. "We did research to determine ways we could further diminish social isolation and break down the barriers amongst all who come to the table," says Elliott.
As a result, the café is becoming a place where guests can enjoy a hot meal and a warm welcome five days a week. "We encourage our volunteers to sit down with our guests, to share food, and chat with them, breaking down the distinction between server and served," says Elliott. And it's working: regularly, guests remark on the transformation. While the new café space is physically smaller, many indicate that it feels more airy and spacious, and the space is abuzz with new and lively conversation.
Moreover, the Cathedral partnered with the Greater Vancouver Food Bank to host a Downtown Community Food Hub across the hall from Monday's Maundy Café. Essentially, all available food is set out in the hall, including perishables, and guests can come in and shop – the idea being that Food Bank members are afforded more choice and dignity in what they consume for sustenance.
Maundy Café is a paradigm shift from an arm's-length charity to a justice-based approach to helping the disadvantaged, and Elliott believes it can be replicated elsewhere. The Cathedral's mandate for the future is to work with other faith groups to bring more dignity, connection, and justice to the way in which they distribute food. The Cathedral will continue to improve its own model in response to guests' needs, while walking alongside other groups ready to take the next steps on the journey toward a more just food system in the city.