You are here
The food desert of Vancouver's westside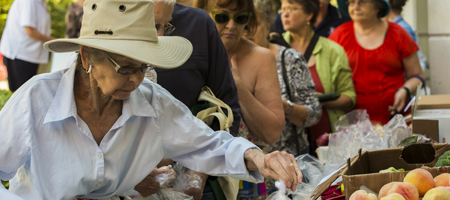 While South Granville is known for its designer shops, live theatre and award-winning restaurants, affordable produce can be hard to find.
Populated by many seniors, some of whom have been living in the area for decades, the South Granville area of Vancouver is known for its designer shops, live theatre and award-winning restaurants. Yet despite the many draws to this area, you'll be hard pressed to find affordable produce. South Granville – in fact, Vancouver's entire west side – is considered a "food desert."
"I first came to this area in 1998," says Elizabeth, a longtime resident of the west side. "Between 10th and 11th avenues on Granville Street, we had a baker who had been there since the '20s, a butcher, a green grocer, and across the street we had a little hardware shop. Then they were all taken out and replaced with designer shops." After pausing to reflect, she asks, "What happened to us?"
Food deserts are areas where physical and financial barriers pre- vent some residents from accessing healthy food. Marcia, another west side senior, says, "The next grocery store within my budget is far away. If my arthritis flames up and I am feeling achy on a day I need to go shopping, I have to pop painkillers to be able to actually go."
South Granville is just one area in Vancouver like this. If you view an aerial map of the city, you can see large swaths where there are no grocery stores at all for residents in the area. The Westside Food Collaborative is working to address food access issues for locals like Elizabeth and Marcia. Earlier this year, the group teamed up with the South Granville Seniors Centre to launch a pilot initiative – the Westside Mobile Food Market.
The first of its kind, the mobile market delivers fresh, affordable fruits and vegetables to seniors who would otherwise have a hard time accessing fresh produce. From July to September, the mobile market would set up each week at the South Granville Seniors Centre and then in Marpole Place Neighbourhood House.
The group initially organized community consultations to assess the specific needs of the west side by working with local advisors and residents. "I knew we had the power and energy to make this hap- pen," says Zsuzsi Fodor, community co-ordinator with the Westside Food Collaborative. "It's beyond what I could have imagined."
For Fodor, who has a master's degree in urban food planning, the goals of this project are twofold. "We definitely want to meet the immediate food access and food security needs of the folks who are coming to the market. We also want to use it to tell the story of what's been going on in South Granville and other west side neigh- bourhoods to heighten the awareness, and challenge the perception that the west side is full of people who have means and don't need this kind of organizing."
Through the Greenest City Fund – a partnership between Vancouver Foundation and the City of Vancouver – the Westside Mobile Food Market received $12,000 in program support, and was able to leverage other, in-kind community support.
"With this support, Vancouver Foundation has allowed us to put food directly into a community that really needs it," says Fodor.
The Westside Mobile Food Market aims to accommodate the needs of local seniors each week. This week, the market has a boun- ty of produce, from BC cherries and orchard peaches, to local garlic, fresh corn, new potatoes, green beans and more. Even before the market opened, more than a dozen local seniors were lined up.
Annie Lambla, Westside Mobile Food Market co-ordinator, manages the weekly operations of the market and hears firsthand what the locals think. "Everybody loves it," she shares in between serving customers. But it can be a guessing game to know how much produce to bring. "We collect feedback on selection and price each week."
As another customer buys corn, apples and plums, Lambla says, "The volunteers are a highlight for me. They're great to work with and it's good because they are residents of the neighbourhood too."
The market's organizers and volunteers have all seen the community come together around the market, and believe the market does more than sell vegetables. "It has the potential to help address isolation and loneliness in the community," says Fodor.
"The market is an outing for folks – they talk to the staff and other customers, and learn about other community events. These are unintentional positive benefits of the market . . . It's about food, but it's also about people."
Raymonde Jabaji, a market volunteer and west side senior, agrees. "Some people who don't know about the seniors centre are now coming in," Jabaji says. "The market is helping bring people together."
The Westside Mobile Food Market is part of a campaign to sup- port sustainable solutions that end food deserts in Vancouver's west side and give seniors easy, dignified access to affordable, healthy food. Learn more about the campaign at plentycampaign.ca    VF
To learn more about Greenest City Community Grants, or to support projects like the Westside Mobile Food Market, contact Peter in Development and Donor Services at 604.629.5357. Or visit vancouverfoundation.ca/greenestcity
 

 Vancouver Foundation magazine Fall 2013

By Jeanette LeBlanc
Photos Vincent L. Chan