You are here
Gather Round
Neighbourhood Small Grants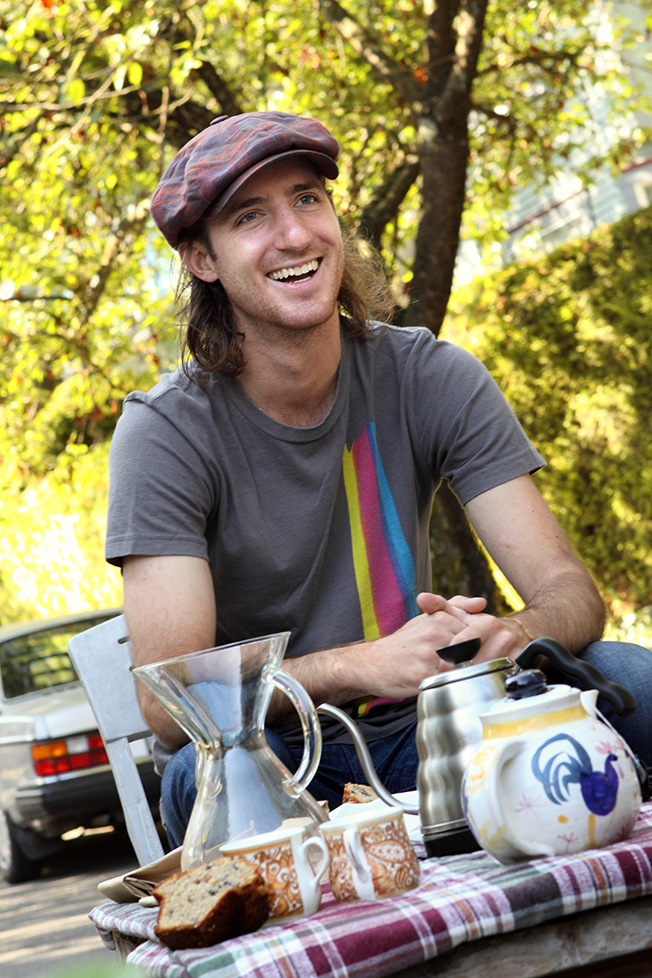 There are more than 200 parks in Vancouver, and Julien Thomas has added another to the list. It's small. Really small. About three square metres (or 0.0003 hectares). So small that if you blink while cycling by the intersection of 10th Avenue and St. George Street in east Vancouver, you'll miss it.
Except on Sundays, during the summer. That's when Thomas serves coffee. It's hard to miss a small group of neighbours and cyclists (and anyone who drops by) sitting on chairs, sipping coffee and chatting, in the middle of the street.
It's incongruous, delightful, and a little unnerving at first. Did I mention that Thomas's park doubles as a traffic circle? (Or is it the other way around?) It has all the signage needed to do its job. It also has a table, artwork (a stone mosaic by a local artist) and well-tended plants. It even has a name – in March, this little micro-park, known fondly by street engineers as a "traffic calming measure," was christened "Gather Round."
And that's what people have been doing: gathering. What it lacks in size, Gather Round more than makes up for in impact. It has brought the neighbourhood together in a unique way.
The City of Vancouver runs programs that allow residents to take care of street gardens in traffic calming spaces, such as traffic circles and corner bulges. It was the idea of turning his street into a park that got Thomas excited. For him, it was a way of "re-prioritizing our streets for people over cars." Though it didn't happen overnight. While finishing a degree at SFU, he spent time researching the subject, and around Christmas 2011 he found the right location. There were lots of discussions with streets engineering, water engineering and the local community.
"Not only do we have this amazing policy that allows people to take part in transforming their urban space," says Thomas, "but this intersection at 10th and St. George is at the epicentre of urban change – 10th Avenue is one of the most thriving bike lanes in Vancouver. And, you can't see it now, but St. George is the passageway of an ancient creek."
A neighbour told him about Vancouver Foundation's Neighbourhood Small Grants program. Thomas applied for a project grant and for money from the artist enhancement fund. He got a total of $800.
He met the neighbours, and invited them to join the project. They'd never met each other before, but since March 2012, the little traffic circle that could has been drawing the community together. "Most neighbours immediately get it," says Thomas. "It's a community collaborative effort." Thomas has convinced Matchstick, a local coffee shop, to supply free coffee on Sundays. One neighbour stores the table and chairs, another supplies water and kettle.
Every few weeks, Thomas puts a notice in local neighbours' mailboxes, encouraging them to come by for some coffee or check out the website (www.gatherround.ca), asking for donations of plants if they have any extra, and notifying them of what's going on. Gather Round has become a focal point in the community, and Thomas couldn't be more pleased.
There are 280 traffic circles in Vancouver. Julien Thomas smiles broadly at the prospect – he's already planning ways to link them up, bridging communities by creating more interesting places to meet, and make friends.
John Donne's dictum that "No man is an island" may be true. But a park in a traffic circle? That's something to aspire to.
Neighbourhood Small Grants (NSG) is a program that can have a big impact on people's lives, for a small amount of money. If you want info on how you can contribute to this amazing program, or if you have a great idea that brings people together in your neighbourhood, visit the Neighbourhood Small Grants page.