You are here
Grants at a Glance 2018
Projects Vancouver Foundation and Our Donors Recently Supported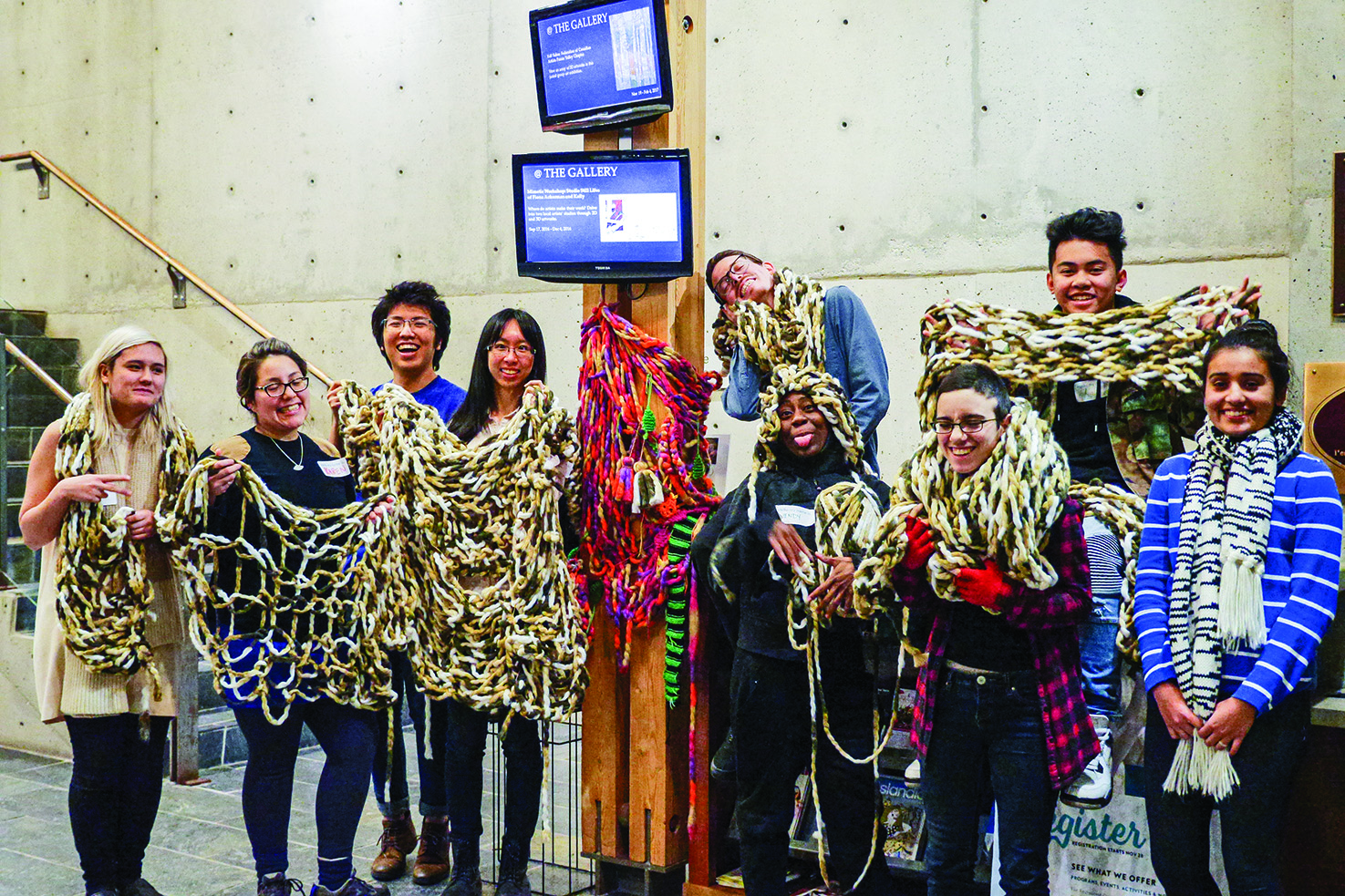 Surrey Art Gallery's Youth Engagement Strategy
The City of Surrey welcomes 1,000 new residents every month, 50 percent of whom are under 24 years of age.
Given this, the Surrey Art Gallery is responding to the needs of young people with initiatives to strengthen their voices through art. Supported by a three-year Vancouver Foundation grant of $225,000, the Surrey Art Gallery is building on two years of research and pilot projects to implement its Youth Engagement Strategy (YES) Program, intended to empower young people to learn and make art with artists and art educators.
This is taking many forms: Art Together sees young people working shoulderto- shoulder with mentoring artists to create do-it-together art projects. A teaching/training program that not only develops the knowledge of art for the youth involved, but also hones their communication skills and confidence as they learn to lead activities.
"We support more newcomer tours and workshops, in-school art workshops, pop-up art booths, and youth digital art screenings at the Gallery's awardwinning UrbanScreen," says Alison Rajah, the Gallery's Curator of Education and Engagement. Rajah adds that the youth-initiated and -led programming has benefits that go beyond developing creative, cognitive, and social skills. "It's about building a sense of belonging in more connected and growing communities," she says.
Art Adrift Outpost
Art stimulates the mind and the senses, imparts a sense of well-being and even excitement, and has the power to bring together friends and strangers alike in an appreciation of beauty.
This was very much on the minds of social worker Becky Hynes and school teacher Kathryn Best when they recently opened the Art Drift Outpost on the corner of Argyle Street and E. 35th Avenue in Vancouver.
Supported by a $350 Neighbourhood Small Grant from Vancouver Foundation, the Outpost consists of a five-by-four-foot case filled with paintings, prints, and photos, along with a sign stating "free art." Hynes says, "We thought a free art exchange would provide locals with an accessible and affordable art collection, and serve as a place to create community connections and conversations – a social hub."
The Outpost was initially stocked with art from Best's private collection, but Best notes that locals were initially baffled by the sight of the street corner case – and left money instead of rummaging through the contents. Now, however, the case is replenished weekly. "The feedback is very enthusiastic, and we hope to follow the journey of the art and enhance community connections by encouraging patrons to chat online through #VanArtADrift," says Best.
The Right Fit Pilot Project
Wheelchair users looking for affordable and accessible housing face daunting challenges in Metro Vancouver. Many are in unsuitable homes, unable to use basic amenities for bathing or cooking; others face homelessness.
After years of exploring underlying challenges, Disability Alliance BC (DABC) is leading a partnership to test systemic changes that help wheelchair users, housing, and service providers close this gap.
The Right Fit Pilot Project (RFPP) is seeking to streamline approvals, incentives, consistent accessibility standards, and a centralized accessible housing registry.
Supported by a $223,538 grant from Vancouver Foundation, the three-year pilot is also testing a case management model to help wheelchair users navigate complex pathways to securing the right mix of subsidized housing and independent living supports to fit their needs. "We're confident that we'll know what's needed to help people who use wheelchairs find appropriate housing," says Jane Dyson, DABC Executive Director.
Share Songs and Culture
As Indigenous people move back to Vancouver's Chinatown neighbourhood, it's becoming increasingly clear that although the two cultures share many commonalities, formal opportunities to bond and share their experiences are long overdue. To foster the relationship between the people of Indigenous and Chinese heritage, the Ray-Cam Co-Operative Centre recently adopted a Thanksgiving event.
Organized by Lorelei Hawkins, Community Elder who is of Cherokee, Shuswap – Okanagan descent, and with a $500 Neighbourhood Small Grant from Vancouver Foundation, the event saw indigenous elders and youth along with Chinese Canadian seniors learn about one another's culture through drum making, bead crafting, and sharing folklore and songs.
Ray-Cam facilitator Bob Wong notes that local seniors – many of whom are in their 80s and 90s – were very much the driving force behind the project and, guided by Hawkins, the activities (which were staged to commemorate the Lunar New Year) amounted to much more than fun and entertainment.
"It became clear that the Chinese and the Indigenous communities are an extended family, just like cousins," he says. Hawkins, who hopes that more events will be staged, adds, "Discovering the many traditional values we share makes us stronger as a community. And together, we seniors and elders can pass on our wisdom to the younger generation so that it isn't just lost in time."