You are here
Grassroots Economics
The Groundswell training network is working to recreate the economy based on values of community and social impact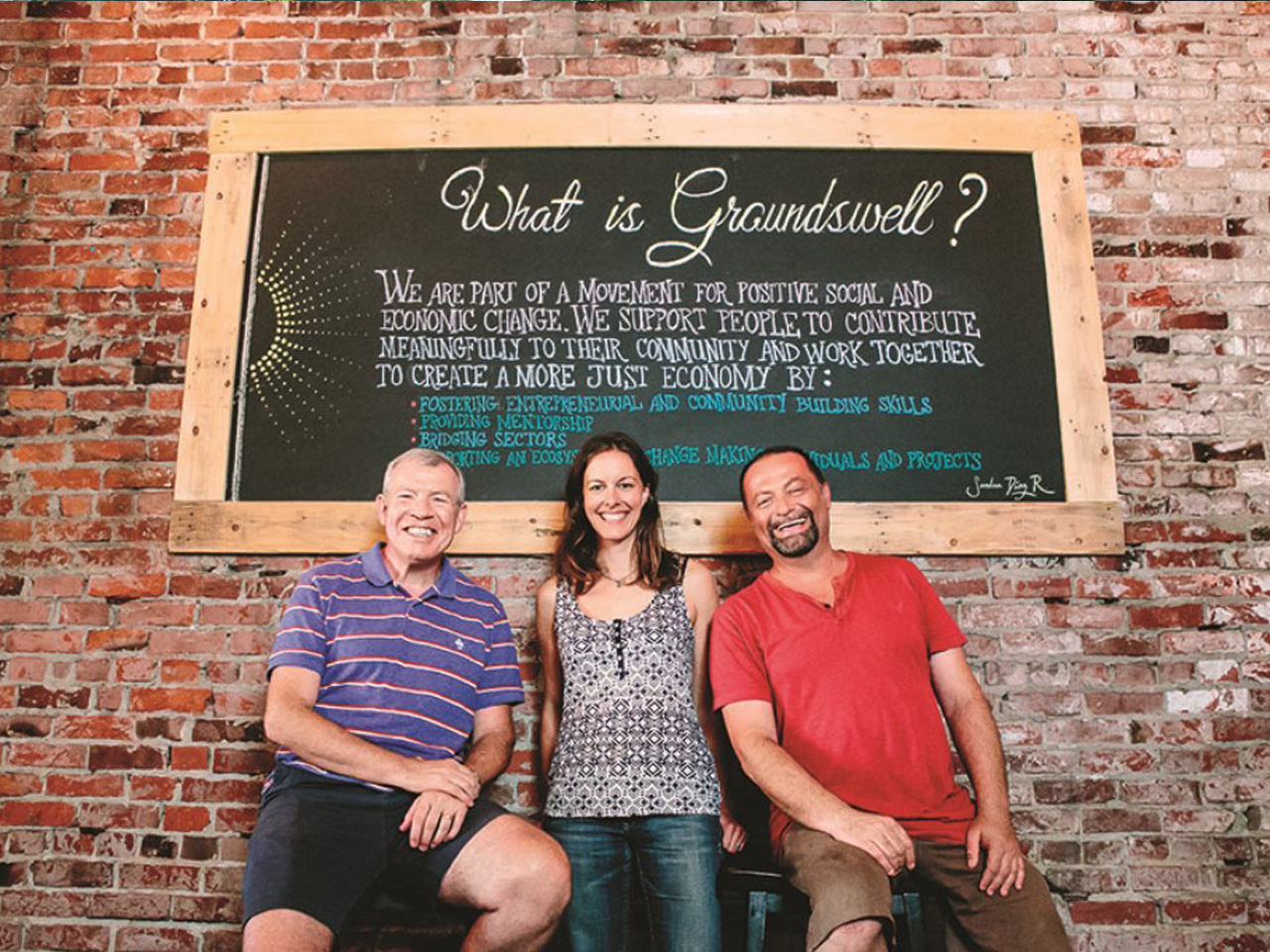 As steam unspools from fresh cups of coffee on a polished wood countertop, dozens of young minds fumble in the background to find seats for both their ideas and their posteriors. The air is electric, and the warm glow of string lights reflecting off vintage brick walls is homey and inviting.
"Every revolution needs a café," jokes Gilad Babchuk, laughing as he discusses the motivation behind the latest addition to the amenities at Groundswell, an organization that uses a 3,000- square-foot tract of Downtown Eastside real estate to train its participants in the disciplines of grassroots social entrepreneurship. "To understand Groundswell," explains the exuberantly cheerful Israeli expat, "you first have to understand the space."
But what Babchuk refers to here isn't just physical, it's the gravity of ideas housed under this one roof. There's a clear industrial heritage to the room, in turn encouraging industriousness from the patrons of the café, who are encouraged to use the area as a working space, and the students formally enrolled in Groundswell's educational programs. The result is an atmosphere one imagines is akin to the salons of Europe during the Enlightenment.
Groundswell bustles with cerebral musings all week long, but two days a week the café is closed to regular business and the space instead becomes one giant classroom. Lectures, panels, boot camps, mentoring and exchanges of creative visions serve to guide participants into personal trajectories of meaningful selfemployment in what the organization calls "social-impact ventures."
One of the recent projects to emerge from this space is called Wood Shop, a custom-furniture-manufacturing business that builds exclusively from reclaimed wood diverted from landfills. Wood Shop is unique among other businesses doing the same in that it also uses pallets – a major source of waste wood not often considered salvageable. It's a process known as "upcycling" – repurposing material for a higher calling than its original use.
The business is the brainchild of Chris Nichols, a 32-year-old Groundswell graduate who, incidentally, built the bar at the café as his first project. Though Nichols has a master's in sociology, he first worked in carpentry to pay for school. At the outset of starting his PhD, he had second thoughts.
"I was getting increasingly dissatisfied with theorization and different critiques of the world without feeling empowered to actually effect change," he remembers. "I realized working with my hands was what I really wanted to do. Then coming across Groundswell was a perfect scenario where I'd get to take some of these critiques and put them into practice."
Nichols finished the program just a year ago, and yet he and his two partners, Ben Huff and Andrew Hewins, are already so busy they recently opened a new space in the False Creek Flats industrial area to keep up with demand, and hired an employee. If all goes well, that employee will eventually become a partner, as Wood Shop is in fact a worker-owned co-op.
"We're pretty committed, and have it written into our bylaws," says Nichols, "to work on consensus and to not organize ourselves hierarchically. Which maybe doesn't make such a big difference when you're only three people, but it certainly mandates how we would grow and incorporate new members. As soon as there's a fourth member, that person will have a 25 per cent say."
As it turns out, this is something that actually works well in the marketplace. Nichols has found a good niche among "people with whom the ethics of being a co-op or being environmentally conscious resonate." Part of this, he says, is due to a growing progressive consciousness in Vancouver, as shown by the city's mandate to be the greenest city in the world by 2020.
That progressive movement is also what Babchuk wants to capitalize on. Back in Israel, he was on the board of an international company and consulted on education in Europe. He was also involved in the establishment of more than 10 alternative schools. But when he came to Vancouver, he felt isolated working by himself. "What I've learned in my life is if you want to feel like you belong, you need to give," he says.
"What I've learned in my life is if you want to feel like you belong, you need to give," Gilad Babchuk
In that spirit, he found two partners with a similar vision, Jim Barker and Matt Hern. Together, the three men invested their own money and a great deal of sweat equity into Groundswell before any other capital was on the table. Their big break came when Vancouver Foundation became the first major funder to pitch into the vision with a $70,000 seed grant in 2012 that made a pilot year possible.
"We got the first grant," says Babchuk, "they saw the results,
then we got three years."
That second injection, in 2014, was worth $200,000, and was critical. Babchuk explains that the funding wasn't necessarily enough on its own, but Vancouver Foundation's endorsement gave Groundswell the credibility to secure other funds, making the whole thing work. "We wanted it to be totally accessible to everyone," he says. "And the idea of students paying $8,000 to $10,000 meant it wasn't going to be Groundswell the way we wanted it." As such, the funding Groundswell receives not only pays for rent and faculty, it also subsidizes the real cost of the program for students. "If we went after privileged kids, we could be independent in a year," Babchuk explains. "But that's not the point. Wereduced the tuition so money is never a barrier for anyone who wants to take the program."
That's made a huge difference to participants like Nichols, his partners and the 60 other young people who've made their way through the six-month core program at a cost of only $2,400. Babchuk beams as he explains that the results speak for themselves.
"Almost everyone's gone on to be self-employed, and in ways where they don't have to compromise their values in order to make their livelihoods. It's the impact we need to see in the economy . . . We want to create a community of socially and environmentally focused businesses, non-profits and co-ops."
For Nichols, it's something that comes full circle. He now also teaches a course on ethics in contemporary capitalism through the Groundswell program. For him, it's important to "show we can appropriate a positive ethic in mobilizing our critiques in trying to build a better future." As for Groundswell, there continues to be an expanding roster of programs and micro-businesses emerging almost monthly – the speed and success of which is no doubt due to a rich economy of ideas, ever-blooming, right at their feet. As Babchuk says, it's all about making the space.
| | |
| --- | --- |
| Story By: Matt Cote | Photos By: Claudette Carracedo |