You are here
Pesticide Education Goes Bollywood
UBC School of Environmental Health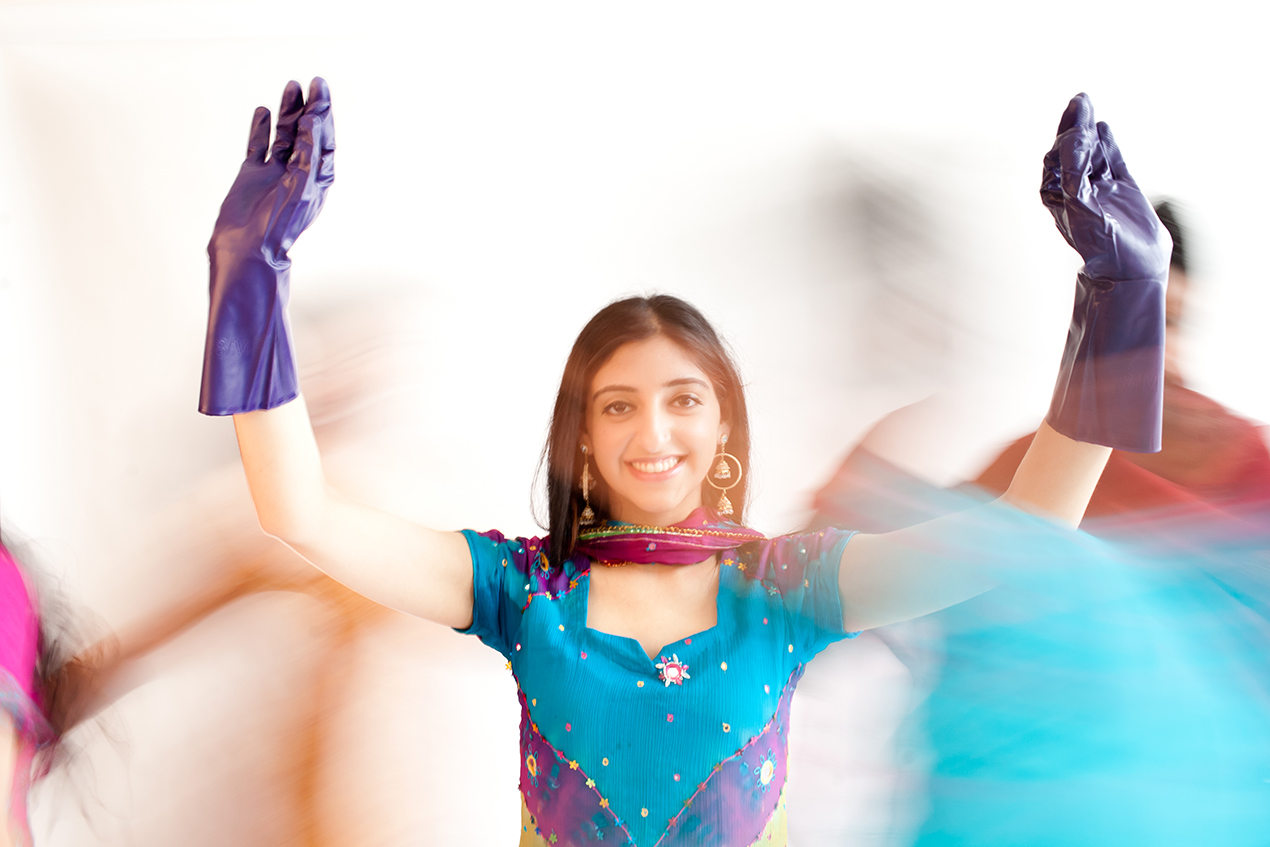 A bhangra drummer pops out from behind an outdoor laundry machine like a manic jack-in-the box.
Then, women in searingly bright saris – and purple rubber gloves –pour out from behind the house and launch in to a Bollywood-style dance routine. But they aren't in India: they're whirling around in a Fraser Valley farmer's field.
That's the eye-catching intro to the Wash with Care video, which aims to teach people how to safely wash clothing worn during farm work or pesticide application. The Wash with Care project is the inspiration of Dr. Anne-Marie Nicol of UBC's School of Environmental Health. Nicol is a precise blonde woman with a firm handshake and a passion for research that makes a difference to people's lives.
Nicol found that clothing worn where pesticides are used is a major source of indoor pesticide contamination in B.C. However, many people handling these garments – mostly women of Punjabi origin – weren't aware of the serious health risk it posed to them and to their families.
Clearly, traditional forms of pesticide education weren't reaching these people. "But when I was conducting interviews with these families, there was always a Bollywood musical running on the TV," Nicol explains, with a gleam in her eye.
So, with the help of a grant from Vancouver Foundation, a research team and the N.S.M. Bhangra dance troupe, Nicol made theWash with Care video. It features a Punjabi-speaking mother and daughter team learning how to launder contaminated clothing as tions," Nicol laughs. "The dancers were so creative!"
Nicol showed the video as a public service announcement on B.C.'s multicultural channels, Omni and Joy. She also showed the video in temples throughout the Lower Mainland, where she and her colleagues handed out thousands of rubber gloves and laundry machine magnets with laundering instructions in Punjabi.
"We deliberately made the video and all the materials very friendly. It's not presented in a scary way. We want to begin a dialogue with the community about the potential impact of pesticides," Nicol explains.
Her strategy certainly got her target audience's attention. India's Hindustan Times promptly put the story on its front page, and CBC National ran the story. Suddenly, Nicol and her translator were sought-after guests on local Punjabi call-in stations. Now Nicol feels she's achieved "saturation levels" of public awareness.
"Every time I take a taxi with a Punjabi driver, I ask the driver if he's heard of Wash with Care, and he always says yes," she says with satisfaction.
Next, after a formal evaluation of the project, Nicol is looking to remake the video in other languages. She is also looking for funding to take the project to the Punjab, where she says poor handling of pesticides is linked to "an enormous burden of cancer."
It's a sombre topic. But as Nicol has shown, it might be best addressed creatively, set to a lively bhangra beat.
VF
To see the Wash With Care video or for more information, visit www.washwithcare.ca