You are here
The power of pie
Neighbourhood Small Grants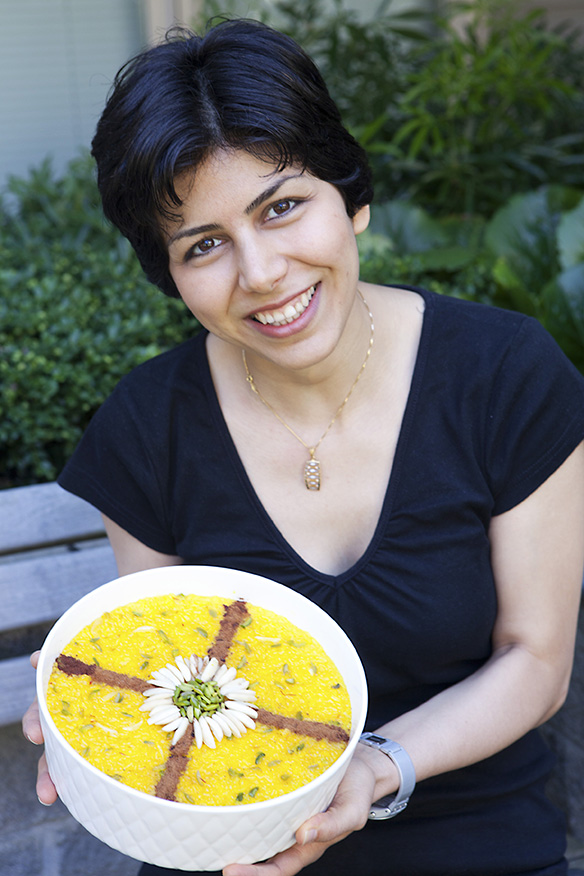 Never underestimate the power of an apple pie. That simple dessert became a catalyst for building community last year, inspiring nine women – originally from Germany, Brazil, Venezuela, France, China, Taiwan, Japan, Egypt and Iran – to begin cooking together and teaching each other how to make traditional dishes from their mother countries. They gathered in each other's kitchens. They prepared a list of exotic dishes. And they made several interesting discoveries.
"We had much more in common than we would have thought," says Daniela Korinth, an outgoing young woman with long dark hair, who recently moved to Kitsilano from an area near Germany's Black Forest. "This surprised us because we were such a mixed group." She met the others in 2011, while participating in a Multicultural Women's Support Program at Kitsilano Neighbourhood House, where newcomers with varying levels of English had gathered to join a community and practise their language skills.
When someone brought that apple pie to a meeting, the conversation quickly turned to stories of the foods from their home countries, and they discovered a common interest in cooking. "Even though the foods themselves are different, its importance to us, its social aspect – that's common to everyone," observes Daniela.
Soon, just talking wasn't enough; they were hungry for action. So when they heard about the Neighbourhood Small Grants program, funded by the Vancouver Foundation and administered through numerous Neighbourhood Houses, they decided to launch a cooking project that would combine their love of food with an opportunity to improve their English.
"We wanted to learn to cook new dishes – ethnic dishes," Daniela says. "And this forced us to speak, read and translate recipes into English." Their first meeting was at the home of Monica, who showed them how to make a condensed milk pudding from her native Brazil. Using the $500 grant to purchase some of the ingredients, they met twice a month, making recipes as varied as sushi, tiramisu and cheese soufflé. In January, when the program finished, they'd only used half the grant, so they returned the rest of the money.
But they continued to get together frequently, and welcomed a few new members to their group. "We became friends. That's been the most important outcome," says Daniela.
Eating together is one of the most traditional and most obvious ways of connecting with people, but a special bonding happens when you first cook together and then sit down to share the results of your labour. "At first, our conversation was about the how-to, the recipe instructions. But as we met regularly, we began to talk about being new in a strange place and the challenges we faced. We talked more about what was going on in our lives," explains Daniela. "We talked about our cultural differences and similarities." At the start of the project, they thought they were just making lunch, but actually they were making a community.
Such community-building initiatives are important steps toward making people feel at home here. Those new to metro Vancouver are quick to rave about its beauty, and say its citizens are generally polite – but not always warm and inviting. Vancouver Foundation launched an extensive community consultation in 2011 and made a startling discovery: the number one concern expressed was a growing sense that residents in metro Vancouver are increasingly disconnected and disengaged.
Delving deeper, the Foundation followed up that work with its Connection and Engagement survey this past spring. The survey asked more than 3,800 people about their experiences living in the region, and those findings reinforced what was heard in the consultations: one person in three finds it a difficult place to make friends. And neighbourhood relationships in metro Vancouver are cordial, but weak: people tend to know the first names of their neighbours, but that's about it. Few have regular conversations with a neighbour. Not many have done a simple favour for a neighbour, or have visited a neighbour's home. As a result, about half of residents either don't trust their neighbours or don't sense that their neighbours trust each other.
There is, however, reason to be optimistic: it would seem that creating community is simpler than most of us would have imagined. This past July, several members of the ESL Baking & Cooking project got together for a reunion lunch, making empanadas at Nathaly's place, and filling the kitchen with casual conversation and easy laughter.
Nathaly tells the group to fill the circles of dough with cheese and guava paste, a sweet-salty flavour combination that's a favourite in her home country. There's both enthusiasm and a hint of longing in her voice when she says that in Venezuela, every house has a guava tree. Then her warm brown eyes start to sparkle and her smile is relaxed and happy as she rolls out another batch of dough. "I love baking. Working with dough is like therapy. You knead it and roll it and your problems just go away."
Baking is good for the soul and cooking must be good for the heart, at least if this warm and inclusive group is any indication. "Now we feel like part of a community. And we're reaching out to others who've heard about our project and want to start projects of their own," says Daniela, adding that they've received another grant, and will use those funds to host a picnic, so they can invite more people to participate.
The empanadas and other recipes can be found on the group's blog at multiculturalfoodlovers.wordpress.com.
If you would like to find out more about Neighbourhood Small Grants (NSG), or if you have an idea for a community-building project, visit our website at www.vancouverfoundation.ca/nsg