You are here
Real Life Opera
Spoken-word artist Shane Koyczan's life story puts bullying centre stage in Vancouver Opera's newest production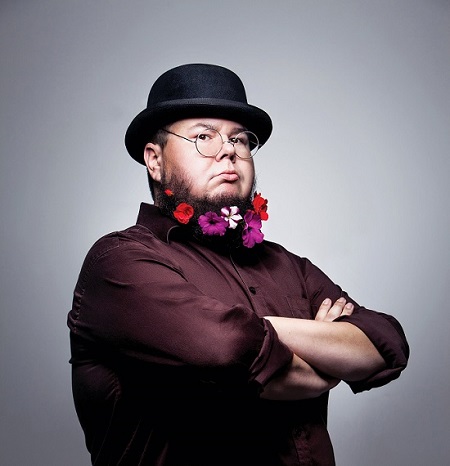 Shane Koyczan is no stranger to deeply personal material. The poetry of this Vancouver-based spoken word artist is rich in social commentary, and often delves with an unflinching eye into intimate and sometimes disturbing subject matter. However, when Vancouver Opera came calling two years ago to ask if he'd be interested in adapting his 2008 autobiography, Stickboy, for the opera, he says he was terrified. 
"The idea of having other people sing my words and play characters in my life was kind of disorienting," Koyczan says. "When I wrote Stickboy, I thought that I would just get this story down on paper, then close that chapter in my life."
Turns out Stickboy, Koyczan's fascinating life story, did indeed get a second life in the form of an opera. Thanks in part to funding from Vancouver Foundation, it debuted October 23 at the 700-seat Vancouver Playhouse for an 11-night run, featuring an 11-piece orchestra, five soloists and eight ensemble singers.
Stickboy tells Koyczan's harrowing personal journey from the bullied to the bully – the subject of taunts and harassment as a little kid from Yellowknife, then, after moving in with his grandparents in Penticton in search of a fresh start, becoming the sort of person who had tormented him. There are few topics concerning youth more emotionally charged than bullying, a sad reality of school life for far too many kids, and one brought recently to the forefront of public debate by the tragic 2012 suicide of bullied Port Coquitlam teen Amanda Todd. Stickboy is Koyzcan's tale of wrestling with and ultimately coming to terms with this demon within.
In 2012, James Wright, Vancouver Opera's general director, had lunch with a friend involved in anti-bullying campaigns who turned him onto Stickboy. He found a copy, read it, and was instantly captivated by a story that was rich in the timeless operatic themes of conflict, drama, catharsis and redemption. Yet, unlike Puccini's Tosca or Mozart's Don Giovanni, Stickboy was forged in a contemporary and compelling plot. Wright says the story resonated with him even though he has neither personal experience with bullying nor children to regale him with tales from the playground front lines. 
"Essentially, it's a story about being the 'other' – the outsider – and that's a universal theme. But Shane also writes with a certain rhythm and cadence, and I knew it would be terrific on the stage," says Wright.
Wright's attraction to Stickboy was also strategic; Koyczan's pop culture cachet, which reached a crescendo when he performed at the 2010 Winter Games opening ceremonies, coupled with a socially relevant story, would help appeal to a younger audience – which, in the world of opera, is under 45.
"Opera still suffers from an elitist, somewhat inaccessible image, and that's something we're very conscious of overcoming," Wright says. After an initial informal chat between Wright and Koyczan at a local coffee house, the latter went away to wrap his head around the idea of assuming the role of librettist and adapting words from his autobiography to opera. In opera, it's the words of the librettist that come first, but it's also a collaborative process – in this case, involving general director Wright, composer Neil Weisensel, dramaturge and director Rachel Peake, and musical dramaturge and conductor Leslie Dala (dramaturges help research and edit the libretto or musical score in order to tell the story in the most effective way).
After Koyczan had inked a 25-page first draft, the creative team began the first of several workshops. Though it was daunting at first, Koyczan says he enjoyed the adaptive writing process. It was a marked departure from his usual witty and complex sense of word play, which, given the demands of opera, he had to distill into a crisper, simpler prose.
"I really had to unlearn some things and simplify the language so that it can actually be sung on stage," Koyczan says.
Koyczan proved to be a quick study and an adept librettist, and also respectful of the process, Wright says. In opera, that means musical authenticity ultimately trumps textual authenticity, and that can be difficult for a librettist when he's dealing with his own life story. In this case, Wright says the libretto was so strong that there were no major creative conflicts beyond lively discussions and exchanges over how best to hone the text.
Composer Neil Weisensel calls Stickboy a dream project because it deals with a compelling and socially potent topic. When the original composer had to drop the project, Weisensel jumped at the invitation and opportunity to work with Vancouver Opera, the country's second-largest opera company and one that he knew would bring excellent production values and singers to Stickboy. Weisensel was drawn to the unconventionality of this opera; Stickboy incorporates video and animation by the creative team at Giant Ant, which produced Koyczan's viral video To This Day, as well as non-musical sounds to punctuate the storyline. And, like Wright, he loved the theme. It had the requisite tension and drama that forms the core of all good opera, but it tackled a subject that's close to the heart of all parents or anyone who's had experience with bullying – either as the target, a passive onlooker who regrets not stepping in, or as a bully oneself.
"When I first saw the libretto I was very impressed," says the Winnipeg-based composer. "Shane was a very good collaborator. He's not a musician, per se, but he works with musicians and he has a great musical sensibility. When he had something to say about the music, I listened – it's his life, after all."
Weisensel hopes and believes Stickboy will reach a new opera audience for a number of reasons, not the least of which is the renown and appeal of a hip spoken-word artist like Koyczan. Its fusion of traditional opera with other media, and the fact that it will be performed in English, will also help. In addition, the use of sur-titles – words projected above the stage as they are sung – will ensure that all audience members can follow the twists and turns of the plot.
"As a word, 'opera' comes with so much baggage," says Weisensel. "I really think Stickboy could be a game changer."
With the ink now dry on the libretto, Koyczan gets to sit back and enjoy the audience response. He is still moved by the many letters and messages he receives from people touched by Stickboy, the book. If his life story, now cast in operatic form, helps reach new audiences, touch lives and promote more dialogue about one of the more troubling challenges faced by school-age youth, then he'll be
happy. He says he hopes people will see how tiny little shifts and almost imperceptible changes can happen in a person, how easy it is to go from one to another, from bullied to bully.
"It's hard to step aside and say, 'Okay, here's my life, good luck with it,'" Koyczan says with a laugh, recalling the moment this past summer that he left the finished libretto in the capable hands of Vancouver Opera. "You know people say that 'opera' is a loaded word, but I'm a poet and so is 'poetry.' I'm really excited about it."