You are here
Recycle, Recover, Rebuild
With the help of the Binners' Project, Michael Leland has gained security—and learned to see the value in his work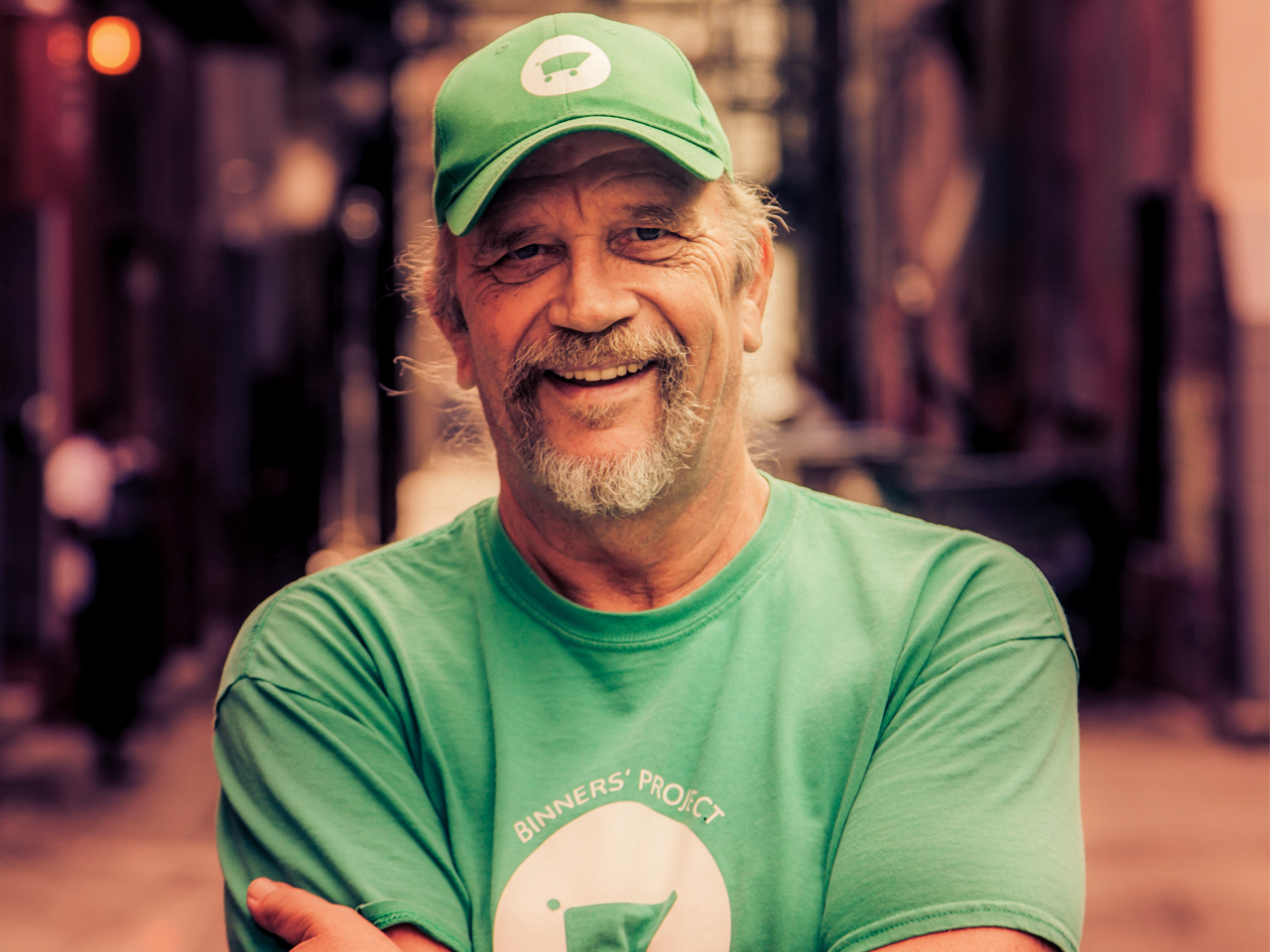 Every Monday, Michael Leland cycles to the Royal Vancouver Yacht Club, towing a bike trailer. The trailer sports his own modifications: its load capacity has been expanded thanks to a freezer rack. Sometimes accompanied by a fellow member of the Binners' Project, he pulls bottles and cans from a weekend of garbage, then bags and loads them—carefully—onto his trailer. "Centering the load is a skill," he says with a laugh. "You can only put so much on a trailer before the wheels give out."
Then he bikes to the United We Can depot on Industrial Avenue. "It's a heavy load, around 150 pounds. It's like doubling somebody all the way," he says. On one trip to the yacht club in the summer, he figures he might recycle 2,500 bottles and cans.
Thanks to arrangements made by the Binners' Project, Leland has many other weekly stops, from PureBread bakery to the head offices of Earl's. He joined the program in May of 2015. Since then it has helped set him up with recycling gigs, such as collecting bottles and cans at the Kitsilano Festival—or even the 2015 FIFA Women's World Cup games that drew 50,000 people to BC Place. "We had up to seven guys at each outing. We were making $200 a day on that one," says Leland. "It was incredible."
"When I finally realized I was making a difference, that made a difference to me. I can see a little glimmer of light and I can thank the Binner's Project for that."
Welcome to the life of a self-employed recycler. It's tough work. Leland, a team leader with the Binners' Project, knows this well. He's been a "binner" for 14 years. Now in his 60s, Leland works eight to 10 hours a day, six or seven days a week in the summer. In winter he's able to get that down to five. "I've never found a way to get under a five-day week," he says with a smile.
He's no stranger to hard work. For most of his career Leland was a commercial fisherman in the herring, halibut and salmon fisheries, among others. But following the death of his wife and a heart attack—and while fighting addiction—he ended up homeless in the Downtown Eastside in the early 2000s. "I had no benefits from fishing, and when I first got down here, I was a little lost and I lived outside for a while," he recalls. "I was walking down an alley and I found $18 worth of beer cans in one spot. So I started pushing a cart around. That was 14 years ago and I've been at it ever since."
Binners endure 52 weeks a year of uncertain work in all kinds of weather. Often treated as outcasts, most lead solitary lives as they push shopping carts or tow bike trailers across the city. The Binners' Project was started in 2014 by Ken Lyotier, the founder and former Executive Director of United We Can, to improve the lives of independent recyclers on multiple fronts. It is now run by Executive Director Anna Godefroy, who volunteered with Ken since the inception.
"These are people that work really hard," says Godefroy. "They get up every morning and take their carts all over the city. They want financial autonomy, and they are proactive and resilient. I find that really inspiring."
The Binners' Project engages about 300 urban recyclers annually in workshops, meetings, and events like the Coffee Cup Revolution, in which recyclers pick up coffee cups all over the Lower Mainland for a five-cent refund. The project has three main goals: to decrease the stigma associated with binning; to boost economic opportunities for inner-city recyclers; and to create social networks, both between the recyclers themselves and with organizations already in place in the Downtown Eastside. About this last goal, Godefroy notes that there are many services in the DTES that marginalized people don't know about and don't use.
"This is not only social justice work," she says, "but economic development work. We want to help binners gain access to valuable recyclables, and help make their lives safer. We also want to inform the public about what they do, and why it is of value to society."
Taking Leland's Monday yacht club pick-ups alone, a reasonable estimate would be 100,000 recyclables saved from the landfill each year. Multiply that by metro Vancouver's hundreds of binners working five days a week, and the environmental impact starts to become clear. United We Can's single location on Industrial Avenue recycles close to 22 million bottles and cans a year, most collected by binners.
Leland is proud of his work and what he has been able to do in assisting the global effort to trash less. "I didn't use to see myself as a recycler, but I do now," he says. "When I finally realized I was making a difference, that made a difference to me. I can see a little glimmer of light and I can thank the Binners' Project for that. Until Anna came along I never saw any real value in what I was doing." He adds that without independent recyclers like him, Vancouver will fall short of its Greenest City goals. "If they're going to make their 2020 prediction, they're going to need some help. So we're all going to have to get on board."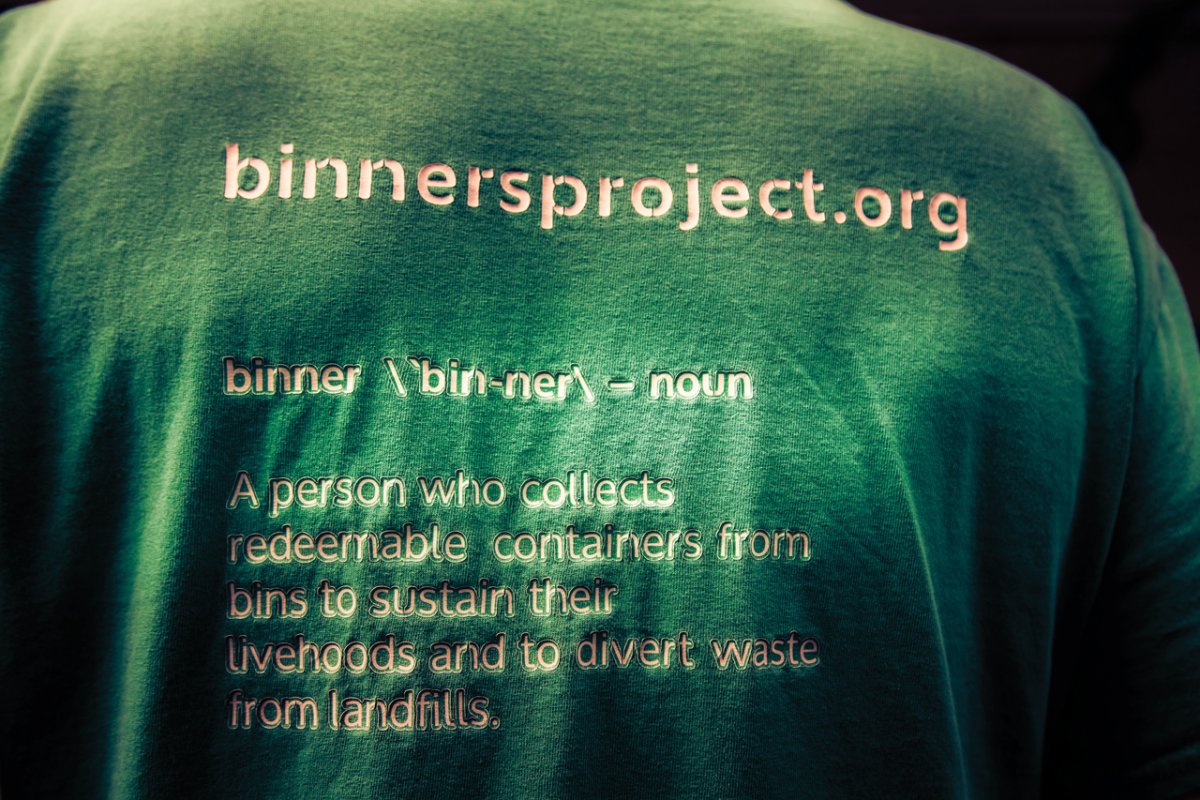 In November 2015, the Binners' Project received a two-year, $50,000-per-year grant from Vancouver Foundation. It was a "pivotal" moment, says Godefroy. "When we applied we were only two volunteers, and we were at the end of the road. We had gotten other small grants, but if we didn't get that funding I don't think we could have gone further. It was a real affirmation that what we were doing made sense and that we were on the right path."
Thanks in part to the Binners' Project, Leland's life is safer and more secure. "It took me nine years but I'm in an apartment now on West Pender, and I've got my little claws dug right into the plaster," he laughs. "There's no one getting me out of there."
His work with the project has expanded beyond his own recycling. As team leader he helps oversee cleanups at big events, and he acts as an outreach liaison to the binner community, inviting new members to attend meetings and get involved. At some events—like this year's PNE—he and other members help educate attendees on separating garbage from recycling.
"The project has been nothing but good for the binners," says Leland. "It's a win-win. For all my years I just pushed my cart around. Now the enthusiasm is terrific. People aren't scowling down at you or looking at you like you're a pariah. People see you recycling and say, 'Right on. Good for you'"
| | |
| --- | --- |
| Story By: | Tyee Bridge |
| Photos By: | Robert Karpa |