You are here
Reviving black Strathcona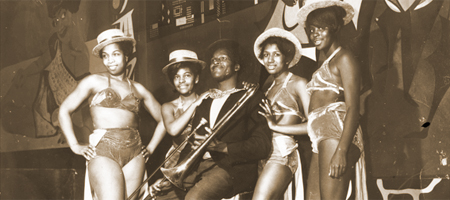 The fabulous -- but largely forgotten -- black history of Vancouver's Strathcona neighbourhood
Some of the names almost everyone knows: Jimi Hendrix, Louis Armstrong and Nat King Cole. Others might ring a few bells: Vie's Chicken and Steakhouse, Marcella "Choo Choo" Williams, the Harlem Nocturne. Still others, like Barbara Howard, are virtually unknown. What they have in common is they're all part of the fabulous – but largely forgotten – black history of Vancouver's Strathcona neighbourhood.
"This is such a hidden history," says Esther Rausenberg. "That's why we really wanted to bring it to life." As co-artistic director of the Creative Cultural Collaborations Society, Rausenberg, with the support of Vancouver Foundation and other funders, is working to revive memories of the black community's presence through Black Strathcona, an interactive new media project. Black Strathcona  will create 10 three-minute videos about the key locations and figures of Strathcona's black community from the 1920s to the 1970s, when Vancouver's black population was concentrated in that neighbourhood.
Researched, written and filmed by well-known Vancouver writer Wayde Compton and award-winning filmmaker Gordon McLennan, the videos will mix rarely seen archival footage and photographs along with interviews with community members. In an interactive twist, commemorative markers will be posted in key locations around Strathcona, and people will be able to scan the QR code, or barcode, on the marker with their smartphone to watch the related video. The videos and a map of the marker locations will be available online.
One of the videos will tell the story of sprinter Barbara Howard's rise to fame. Howard was only in Grade 11 at Vancouver's Britannia High School when she was recognized as the fastest woman in the British Empire; she beat the British Empire Games' sprinting record by a tenth of a second, running 100 yards in 11.2 seconds. That feat won her a spot on the Canadian team and a trip to the British Empire Games in Australia in 1938, where she "caused quite a stir," according to the Globe sports columnist:
"She apparently was quite a novelty . . . appearing on the front page of every newspaper. They seldom see coloured athletes down there . . . the photographers and autograph seekers kept on her trail."
Howard won silver and bronze medals in relay events and came sixth in the 100-yard dash, but considered herself a failure for not bringing home a gold medal. She hoped to redeem herself at the upcoming Olympics, but the 1940 Olympic Games were cancelled due to the outbreak of the Second World War.
Howard is believed to be the first black woman to represent Canada on the international sports stage. Later, she also became the first visible minority hired as a teacher by the Vancouver School Board, where she taught for 43 years.
"People really aren't aware of what she accomplished. And she's still alive. She's a real dynamo," says Rausenberg. "She's in her 90s, still in her own home, and still volunteering. She's just an amazing woman."
Another Black Strathcona story will focus on the Fountain Chapel, located at 823 Jackson Avenue from 1918 to 1985. Co-founded by Nora Hendrix, a former vaudeville dancer and grandmother to legendary guitarist Jimi Hendrix, Fountain Chapel was a local chapter of the politically active African Methodist Episcopal Church. Considered the spiritual home of Vancouver's black community, it was also where the community gathered to organize around issues such as the trial of Fred Deal, a railroad porter charged with murder ing a Vancouver police constable, and the police beating and subsequent death of Clarence Clemons, a black longshoreman.
Vie's Chicken and Steak House served up a different kind of soul food. The best-known and longest-running of a series of Southern- style chicken joints in the neighbourhood, Vie's was started by Viva  Moore and her husband Robert in the late 1940s. The late-night diner, with its distinctive bright yellow and blue walls and deep-red ceiling, fed luminaries including Louis Armstrong, Cab Calloway, Duke Ellington, Nat King Cole and Count Basie. And since Nora Hendrix worked there for years, her grandson Jimi was also a frequent patron.
"Vie's obviously has to be one of the stories. And then, of course, there's the Nocturne . . ." says Rausenberg. The Harlem Nocturne was Vancouver's only black nightclub on Hastings Street, co-owned by showgirl Marcella "Choo Choo" Williams and her husband, trom- bonist and band leader Ernie King. The Nocturne offered burlesque acts including "Lottie the Body" and performers such as Ike Turner; it drew locals, American sailors in port and even regulars from Seattle.
No series of stories about black culture in Strathcona would be complete without one about Hogan's Alley, known for its illegal drinking establishments, brothels and gambling dens. According to one description, "There was nothing but parties in Hogan's Alley – night- time, anytime, and Sundays all day. You could go by at six or seven o'clock in the morning, and you could hear jukeboxes going, you hear somebody hammering the piano, playing the guitar, or hear some fighting, or see some fighting, screams, and everybody carrying on."
"Hogan's Alley has become really symbolic for a lot of young people, but a lot of the black community were really upstanding citizens who saw Hogan's Alley as nefarious and not a part of who they were. So we also want to balance that with other stories to give a full picture of what black Strathcona was like," says Rausenberg.
Rausenberg is hoping to have the videos complete and markers in place by the end of 2013. "It's going to be amazing, having people able to really get a sense of these people and places and times coming alive again through these videos. I can't wait." VF
For more information about the Black Strathcona project, after January 2014, go to blackstrathcona.ca  To support innovative cultural history projects like Black Strathcona, call Peter in Development and Donor Services at 604.629.5357, or visit our Give section at vancouverfoundation.ca/give. You can also learn more about our arts & culture grants program here. 
(photo top right) The Harlem Nocturne – owned by trombonist Ernie King (pictured posing with dancers) and his wife, showgirl Marcella "Choo Choo" Williams – was Vancouver's only black nightclub when it opened in 1957.  
(photo below) Barbara Howard -- Grade 11 student at Britannia, and the fastest woman in the British Empire in 1938.
 

By Dorothy Bartoszewski
Photos M. King and B. Howard