You are here
A safe place for second chances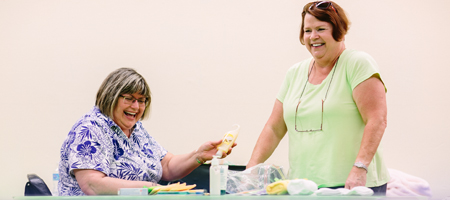 The story of two women who built a community in the streets of Surrey.
January 2012: An idea is born
It's a dismal winter night. Linda Kompauer and Laura Krowchenko are taking friends home through Whalley, a densely populated community in Surrey. Kompauer is driving while Krowchenko navigates. They notice women standing out in the cold rain – streetwalkers.
"It would be a terrible night to be out working," says Krowchenko. "We should do something for them. Like find out how much an hour costs and take them for coffee to get them out of the cold." Kompauer agrees. But they don't return that night.
Both women are in their 60s and retired, with backgrounds in human resources and speech therapy, respectively. They are longtime friends, and enjoy reading, gardening and spending time with family and friends. They also enjoy helping others in need. If you spend any time with this warm duo, they will instantly make you feel at home with their generous hearts and approachable personalities.
After that cold night in January, several weeks passed and both women started to notice more news about the issue of sex-trade workers in BC. They learned about their vulnerability, and wanted to help. "We couldn't shake the idea [of] how awful it must be t work in those conditions," says Kompauer.
The duo approached the Surrey Urban Mission (SUM Place), where Kompauer is a volunteer, about what they could do. SUM Place offered the two some free space.
They then heard about the Oak Avenue Neighbourhood Hub in Surrey, a Vancouver Foundation Neighbourhood Small Grants program partner. The program provides small grants to local residents for ideas to help connect and engage their neighbours. The ladies applied for a grant to start a women's drop-in program and were awarded the largest grant possible – $1,000.
Their combined culinary and creative talents make them an ideal pair to put this grant money to good use for food and crafts.
"We just want to create a safe place for women," says Kompauer. "We went out to the street in Whalley and Newton, brought the women some food, and started talking to them. At first they were nervous, but they were hungry too.
May 2012: The grand opening
"We opened the doors on May 15 last year," says Kompauer, "And the women who showed up were not the women we expected." They were women in the area who were struggling – with poverty, with homelessness, with mental health issues and with addictions. Many were single mothers – some whose children had been apprehended, and some who had worked the street in the past.
The biggest realization for Kompauer and Krowchenko was the isolation in which so many of the women lived. "When the women first came, many didn't make eye contact, and wouldn't even take their coats off. They didn't know what we wanted from them," says Kompauer. But over the months that followed, the Whalley women gradually felt more comfortable participating, and some even started to arrive early, eager to begin.
And so, every Monday from 4 p.m. to 7 p.m. at the Surrey Urban Mission, the Whalley Women's Drop-In continues to attract a collection of women for food and companionship. Each week, the two women pack up their van with supplies, carpool from their homes about 40 minutes away, then unload and set up. At 7 p.m., they pack up, leaving leftover food with the women who have dropped in, and drive home. And they do it all again the next week.
May 2013: Something to celebrate
Kompauer and Krowchenko celebrated the one-year anniversary of the Whalley Women's Drop-In. Looking back, Krowchenko says, "We had an average of 12 to 15 women drop in each week."
Challenged by other agencies to have more of an established support program, both say the women aren't coming for that.
"They come in and have a cup of coffee, a meal, and share how their week is going," says Kompauer. "It's simple, we eat together and we are present together, whatever they want to do each week. This is significant for them."
Kompauer and Krowchenko are often shocked by some of the stories they hear. But there is no judgment at the drop-in.
"One woman came in after losing custody of her child," says Kompauer. "She was so upset. She joined us for dinner and the other women didn't know her story but reached out to her anyway." Many friendships have been created and now some connect outside the drop-in."
Carla Schmidt, a regular drop-in participant, says, "I like the companionship. It's the most important. It's such a valuable program. It's a bonus for the community. I really think it could save lives."
Life is school and love is the lesson
Kompauer feels that she and her friend have found their calling. "We never set out to do this. Twenty or 30 years ago, I never would have guessed I'd be here today. But we love the program, and really love these women. When they don't come or we don't come, we miss each other. It has become a high point of our week now."
This year, they applied for and received another Neighbourhood Small Grant to continue their program – they even hope to expand in the future.
Both Kompauer and Krowchenko have learned a lot about the women in their own backyard. "They are no different than us," says Kompauer. "They are someone's daughter, sister, mother. We are all women... We're not here to judge them. But we need to reach out to them. Everyone deserves a second chance." VF 
If you would like to contribute to the Whalley Women's Drop-In, or learn more about other Neighbourhood Small Grants projects, visit vancouverfoundation.ca/NSG or contact Peter at Vancouver Foundation at 604.629.5357 to learn how you can support the program in your neighbourhood.
 
By Jeanette LeBlanc
Photos Claudette Carracedo