You are here
Spreading the Seeds of Change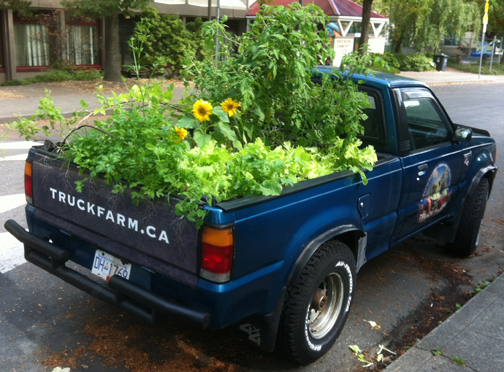 When Judy Kenzie set out to spread the word about the benefits of growing your own food in small spaces, she took her message to the streets of Vancouver… in the back of a pick-up truck.
Kenzie wanted to connect her community and share her passion for sustainable living with locally grown and consumed produce — specifically produce grown from open-pollinated, non-genetically modified seeds — so people can live healthier lives.
Vancouver Foundation's Neighbourhood Small Grants program was just the boost she needed. "When I started this off I had no idea where it was going. But I knew I'd enjoy the ride sharing the important message of growing our own food. The Truck Farm has given me an awesome opportunity to engage with people. I love to see people doing things independently, part of the bigger picture around food sustainability."
Inspired by the original Truck Farm project out of Brooklyn, New York, Judy repaired her rusty, old blue Mazda pick-up and outfitted the back to hold a rich garden full of flowers, vines and produce. The mobile garden earned her one of the Neighbourhood Small Grants from Vancouver Foundation, with the grant money covering the cost of signage, farming components and insurance.
Kenzie's vision is simple: when people grow their own produce, they're more likely to eat more fruits and vegetables, and consume fewer pesticides, and live healthier lives. Growing your own food also reduces our environmental footprint, reducing the need for production, packaging and transportation from food coming from outside the area. It also saves money.
Urban settings can be seen as a tough environment to grow produce. Small, dense spaces may seem like an unlikely place to start a garden. But as the Truck Farm proves, anyone can grow their own food anywhere — balconies, rooftops and container gardens — year-round.
When speaking of how other people can help make their neighbourhoods better, Kenzie added, "There is a community that is starting to evolve and I think we have a huge potential to do some great stuff in this city. Too often we have great ideas but if we don't take action, they disappear. If something matters to you – do it!"
The Truck Farm has made appearances at schools, festivals, farmer's markets, attractions and movie screenings across metro Vancouver. And it doesn't take long to draw a crowd. Kenzie has given out thousands of heirloom seeds to Vancouverites. She is driving home the message of growing your own produce, and spreading the seeds of positive change from the back of her pick-up.
For more information on the Truck Farm, visit strathcona1890.com.
For more information on the Neighbourhood Small Grants program, visit the program page or call 604.688.2204.