You are here
A Tale of Two Cities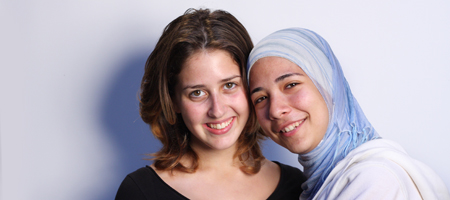 Nada Anati and Illy Auerbach both live in the same country – only about 115 kilometres apart in fact – yet they had to travel halfway round the world to talk. The geography of peace doesn't always make sense.
Nada is Palestinian, Illy is Israeli. Ordinarily, they would never meet. Now they are fast friends, thanks to a B.C.-based program called "Peace it Together," which brought them – together with 28 other teenagers – to the west coast of Canada, and idyllic Bowen Island, for a bold experiment in conflict resolution. And Vancouver Foundation was part of the excitement.
Peace it Together is a program that educates Palestinian, Israeli and Canadian youth to work toward peace by forming trusting relationships that bridge their differences. In an intensive three-week retreat, youth aged 16 to 18 are taught creative and practical conflict resolution skills and the basics of filmmaking. They work together in teams to create short films about peace and conflict. For many participants, this is the first time they have ever had face-to-face contact with "the other side."
Over the three weeks, some become close friends; many come away with a deeper understanding, and another point of view; others just have fun, for the first time in years. All are changed by the experience.
Peace it Together was founded in 2003 by Adri Hamael, a Palestinian-Canadian, and Reena Lazar, a Jewish-Canadian. The initial program in 2004 brought five participants from Palestine and Israel. It proved so successful that in 2006, they raised enough money to bring even more youth, and to include filmmaking as one of the prime activities. Vancouver Foundation is contributing $50,000 over two years to the project. The Righteous Persons Foundation, a group founded by filmmaker Steven Spielberg, also recognized the value of Peace it Together by donating $25,000.
At the end of July 2008, 30 youth arrived from Palestine, Israel and Canada for the third instalment. For some participants, the journey takes days and can be nerve-wracking.
Shu'fat refugee camp, Jerusalem
Shu'fat camp is a city within a city, with 35,000 inhabitants – all Palestinian. There is one elementary school, no hospital, a high rate of unemployment, and few services, mostly provided by the UN. The camp is a series of crowded, dun-coloured buildings.
Nada was born in the camp and has spent most of her 18 years there. She is articulate, pretty, and wears a hijab – a scarf that wraps all but her face, concealing her dark hair and proclaiming her Muslim faith. Her soft voice conceals an iron will; a will born from 18 years of dust, heat and the daily grind of security checkpoints and ID cards
Nada's journey to Canada for the Peace it Together workshop reveals the strength of her resolve. At the airport in Tel Aviv she was taken aside and told she had to submit to a strip search "for reasons of security." When the guard demanded she remove her underwear as well, Nada refused.
"I told the security guard, 'If this is the price to travel . . . if I have to take off all my clothes to go to Canada, then I am not going.' I was very angry . . . I am going to make peace."
The guard eventually backed down, passed a metal detector over her body, and Nada was allowed to get on the plane that brought her to Vancouver, and eventually to this idyllic 15-hectare site on Bowen Island.
"Everything was new here, and big. In the refugee camp, nothing is green. And everything is green here." Nada came to Peace it Together to tell Canadians and Israelis about the plight of her people.
"I came here to this camp because I have a message for the Israelis and the Canadians . . . We need to stop the killing. We are losing and they are losing. I would like them to understand what life is like in the refugee camp. I have thought maybe I can make a film about my camp, the people there . . . I would like the whole world to know about my country. Some countries think in a bad way about my country and my people. I would like to show the good things about my people."
Qiryat Tiv'on, Israel
A small town of 16,000, Qiryat Tiv'on is located 15 kilometres southeast of Haifa. Small enough and just far away enough to avoid the rockets of Hezbollah. It overlooks Zvulun and Jezreel valleys. It's known for the beauty of its natural setting and strong environmental, arts and mountain biking communities.
Illy has spent most of her 16 years there. She is artistic, tall, slender, earnest, and laughs easily. When she stands, her legs and feet slowly move between first and second position, unconsciously revealing her years of ballet training.
Illy has never met a Palestinian from Gaza or the West Bank. Her limited experience is with the few Palestinians who live within Israel and have a blue ID card, and thus can travel freely. Illy is Nada's tentmate at Peace it Together. She speaks about the intensity of her experience in heavily accented English.
"I was really nervous at first here. I felt guilty. Everyone has the right to freedom . . . In daily life it's really hard to meet them [Palestinians]. Here, we get to know each other. For seven days we talked. Every day somebody cried . . . Now we feel like we know each other.
"I think it's really important for people to know the facts. And it's OK that we don't agree about everything."
Illy wants to keep in touch with the people she has met at Peace it Together. "I want to visit them in the West Bank, to see things for myself," she says. "My roommate Nada is from a refugee camp in Jerusalem. It would be really powerful to see things there for myself."
Over the last 60 years, some of the greatest minds and most powerful politicians have grappled with the conflict in the Middle East without success.
But Adri Hamael and Reena Lazar are thinking differently. They are starting small. By harnessing the will (and the goodwill) of young people like Nada and Illy, they are making incremental positive changes in how Israeli and Palestinian youth see each other. Sometimes, all it takes is a chance to get to know one another. Through Peace it Together, they are changing the world, one teenager at a time. VF
To find out more, go to www.peaceittogether.ca.
(Story written: 2008)