You are here
Yes you can can
Neighbourhood Small Grants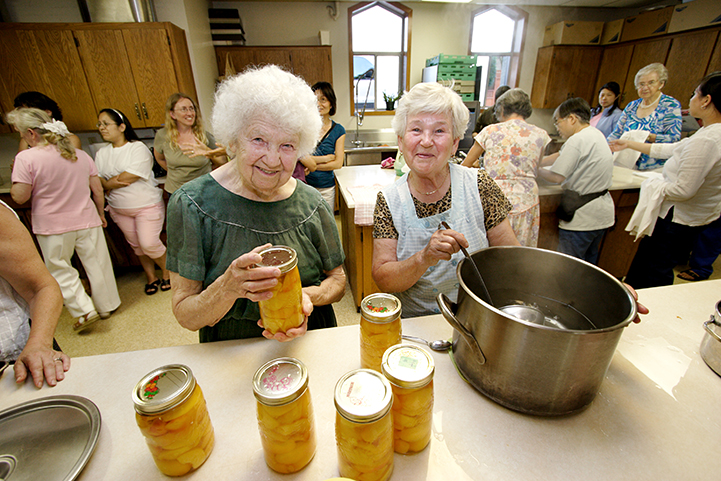 Susan Faehndrich-Findlay is a grassroots community leader in south Vancouver, a mother of four and until recently a wannabe canner. Living sustainably is important to her. And so is the health of her family. These factors, combined with her knowledge about preservatives and dangerous chemicals such as Bisphenol A in the liners of tin cans, got her thinking about ways to preserve and store local produce.
"Canning is a simple way to practice sustainable agriculture in our backyard" says Findlay. "If we want to support local farmers and have local options, we have to buy their goods. Since the season for fresh produce in BC is short, canning is a way I can enjoy summer's great bounty all year".
Canning was first used in the early 1800s as a way to preserve food for armies during the Napoleonic Wars in France. It became common in the 1930s, and a way of life for many families in the following decades. But the skills of food preservation faded as consumers turned to the convenience of ready-to-eat and easy-to-prepare foods. Today, canning is once again emerging as a useful skill, due to concerns over food safety, buying local and doing what's best for the environment.
In the summer of 2009, Findlay had her plan to can -- and the timing was just right. Farmer's fields were budding with the best of the season; strawberries were being picked, branches were bending under the weight of succulent peaches, and heirloom tomatoes were starting to sprout on the vines. But now her dilemma – how do you can? She had tried in the past but had never got it quite right.
Findlay knew that some of the women in her neighbourhood had been canning all their lives, and hoped they'd share their knowledge. While talking about her desire to can, she learned that others were also interested. With $500 from Vancouver Foundation, she arranged three summer canning workshops – all perfectly timed to get the freshest produce available.
In mid-July, Findlay arrived at the South Hill Church kitchen with crates of fresh peaches, dozens of mason jars and a large bag of sugar. More than 20 women joined her. The youngest was seven-year old Brianna who came with her mother and grandmother. A woman from Columbia who spoke no English came with her daughter. Joining the group were seniors Martha Bayer and Agnes Neufeld who had been canning most of their lives.
Bayer learned to can out of necessity. Fleeing the chaos of Germany during the Second World War, she arrived in Canada with three children. Not understanding English severely limited her job prospects and she took a job as a dishwasher at a nearby restaurant.
"It was a struggle to provide food for my children," she recalls in a thick accent. "I needed to preserve whatever I was given from the restaurant or friends, so I learned to can. And I canned everything and never wasted anything".
Language, age and lack of canning know-how didn't stop anyone from jumping right in. Soon, hundreds of peaches were washed, boiled, peeled, sliced and jarred. Conversations were just what you'd expect - noisy, intricate and full of enthusiasm. Many spoke of their concerns about tainted foods, preservatives and chemicals that affect your health. Stories were shared, recipes exchanged and friendships nurtured. And at the end of the evening, everyone left with their own jar of treasures to be shared with friends and family.
Findlay had now gone from a wannabe to a skilled canner. She was already promoting workshops for tomatoes and pickles, with dates to be announced after the crops were harvested.
"Yes, I can can!" says Findlay. "I look forward to sharing the best of BC summer with my family in December. And I'll take pride that I created something from scratch and that I know exactly what's inside."
*          *          *
Find out more about Neighbourhood Small Grants, donate to similar projects funded by Vancouver Foundation or learn more by calling 604-688-2204.