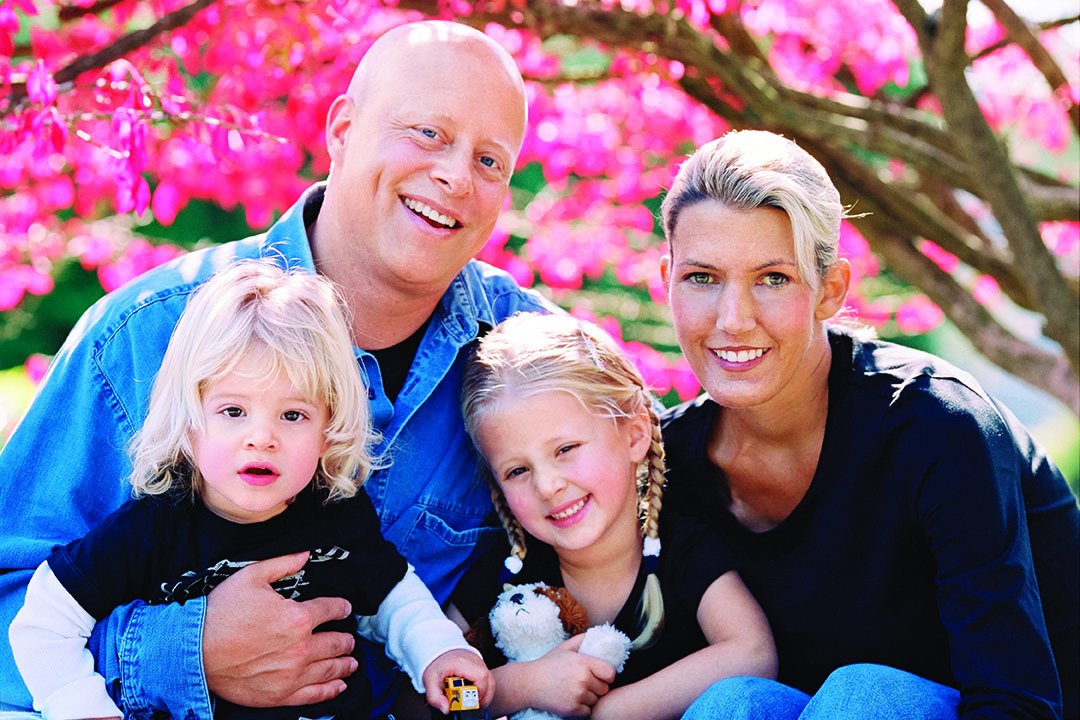 A Camp to Remember
From tragedy comes hope at a summer camp dedicated to healing bereaved families
This is a love story. One with ups and downs and twists and turns that go from joy to tragedy and then back again. A man and woman meet, fall in love, marry, have kids. Then she's diagnosed with terminal cancer. She dies a year later at the age of 32, leaving behind her husband and two young children. And yet, there's a happy ending. It's Camp Kerry.
Kerry Glade Kirstiuk is the inspiration for what's now the Camp Kerry Society, an organization that's grown beyond all expectations since its inception after her death in 2007. It began with Kerry's brokenhearted family, alongside nine other similarly grieving families, over one healing weekend on Keats Island in Howe Sound. Today, nearly a decade later, that initial, therapeutic retreat has evolved into year-round bereavement programs, a camp in Ontario and even a private social network called Circles of Strength Online.
While she was ill, Kerry and her husband, Bob Kirstiuk, met Dr. Heather Mohan through the Lion's Gate Hospital's family bereavement program. Mohan would come to the Kirstiuks' house every few weeks and spend time with the kids, Hudson and Avery, who, at just one and three years old, didn't fully understand what was happening to their mom. As a registered clinical counsellor and accredited music therapist with a master's degree in music therapy and a PhD in arts education, Mohan connected with them through music and art.
At the celebration of Kerry's life, Bob asked people to make donations to the bereavement program that had helped his family, stipulating that any funds be used under Mohan's guidance. After just two weeks, the outpouring of support was so great that the donations were enough to finance Mohan's dream of a bereavement camp – a place where people could grieve together. She named it after Kerry.
"The people who knew Kerry and those who hear her story understand that the Camp honours her legacy of courage, compassion and generosity – her capacity to find hope and focus on the joys of life and love and family even as she faced the devastating progression of her terminal illness," says Mohan.
The camp has since evolved beyond one muse, and yet an aura remains around its namesake. Bob is now remarried, and his family still attends the annual camp. His daughter shares her story with kids who are in awe that Kerry is her mom. "The connections that those kids have in those conversations are pretty powerful," says Bob, and Avery and her brother return each year with a message of hope. "My kids thought, growing up, that they were the only kids that didn't have a mom," says Bob. Now the Kirstiuks are a "peer mentor family," having come a long way from Keats Island.
Bob describes that first camp as magical. He remembers quietly sitting on a boat en route to Keats, families with young kids huddled together in the rain. But once ashore, people started connecting. There was art and music, the sun came out and, after a beautiful weekend, everyone was sad to leave. "You think you're the only person on the planet that's going through this type of tragedy," says Bob. Camp Kerry shows that you're not.
The camp is about finding light in darkness, hope in the midst of despair, and the courage to carry on despite life-changing events
For Mohan, the camp is about finding light in darkness, hope in the midst of despair, and the courage to carry on despite life-changing events. She says, "all of this becomes possible when we engage with a community that understands, a community that cares and meets our pain with love and compassion." And she knows this intimately, as shortly after Camp Kerry was founded, her own husband, one of the camp's strongest advocates, was diagnosed with incurable lung cancer.
"The incredible 27-month journey Bas and I shared until his death at our home in March 2009 inevitably shaped everything that Camp Kerry has become and everything that I have to offer as a professional therapist and as a human being to the families I work with through Camp Kerry," says Mohan.
The doctor became the patient in need of the very balm she dispensed. After Bas's death, there was even more impetus to keep going. A second camp came together with another round of donations from a group of women in West Vancouver. And from there, Camp Kerry took off, evolving into an independent entity and charitable organization with year-round initiatives as the Camp Kerry Society.
But the big weekend camp every September, now at Zajac Ranch in Mission, is still the centrepiece. And it keeps getting bigger. This year, there were 35 families and 120 people, including volunteers – and a nine-month waiting list beforehand. "Our challenge right now is that demand is exceeding our ability to support everybody," says Bob. "It's a pretty unique program."
In fact, it's the first program of its kind in Canada, says Mohan, who's also on the board of directors of the Canadian Hospice Palliative Care Association and an instructor in the UBC Department of Medicine in the Division of Palliative Care. Her work is in such high demand that she's been asked to present her clinical work and research on music therapy and palliative and bereavement care at conferences as far afield as Japan.
That's because the Camp Kerry Society is making a contribution to the long-term health and wellness of the community – at home and worldwide. "We are doing prevention work," says Mohan, "diminishing the chances that children will have to be alone in their sadness, that teens will become suicidal or fall into cycles of substance abuse because they have nobody to talk to, that adults will become immobilized by depression and grief and thus unable to parent well or contribute fully in their workplace environments."
And it's not just those who have lost a loved one who benefit. "When you hear about other people's tragedies, it's a reminder that you have to live life and enjoy every day – that whole idea of being mindful of what great things we have to appreciate in our lives," says Bob.
Vancouver Foundation CEO Kevin McCort was certainly affected after meeting Bob: "People like Bob are the ones who created every single charity in B.C. – passionate about a cause, and willing to put time, effort and money into bringing their dream to fruition."
That dream lives on because Bob's parents decided to set up an endowment with Vancouver Foundation. As one of 850 charities with an endowment like this, Camp Kerry is now financially viable long into the future. "Little did I know it would turn into the program it is today," says Bob, still somewhat amazed that something so tragic has turned into something so positive.
Or, as Mohan sees it, "a legacy of love and hope rather than a legacy of loss."
Yes, this is indeed a rather grand love story.
| | |
| --- | --- |
| Story by: Barb Sligl | Photos: Courtesy Camp Kerry Society |