Addressing racial inequality among youth
LEVEL is a youth engagement initiative of Vancouver Foundation that aims to address racial inequity. We do this by investing in the leadership capacity of Indigenous, racialized immigrant and refugee youth. We also seek to create more opportunities throughout the non-profit and charitable sectors.
We support authentic conversations on complex topics and create the space for everyone – especially vulnerable groups – to have a voice and influence over decisions that affect their lives. Youths are active participants in this work.
Through our past programs Fostering Change and Fresh Voices, Vancouver Foundation learned more about the disproportionate barriers to influencing change within our social, civic, and public systems that Indigenous, immigrant, and refugee youth face compared to many other young people.
With these learnings, we have developed LEVEL, our youth engagement initiative, to address racial inequity and invest in the leadership of these young adults, supporting their future work on issues that affect them.
Racialized Youth Given Fewer Opportunities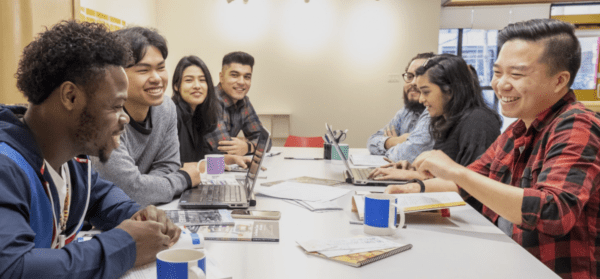 Despite being the fastest growing youth population in B.C., Indigenous, immigrant, and refugee youth don't have the same opportunities as other young people. Race continues to be a factor that hinders their ability to have a say on decisions that impact their lives.
LEVEL empowers these youth by building their capacity to challenge and change those systems that hinder their ability to build a more just world.