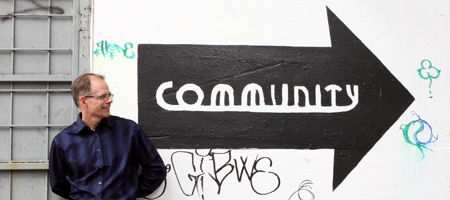 A conversation with Kevin McCort
Vancouver Foundation's new president and CEO, Kevin McCort, is ready to connect and engage with the community
Kevin McCort assumed the reins as new president and CEO of Vancouver Foundation in September, following the retirement of Faye Wightman. A seasoned veteran of the not-for-profit sector, McCort joins the Foundation following an impressive 20-year career with CARE Canada, the last six years as president and CEO in Ottawa. McCort has lived, worked and travelled in more than 50 countries and brings to the job a wealth of experience. We had a brief opportunity to sit down with McCort and ask a few questions about his career and the future.
You joined Vancouver Foundation after a 20-year career with CARE Canada in Ottawa. What appealed to you about working at Vancouver Foundation?
The work Vancouver Foundation does at the "grassroots" level with community-based organizations is very inspiring. To be able to interact on a day-to-day basis with people working to address important social issues in their community is highly motivating. Also, the scope of the Foundation's work covering its various funding areas, along with the commitment of staff to engage diverse partners in the community, gain meaningful insights into community concerns and address those issues in a substantive manner has always impressed me.
How did you get involved in the not-for-profit sector?
My earliest exposure to the sector was my community 4-H club as a teenager. The 4-H pledge to commit head, heart, hands and health to community service still resonates with me to this day.
A gap-year cultural exchange with Canada World Youth (Indonesia) connected me to international development issues. I went on to study international development/resource management at the University of Toronto, which led to postings in Mali and Zimbabwe with World University Service of Canada when I was in my early 20s.
By that point, my career directions were well established, as I was seeing many examples of how assistance targeted to the needs and opportunities of some of the poorest communities in the world was making a real difference in people's lives.
You've been working in philanthropy for upwards of three decades. What's kept you invested in this sector after all these years?
There are inspiring stories everywhere of people making a difference in their own lives, or the lives of others, by working together. I find great satisfaction in working with others to achieve meaningful goals. Our sector brings people together around causes that matter, so we work with people fuelled by passion, with deep patience and compassion. Working with committed people in that environment has always inspired me.
What do you consider to be the biggest challenge facing not-for-profits today?
The enormous diversity of our sector can be both a great opportunity and, at times, a big challenge. Our sector needs innovation and new ideas, but we often create new organizations rather than building on existing ones. The downside of this can be too many actors pursuing the same donor, client, policy goal or staff, leading to needless competition and inefficiencies.
I serve on the board of Imagine Canada, and we've heard that finding resources and staff are big challenges for many charities, but we also struggle as a sector to get out the stories of our success. There is so much good news, but not always enough of it gets shared.
You've worked in hot spots all over the world. What's your most memorable experience?
My memorable experiences fall into two categories, both extremes. The images and personal stories from refugees I met in camps created after the genocide in Rwanda, or after the droughts in Somalia, were powerful and traumatic, yet motivated me in my humanitarian work with CARE for years.
On the bright side, I often think of the women who participated in micro-savings and finance programs in rural Africa whose lives were transformed by the financial knowledge they gained, and the support of a community savings group. We were able to measure and attribute improvements in household income, health status of children, and increased and longer school enrolment as a result of our programs. In one community in rural Zimbabwe, domestic violence also fell as many families were able to deal more effectively with the stresses that were contributing factors to violence against women.
How do you see the work you've done in the field internationally translate into the work Vancouver Foundation does at the community level?
CARE's international development work is community-based and led. We worked directly with farmers, refugees, migrant workers and the urban poor to better understand their needs, options and aspirations,then designed program interventions based on our interaction and understanding of their issues. I see many parallels, from design to implementation, monitoring, reporting (to donors and the community itself ), learning and research in the work we did inter- nationally with what Vancouver Foundation does at the community level.
My international work also had me engaging with governments, private sector, and media, both to communicate about our work, but also engage the broader group of stakeholders who are often needed to find sustainable solutions to pressing issues.
Having just moved from Ottawa, what are you going to do now that you can't skate on the Rideau Canal in the winter?
I've been telling lots of people about our move to Vancouver and, judging by the number of people who said they will come to visit, I think we will be showing visitors around this beautiful region for some time to come. When not acting as tour guide, paddling, hiking and skiing are all high on our family's to-do list. VF
By Martin Livingston
Photos Tiffany Cooper