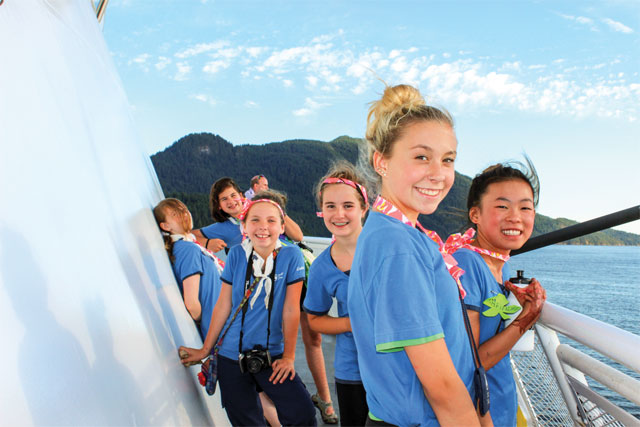 A Guiding Hand
Vancouver Foundation works with hundreds of charities, offering a secure funding model and expertise to help them achieve their goals
Vancouver Foundation manages endowment funds on behalf of more than 400 charitable agencies across B.C. A charitable agency endowment fund provides for prudent capital growth coupled with a predictable source of income, which is very helpful in years where donations are down or government funding is reduced. Last year, more than 1,300 income distributions were made to help these charities support their operations and fulfill their missions. Here are three charitable organizations that work with Vancouver Foundation.
Girl Guides of Canada
Leslie Bush, Provincial Commissioner
With over 15,000 members in B.C.—including Sparks, Brownies and Girl Guides—the Girl Guides of Canada works with the mandate to help girls from age five to 18 become confident, courageous and resourceful leaders and to make a difference in the world.
Why did you establish a fund at Vancouver Foundation? Our fund was established in 1956, when Mrs. A. VanDusen donated $11,100 to the B.C. Provincial Council with the condition that we establish a fund at Vancouver Foundation. The income from this was to be paid to B.C. Provincial Council to further their work.
How does the fund help you achieve your goals?
The money we get from our fund at Vancouver Foundation provides our organization with a steady income at the provincial level. Adult training, events, provincial camps and international trips are all examples of where the funds may be spent, as well as maintaining our provincial office. B.C. Girl Guides' other sources of income are from our membership fees, and Girl Guide cookie sales. The income from the fund helps us to keep our membership fees as low as possible, and to keep the provincial portion of cookie sales profit closer to the girl members at the area, district and unit level.
What benefits have you realized from working with Vancouver Foundation?
We've benefited from a stable and secure income source from our core fund. We also do not have to maintain the expertise to process donations to our fund or to manage the administrative side. This is provided by Vancouver Foundation, which is a saving to our bottom line.
B.C. Therapeutic Riding Association
Kelly Lee Parry, President and Director
Based in Langley, the B.C. Therapeutic Riding Association (BCTRA) provides horseback riding as therapy for people with disabilities, working with nearly 30 riding groups, government agencies and disability sport organizations across the province.
Why did you establish a fund at Vancouver Foundation? In 2015 we received notification of a bequest naming BCTRA as a recipient of almost $1.5 million from the estate of Maggie Jean Carpenter. We needed to find a way to secure these funds for the future needs of our members. So our small volunteer board of directors researched our options and ultimately chose Vancouver Foundation to help us maximize the potential of these new funds.
How does the fund help you achieve your goals?
The fund is really new for us but it does provide the security of long-term planning and the promise of generating revenue to pass on to our members in the future. Prior to this our annual budget ranged from $3,000 to $5,000 per year, so this presented a major new set of opportunities. Securing the fund helps us have some time to assess our members' needs, build our plans and create valuable resources for members.
What benefits have you realized from working with Vancouver Foundation?
Having the opportunity to work with Nicole Jeschelnik, Manager, Donor Services, gave us a great understanding of the options and benefits of partnering with Vancouver Foundation. We quickly realized that access to that level of professional advice was exactly what we needed to guide us. Vancouver Foundation also helped us set up a way to do additional fundraising without having to hire staff.
The Dance Centre
Mirna Zagar, Executive Director
The Dance Centre is dedicated to the development of the art of dance in B.C. in all its expressions and forms. The organization provides resources and programs supporting the professional development of dance creators, and produces public performances and events. The Scotiabank Dance Centre in downtown Vancouver is regarded as Canada's flagship dance facility.
Why did you establish a fund at Vancouver Foundation? We already had a smaller endowment fund administered by Vancouver Foundation established at the suggestion of one of our donors. Once the federal government's arts and culture matching program was established, it made sense following a major fund- raising campaign to make use of this program and focus on growing our endowment, which currently sits at over $1 million.
How does the fund help you achieve your goals?
We now have a fund which provides significant return, assisting with our annual operations, specifically supporting the building infrastructure needs of Scotiabank Dance Centre along with support to its multilayered program dedicated to professional development of dance artists.
Read the latest edition of Vancouver Foundation magazine – The Nature of Belonging.