You are here
Connections & Engagement Report 2012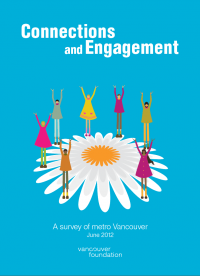 This report is a result of a journey we began in the summer of 2011. We set out to learn what issue people in metro Vancouver care about the most.  The intent was to help us decide where to focus additional energy and resources to have a greater impact in the community.
In 2011 we polled 275 charitable organizations. We also talked to over 100 community leaders across metro Vancouver. What they told us was a surprise.  What people said concerned them the most was a growing sense of isolation and disconnection. In the end, the big question for our foundation was "what can we do to help build a more connected and engaged community in metro Vancouver?" 
This survey is an important first step in our work. We invite you to read it and begin to look for ways that we can all help build a connected and engaged community.