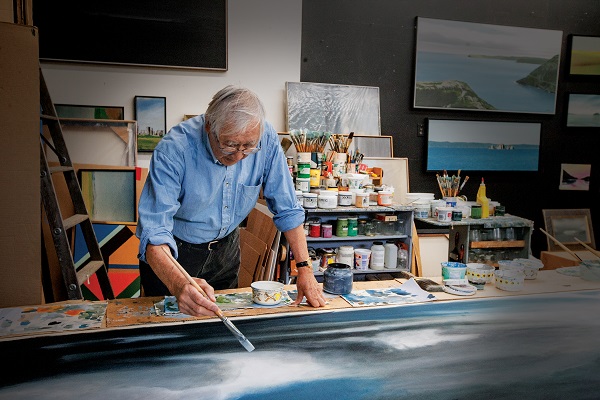 Artful Giving
Renowned Canadian artist Takao Tanabe's legacy is not only his own work, but that of the future artists sponsored by his endowment fund
Takao Tanabe may be one of Canada's most renowned artists, his 60-year career chronicled in detail by art institutions, journals and the media alike. But there's a lesser-known side to his success story, one that the Vancouver Island painter recalls with utmost clarity: the long struggle not just for his art, but for the financial means to make his art possible.
"Always, money, money, money was short. How to make another few dollars to pay my rent or buy some food or something," Tanabe says of his early years as an artist.
At 88, Tanabe is no longer worried about money. His landscape paintings of the West Coast and Prairies, for which he is known, belong to some of the country's top private collections as well as the Vancouver Art Gallery and the National Gallery of Canada. Bestowed with honorary degrees and prestigious awards, including the Order of Canada, the Order of B.C. and the Governor General's Award, there is little doubt of his stature in Canadian art.
But his early struggles to make ends meet has never left him, and that's why, for years, Tanabe has quietly made supporting young artists a priority.
"I know when I was in their shoes, I was grateful to get any recognition or dollars," says Tanabe.
Since 1997, about 70 students have received art scholarships through an endowment fund Tanabe established with Vancouver Foundation. The donor-advised fund provides seven annual art scholarships through post-secondary schools across the country as well as annual grants to the Vancouver Art Gallery and the National Gallery of Art and other cultural groups.
It's not surprising Tanabe has chosen to focus his grant money on the arts, though becoming an artist to begin with was something of a near accident.
Born in 1926 to a commercial fisherman in the village of Seal Cove, near Prince Rupert, Tanabe had little exposure to art in his youth. High school was cut short, too, when the Second World War forced a 16-year-old Tanabe and his family into an internment camp in B.C.'s Interior. By the time the war ended, Tanabe had moved to Manitoba with only a Grade 10 education. His prospects for employment were grim: mostly manual labour.
He was prepared to do anything to escape this predetermined fate.
"If you had to earn enough money to pay your rent and the only job you could get was preparing work on the road, or working in a wholesale company packing boots in the back – sorting this out, packing this, unpacking that, and saying, 'Is this going to be my life?' How many people would say, 'yeah'? They'd all want to go and do something else to get out of it. I thought, I don't want to be this kind of labourer all my life," he recalls.
Without a high school diploma, it was impossible for Tanabe to go to university as he had once dreamed. So he turned his attention to becoming a sign painter and, as a special exemption, the Winnipeg School of Art admitted him without the necessary high school credentials.
He scraped by, paying tuition by working at a local foundry and, later, as the school janitor. His education, however, cemented his calling in art.
Tanabe's restless quest to understand art and develop his place in it took him to New York, Vancouver and, for two years in his 20s, between 1953 and 1955, throughout Europe on a $1,200 Emily Carr grant. A Canada Council Grant also took him to Japan to study sumi painting for a year in 1959.
By his mid-30s, Tanabe had begun selling his abstract expressionist paintings through his first art dealer, the Mira Godard Gallery in Montreal (now in Toronto), though he was still a long way off from acclaim and recognition. He took on odd jobs such as dry- walling, and even relied on Godard for rent money for a year, to make ends meet.
Over coffee in Vancouver, Tanabe spoke of his early financial struggles with a candid and clear-eyed recollection. He also recalled with utter delight his first commercially successful exhibition in the early 1970s, a time when he was beginning to transition from abstract art to landscapes.
For the first time, sales from his paintings could conceivably allow him to concentrate on his art without worrying about income. He had, however, signed a contract agreeing to work at the Banff School of Fine Arts, starting in 1973.
"So I phoned the director and I said, 'I've finally had enough sales that I don't need a job. So thanks very much for the offer to be the head of the art department in Banff but I've got enough money, finally,'" says Tanabe.
The director of the school was not so easily swayed. He insisted Tanabe fulfill his contract.
"But it was a good move," Tanabe says firmly. "Because driving across the Prairies to get there, I saw the Prairies flat and I said, 'That's my subject.'"
Tanabe's dramatic landscapes of the Prairies would become one of his most defining subjects, admired for their simplicity of land and sky, as well as his use of colour and light.
As his career took off, Tanabe also immediately set about establishing scholarships at the Banff School of Fine Arts and gave out two or three anonymously every year. It was the beginning of a pattern he would continue for the rest of his life.
"Those who got accepted were grateful they had the chance to come and sit every day and just be artists," says Tanabe. "I think that was the kind of thing that motivated me to say, 'OK, I've got a few dollars, I'll help you because it would've been the best thing in the world when I was going to school and studying if I got a few dollars.'
Which never happened, because in those early days there were no such things as scholarships."
These days, Tanabe can still be found working in his studio, located on a remote parcel of land near Parksville, B.C. The moody, mysterious West Coast seascapes continue to inspire him and he has no intention of retiring from painting, or philanthropy, anytime soon.
"Giving to anybody who thinks what they're studying is important – not just to artists or possible future artists. But if the kid is serious enough to want to study something thoroughly and they don't have the money, I think it's wonderful that there are places they can get grants," he says.
| | |
| --- | --- |
| Stroy by: Lena Sin | Photos by: Edward McCrea |
Read more stories from the Fall 2014 Vancouver Foundation magazine, Building an Empowered & Vibrant Future.