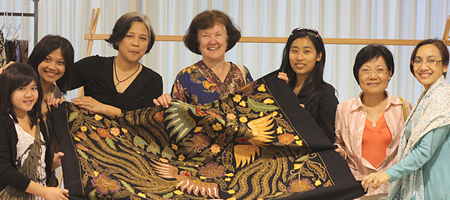 Batik – creating a colourful social fabric
Indonesians have been creating colourful and intricate patterns on fabrics since the seventh century. Called batik, it's used for everything from ceremonial attire to textiles that bring luck to modern high-fashion. The process can be elaborate and lengthy, but has a special way to bring people together.
Liza Wajong grew up in Indonesia and now lives in Canada. She wanted to share her culture with her New Westminster neighbours – while getting to know them better. So she applied for a Vancouver Foundation Neighbourhood Small Grant to hold a batik-making workshop complete with traditional Indonesian food, a cultural presentation and, of course, a full-day hands-on workshop for each participant to create their own batik textiles.
In August 2012, Liza welcomed about a dozen participants at the Centennial Community Centre who were eager to use their creativity and learn the art of batiking. With the help of their instructor Ani, a local weaver and expert in batiking, the group worked together through the elaborate process of drawing a pattern on fabric, applying wax to the pattern, and finally dyeing the fabric using traditional tools from Indonesia. Their colour palette of natural dyes was blue from indigofera shrubs, brown from mahoni trees and yellow from gading flower plants. As their creations were hung to dry, Liza served traditional Indonesian snacks and shared stories of her rich culture.
New Westminster residents spent the day learning, helping each other wax and dye their creations, and sharing fun and creative ideas. By the end of the session, the room was filled with vibrant one-of-a-kind fabric designs – and new friendships.
One participant said, "This has been an amazing day and a great way to learn about Indonesian culture while learning with other members in our community who are from a variety of other cultures.  I hope to be able to do this again!"
Not long after the workshop, word spread about the amazing experience the participants had and Liza was encouraged to put on another workshop. This time, the New Westminster Public Library offered their support by donating a room, helping with promotions and registration, and displaying the artwork.
The second workshop, held in January 2013, tripled in size from the first workshop with more participants including youth. Indonesian families volunteered at the workshop and were excited to share their own traditions and culture with their neighbours. A member from the Indonesian consulate came by the workshop to thank the group and donated a book on batik art to the public library.
Organizer Liza Wajong spoke of the success of the workshops. "Since the nature of batiking encourages people working together – everyone in the room really enjoyed each other's company.  They had the opportunity to get to know other New Westminsterites."
Batik fashion is still popular, after all these years. Through her workshops, Liza Wajong is adding to the rich social fabric of her community and giving New West residents a chance to connect with their inner artist, and each other.
To find out more about the Neighbourhood Small Grants program, visit www.vancouverfoundation.ca/nsg