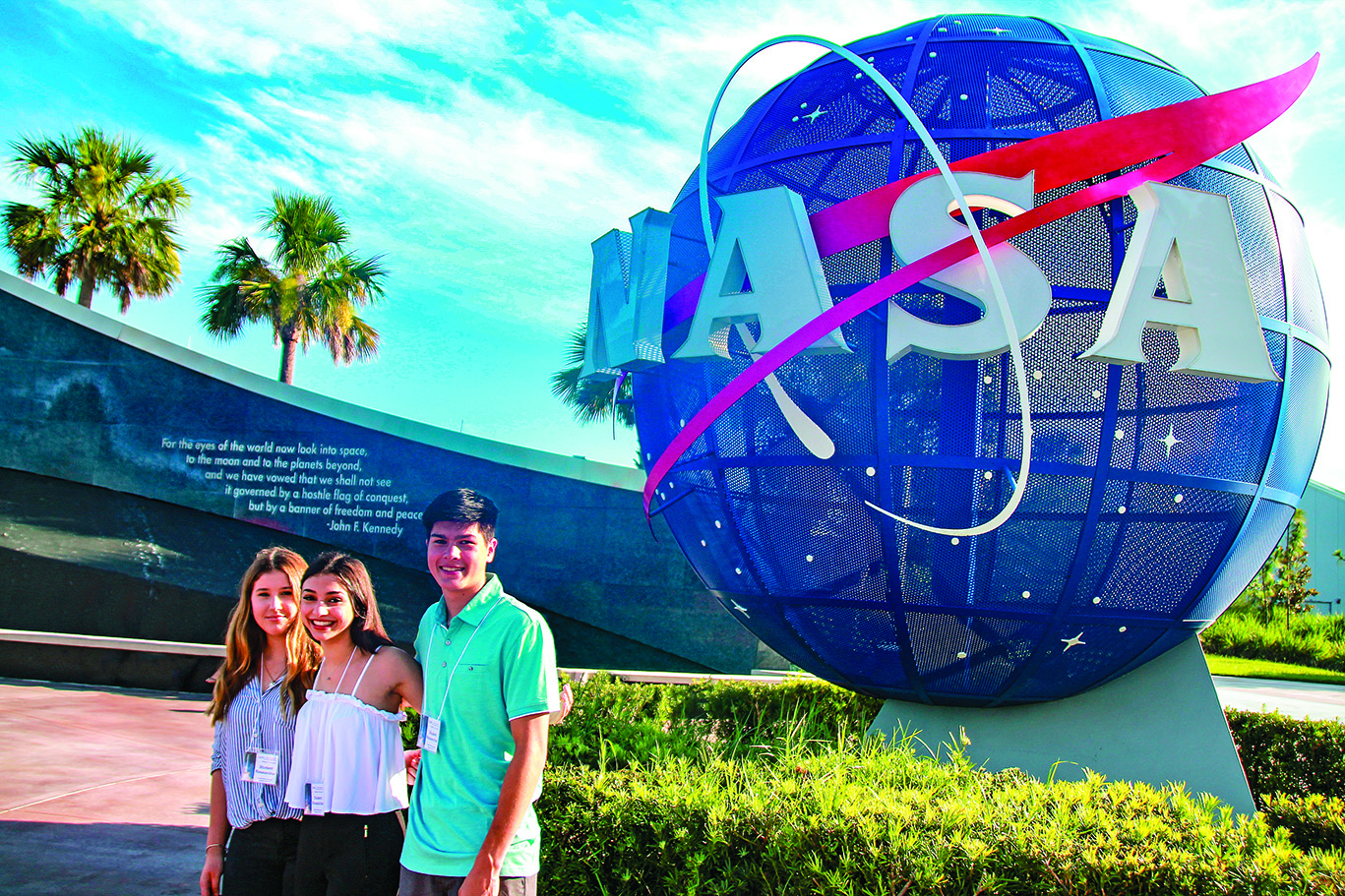 Blue Moon Fund Helps Nanaimo Students Send Flatworms into Space
Donor enables Vancouver Island student experiment to be conducted by NASA at International Space Station
Megan Poteryko, Parker Davie, and Abigail Sitler recently graduated from Nanaimo District Secondary School with a distinction few other alumni can lay claim to: making history in outer space.
Specifically, the three youths were chosen from over 250 grades 8 to 12 applicants to have a science experiment they developed involving flatworms conducted by NASA astronauts at the International Space Station.
The opportunity was provided in part by the National Center for Earth and Space Science Education, as a Student Spaceflight Experiments Program (SSEP) that would launch in the spring of 2018. And while Poteryko, Davie, and Sitler are the first Vancouver Island students to have an experiment launched into orbit, Mary Anne Perkins- Goater, a senior biology/ science teacher at Nanaimo District Secondary School, stresses that the overarching success of the project was inspiring so many young people to create experiments that could be conducted in space.
"The best teachers try to instil a passion for science, and the way to do so is to make it fun by getting students to do things in addition to reading texts," she says. "This project was amazing because all these kids were extremely motivated to research, design, and write their own proposals on microgravity experiments. It was competitive in the most positive way."
Perkins-Goater credits fellow educator Martha Parker for helping the students fine-tune and review a total of 50 proposals, which covered research into bacteria, cell biology, zoology, proteins, inorganic crystal growth, fluids, and plant studies. While all of them had considerable merit, a review board singled out Poteryko, Davie, and Sitler's idea as being truly relevant and innovative.
The trio proposed to test the drug L-Carnitine and its effectiveness in preventing muscle atrophy, which is a threat to astronauts in long-term space travel, in a microgravity environment.
In the experiment, the drug would be injected into flatworms and if they came home weighing the same as they did when they were launched, it could indicate the efficacy of L-Carnitine. Perkins-Goater and her colleagues were also impressed by the trio's ability to fulfill the complex guidelines pertaining to space-bound payloads. "The restrictions were overwhelming, yet they persevered," she says. "At one point they figured out how to tattoo the flatworms for easy identification, which I thought was brilliant — only to be informed by NASA that the dye they used was unacceptable. Instead of being frustrated, they substituted the original dye with India Ink, and that got the green light from the space agency."
Poteryko says of the experience: "It taught us so much about writing research papers, reading a variety of topics, and the importance of teamwork." An equal amount of determination was exhibited by Perkins-Goater and her colleagues when it came to funding the students' efforts. "The total cost to get a payload to the International Space Station is $24,000, and our fundraising at one point even included cold-calling people," she recalls. "Vancouver Foundation was incredibly supportive of what we were doing, and so many sponsors and donors ultimately pulled together to make this happen."
While they received generous donations from Island Savings, Nanaimo Ladysmith Public Schools, BC Hydro, and Magellan Aerospace, the bulk of the funding came from the Blue Moon Fund, a Donor Advised Fund held at Vancouver Foundation.
Although the flatworms were left exposed for too long on the space station to be used and the earthbound portion of the experiment was compromised by a heat wave, Poteryko, Davie, and Sitler's achievement remains intact and part of an SSEP program that hopes to inspire the next generation of scientists and engineers.