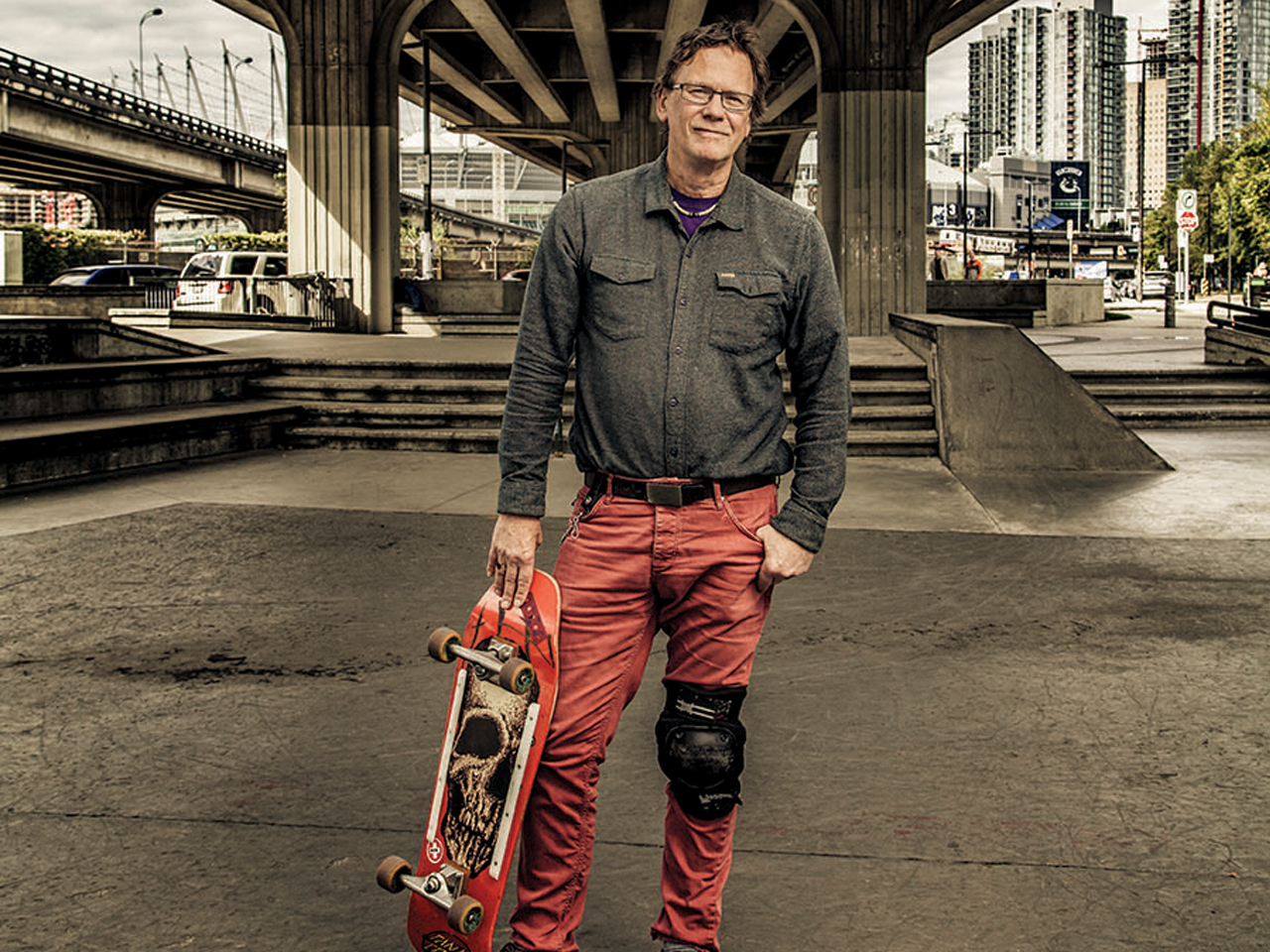 Catching Air
One of Vancouver's senior city planners is shaping a legacy not just for the city he loves but also for the people who live there.
Michael Gordon wears many hats. He's an avid skateboarder, a professor and an amateur documentary filmmaker. He's also a City of Vancouver planner, and has devoted his career to shaping the city and its evolution into one of the country's most vibrant and exciting urban centres. Though Gordon was born in Ontario, he has worked as a Vancouver city planner for 35 years – the last two decades as senior planner for the downtown peninsula, an area with one of the highest population densities among North American cities.
Now, Gordon is taking his passion for Vancouver a step further by dedicating a portion of his estate to two endowment funds, established recently at Vancouver Foundation and earmarked for helping university students and urban youth.
Civic duty and leaving a legacy are important to Gordon. Vancouver has been the focus of his professional life, and is also where the Gordon family roots run deep. His grandfather's oldest brother owned a haberdashery in the Fraser Canyon community of Boston Bar. Afterwards, he relocated to the then frontier port city of Vancouver to open a shop on Carrall Street, and went on to be named to the city's first voters' list and also serve as a school trustee.
"When it came to writing up a will, my family was very supportive of the idea of establishing these funds," says Gordon, 61, who is an adjunct professor at the University of British Columbia's School of Community and Regional Planning, where he teaches housing policy.
After careful consideration, Gordon chose to create two funds. His strong belief in the value of post-secondary education is the impetus behind the Gordon Family Education Fund. As a young man in Ontario, he earned a bachelor of environmental studies in urban and regional planning from the University of Waterloo, before moving to Vancouver where he pursued a master of science in community and regional planning at UBC. Gordon believes studying abroad and attending academic conferences provided the opportunity for a powerful exchange of ideas that enriched his education (he attended Neuchâtel Junior College in Switzerland as a Grade 12 student.) Throughout his working life, he has always looked beyond his city to share ideas and best practices with colleagues and peers, and has lectured on urban planning and design in cities as diverse as Memphis and Montreal. Gordon hopes his fund will help select university students to enhance their education in a similar fashion.
Young at heart
Gordon also has a passionate interest in the lives of city teenagers, in both his professional and non-professional life. So it's not surprising that his second fund, the Gordon Family Youth Park and Recreation Fund, has youth in mind. According to Gordon, one of the marks of a great city is that it is comfortable, safe and fulfilling for young families. However, through his community involvement and planning duties, he still regularly encounters at-risk and street-involved youth in Vancouver.
Gordon's empathy for the city's young people deepened when he became hooked on skateboarding at the age of 47 – ripe in skateboarding terms, and a time of life when most of his middleaged friends were considering golf club memberships rather than perfecting ollies and kickflips at the skate park. Gordon's immersion in skateboarding also exposed him to skater culture's unique blend of music, fashion and attitude, which at times can be at odds with formal government structures. That's why he sat on the board of Vancouver Skate for 12 years, ensuring that skating interests and concerns were given a voice at City Hall while helping to nurture a less antagonistic and more positive relationship between the skating community and the establishment, be it business owners or city officialdom.
"I remember in 1965 being quite interested in skateboarding but none of my friends were into it. Instead, I took it up in midlife and I actually got quite good at it," Gordon says, admitting that he has toned down the skateboarding a little since hitting his seventh decade. "The body gets a little stiffer these days."
"I remember in 1965 being quite interested in skateboarding but none of my friends were into it. Instead, I took it up in midlife and I actually got quite good at it," Gordon says, admitting that he has toned down the skateboarding a little since hitting his seventh decade. "The body gets a little stiffer these days."
Teens in focus
Gordon has given much thought to youth issues. Between teaching at UBC, skateboarding, and the responsibilities of a senior planning position at Vancouver City Hall, he also finds time for making documentary films. For Gordon, it's not about pursuing a secondary career in cinema so much as documenting the nuances and character of the city he loves. His second documentary effort, Through a Young Lens, released in 2006, is a revealing glimpse into Vancouver youth culture – a pastiche of interviews conducted with 15 teenagers from King George Secondary School, in the heart of downtown.
"They were really articulate kids, and I discovered a lot about the positives and negatives of living in such a densely populated area. There's not a lot for some of these kids to do when school is over and the recreation centres close. Some of them still feel pretty marginalized at times," says Gordon, who is now working with colleague Mark Pickersgill on his fifth documentary, a history of Vancouver's live music venues.
Gordon has a concept for how his youth fund could be deployed to make a difference. He believes the 10-and-under age group is already served well by playgrounds and schoolyards. However, it's not always the same for the 12-to-18-year-old set, which can sometimes be left to hanging out on the streets, in shopping malls and in other impromptu gathering spots. Though neither a location nor plans have been drafted yet, Gordon envisions a public outdoor space somewhere in the city that would include a skate park, plaza and other teen-friendly infrastructure.
As for why he chose to establish the funds with Vancouver Foundation, Gordon says it was a natural fit. The Foundation enables donors to determine the timing, type of fund and method of financing to best suit their needs.
"Vancouver Foundation makes it very easy to establish a personal legacy fund," Gordon says. And a legacy is exactly what Gordon hopes to leave for the young students and youth of Vancouver.
| | |
| --- | --- |
| By: Andrew Findlay | Photos: Robert Karpa |