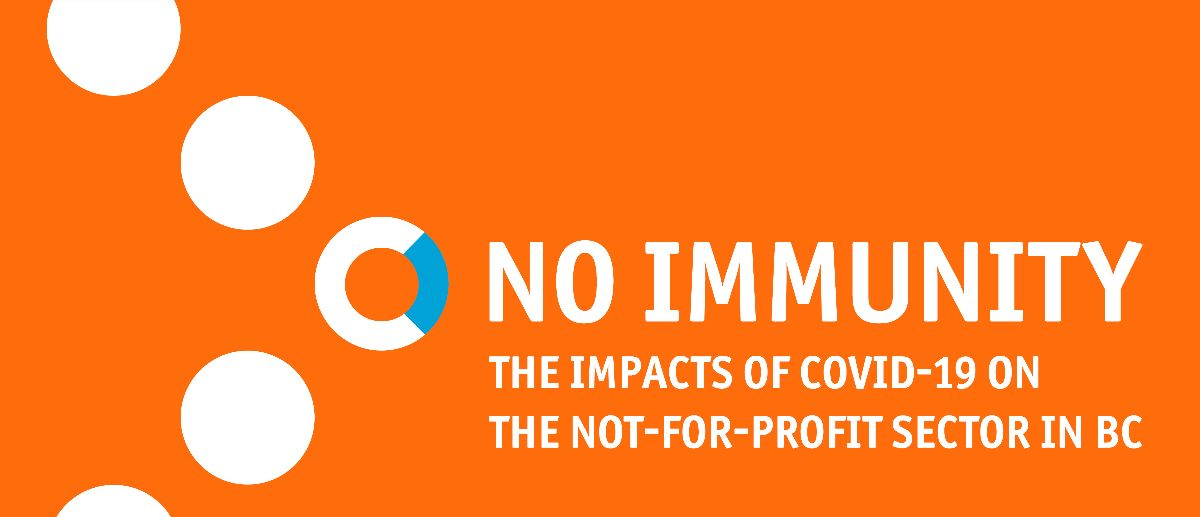 Charities are at risk. We need them to get BC back on its feet.
Survey finds 23% of charities feel they may not last another six months
Report: Arts organizations, sports and recreation groups, environmental organizations and social service agencies may disappear in the next few months.
At Vancouver Foundation, we're serious about our commitment to being community inspired. It's both our promise and our duty to listen to communities and be responsive to their needs. In partnership with Vantage Point, the City of Vancouver, and Victoria Foundation, we've released No Immunity today, a report on the impacts of COVID-19 on BC non-profits that will help chart a course for BC's recovery.
When COVID-19 first hit, communities told us they were hurting. We jumped to act. We brought together major partners from all sectors of society and mobilized a Community Response Fund that has granted millions of dollars in rapid relief to frontline agencies battling the effect of this pandemic while struggling under the weight of its negative economic consequences. Vancouver Foundation is proud that we've invested $6.2 million in this important fund so far to get rapid relief where it's needed most in communities across BC.
Our economy will not recover without the vital services non-profit organizations provide every day.
Throughout this pandemic we've heard many stories about what's happening on the ground as agencies and organizations scramble to meet rising demand even as revenue and income are shrinking. We've heard inspiring examples of communities rallying together to face these challenges head-on. But we understood we needed to build on these anecdotes with data.
Download the No Immunity Report >>
Findings from No Immunity
Last month, more than 1,000 non-profits across the province responded to a survey by sharing how COVID-19 has affected them and what types of supports would help them continue serving their communities.
As the most significant provincial funder of charitable programs after government, we recognize Vancouver Foundation has a crucial role to play in the work that lies ahead to stabilize and rebuild the sector. Our friends and neighbours rely on these health and social services, arts and culture organizations, and other community benefit groups. The economic recovery of our province depends on this sector being able to continue balancing the space between governments and the private sector.
23% of charities feel they may not last another six months.
The bottom line of this report is that many charities and frontline agencies in BC are at risk – 23% feel they may not last another six months.
The people and communities they serve are going to fall through the cracks if we don't rally together to act: 78% of respondents indicated a disruption of services to clients and communities, especially those serving women and people with disabilities.
This data comes at a critical time as funders, governments at all levels, donors and volunteers, and the sector begin to chart a course for renewal. We must consider what contribution each of us will make to ensure we position nonprofits and charities to thrive in the next normal. Our economy will not recover without the vital services non-profit organizations provide every day. We all depend on this sector doing its part to get BC back on its feet.
What's Next for Vancouver Foundation
At Vancouver Foundation we will use this information to inform our thinking about what comes next in our own work. We will use our voice to amplify these findings for others to consider. We will persist in championing the impact and relevance of this crucial third sector. And we will remain steadfast in our commitment to listen to the communities we serve and stand together to confront the challenges — and harness the opportunities — that come next.
For more information, download the
news release.