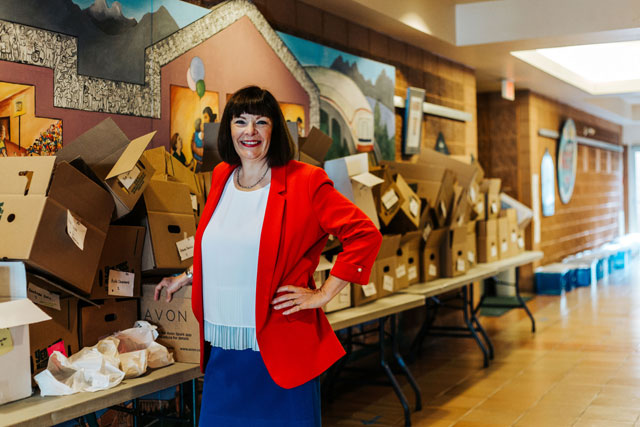 Charities Supporting BC's Recovery
The Community Response Fund (CRF) brought immediate relief to charities and non-profits working hard to respond to urgent needs and keep their doors open. Here are some of the organizations the CRF supported that will play critical roles in our province's recovery:
Collingwood Neighbourhood House
Neighbourhood houses are the cornerstone of every community. They are a safe space and place for anyone to gather, share, and connect. So during the first few weeks of the lockdown, Collingwood Neighbourhood House found ways to fulfill this role even when gathering was not an option.
Staff regularly checked in with seniors, food hampers were organized for families, and programs were adapted — all to ensure the Renfrew-Collingwood neighbourhood was safe, connected, and healthy.
"When we talk about the work we do every day, we talk about our programs, services, and initiatives. But what we're really doing is we're forming relationships with people in our neighbourhood," says Executive Director Jennifer Gray-Grant. "This is a place where people feel a sense of belonging — that's what we're really continuing to build."
Learn more about Collingwood Neighbourhood Houses here.
Vancouver Food Runners

When food banks became overwhelmed by demand, Vancouver Food Runners answered the call. Food insecurity is one of the biggest issues for people since the start of the pandemic.
Vancouver Food Runners aims to address hunger and minimize food waste by matching food donations with charities. A grant from the CRF sped up the launch of their mobile app, which they use to facilitate donation deliveries by volunteers. Because of this, even fresh food like milk and produce can be donated in time. Since March of this year, more than 99,000 Vancouver Food Runners' meals have been directed to community.
"People have come together. It's the silver lining of COVID-19," says Tristan Jagger, Vancouver Food Runners' founder and executive director. "Now charities can ensure their communities aren't left hungry and suppliers know their donations go where it's needed."
Learn more about Vancouver Food Runners here. 
Dawson Creek Art Gallery
Rural arts and culture groups like Dawson Creek Art Gallery have the power to bring the community together in times of crisis. "The role of the gallery had been reversed in a way. The gallery always receives support from our community," says Executive Director Marsha Stewart. "It's now our chance to use art to support them."
With a CRF grant, the gallery sent art packages to youth across the Peace River Regional District to encourage creativity and fun, while taking the pressure off caregivers. One activity asked them to write a letter to a local farmer to support them through what has also been a difficult year for farming. When a community moves through a crisis together, it is the memories of that camaraderie that have a lasting impact.
Learn more about Dawson Creek Art Gallery here.