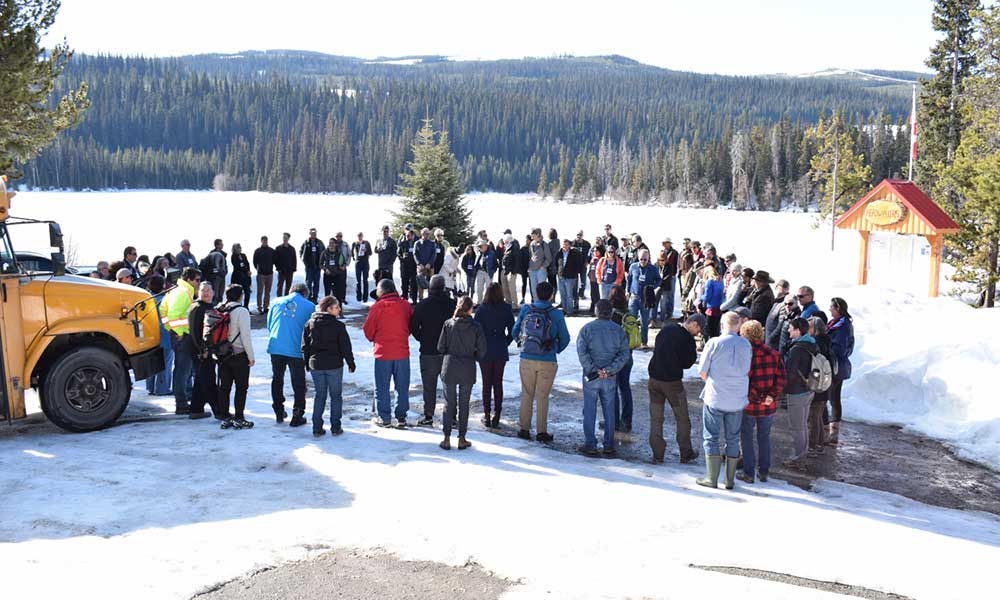 Co-Creating a Vision for Conservation in the Okanagan
Restoring traditional Syilx knowledge in managing water in the Okanagan
By Madeline Barber
Photo courtesy of Okanagan Nation Alliance
siwɬkʷ (water) is a part of us and a part of all life. siwɬkʷ will always find a way around obstructions: under, over and through. It teaches us that anything is possible.

– Syilx Nation Siwɬkʷ Declaration
According to Tessa Terbasket, when it comes to managing water in the Okanagan, there needs to be a shift "to see water as more of a relation and not a resource for just human benefits. And just change that whole perspective of 'What can we do for water?' versus 'What can water do for us?'" Terbasket is part of the Syilx Nation and a member of the Lower Similkameen Indian Band. She works for the Okanagan Nation Alliance where she focuses on watershed planning and governance initiatives.
When it comes to land use planning in the Okanagan Basin, current frameworks simply aren't working. The quality and quantity of the water in local lakes are being threatened due to climate change and other human activity, which in turn threatens the wellbeing of communities, the ability to access clean drinking water, and habitat for fish and wildlife.
More than 60% of shorelines around Okanagan Lake have been changed by human development. On top of that, reports have found by-products of urban and agricultural activity at the bottom of other lakes in the region, such as heavy metals and pesticide residue.
To address these issues, the Okanagan Nation Alliance in partnership with the Okanagan Collaborative Conservation Program (OCCP) and the South Okanagan-Similkameen Conservation Program has teamed up with 27 organizations and different levels of government to establish a Syilx watershed responsibility planning methodology.
The coalition is re-envisioning water management through collaboration between Syilx and non-Syilx peoples, combining science with traditional ecological knowledge and wisdom. Through equal partnership, they are co-leading a process that translates Syilx water laws to create new land-use decision-making processes, policies, and practices that offer a more holistic approach than the current frameworks.
Syilx water laws have been passed down through generations through storytelling, so the translation process is led through collaboration with elders in the community. Each story—of which there are thousands—possesses a moral, and it's these morals that provide guidance on how to have a healthy relationship with the land. By identifying key stories relating to the watershed, they're determining new practices that centre Indigenous knowledge and wisdom.
"It's been a very positive experience," says Terbasket. She says that in working for an Indigenous organization, they're frequently approached to be part of projects, but not always as an equal partnership like this one.
"There's just so many reasons why First Nations need to be included as equal partners, anything to do with water and water decision making. We totally recognize that we need to do this in partnership. We can't do this on our own, another reason why I also love this project is all the partners involved in this project. Everybody's coming to the table, really willing to learn from our perspective and history," says Terbasket.
From the beginning, everyone involved in the project was required to agree that the current system of land use planning wasn't working, and to acknowledge the colonial history that led to it. This created a foundation of common understanding that ensured everyone was on the same page.
"No one organization has the power to change the way we're doing things. So we all need to work together," agrees collaborator Scott Boswell, project manager of the OCCP. The OCCP is composed of different conservation organizations, all levels of government, and academia. Their mission is to facilitate, educate, and set priorities on conservation issues in the Okanagan region.
The Syilx watershed planning initiative is rooted in the values of a shared decision-making process, and an acknowledgement that caring for the environment is a shared responsibility—one that cannot be solved by one level of government or organization alone.
The decision-making model is based on the Syilx Okanagan oral narratives of the Four Food Chiefs: Skemxist (Black Bear), Siya (Saskatoon Berry), Spitlem (Bitter Root), and Ntyxtix (King Salmon). The story tells of four chiefs who come together to form discussions, resolve conflict, and create solutions to problems within the community. At its core, it is about embracing and listening to differing perspectives, even when in opposition to each other.
Read the story of the Four Food Chiefs (p.12-15) in the words of the Syilx Nation.
Through different activities like open-dialogue workshops, experiential learning, policy analysis, and research, all parties working on this methodology are committed to this decision-making model of having all voices heard.
This horizontal approach has proven to be incredibly effective, partially because it requires an acknowledgement of the power structures responsible for the root causes of the issue. While this takes more time, there is a resounding agreement by everyone involved that the time is more than worth it.
"When you start looking at the systemic issues, there's a lot of critical thought that has to go into understanding how, why we're in this predicament now," says Boswell. "You can actually see how it will impact all these other barriers and solutions for greater environmental and cultural protection that people always bring up that we need to deal with, and have been bringing up. First Nations have been talking about who lists ways to care for the land and water since [colonial settlers] arrived."
Terbasket also points out that changing a system doesn't happen overnight. "It takes time learning about Indigenous histories [and] those systems that are still in place that perhaps create those inequalities to our Indigenous Nations, especially around resource management. There's definitely a long road ahead I think, and each of us has a personal accountability to start learning that colonial history and why it still exists today and how it still exists today."
Fortunately, everyone involved in the project has patience for the process and is prepared to continue rolling up their sleeves. "I've seen good projects fail because of lack of momentum, just because of time. But this one doesn't seem to have that same dilemma," says Boswell.
Boswell says there's so much enthusiasm for the project because the process has been deeply meaningful. "Everyone's been involved through developing action plans and strategies, but never through this lens of a Syilx water responsibility planning process. There's really deep meaning and everyone can see a light, that this is a much better way and much more thorough way [that things] should be done."