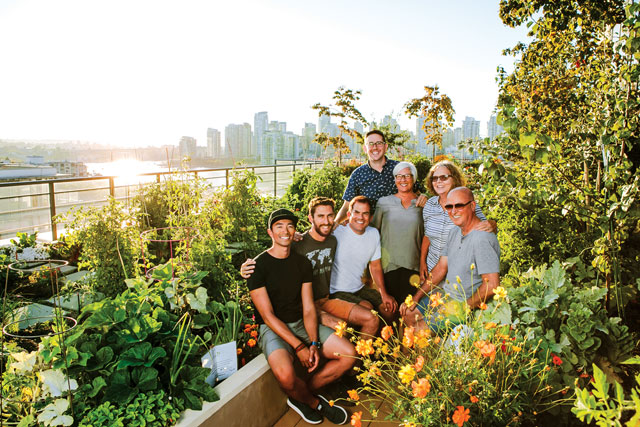 Cultivating Friendships
When residents of an Olympic Village condo decided to turn private plots into a community space, their gardening project turned into something more
Community can start with carrots—along with rosemary, squash, rhubarb and pumpkins. That's been the experience of Carlson Hui, Matt Cooke and other residents at a 155-unit condo complex called James.
Located in Olympic Village, the 14-storey high-rise has managed to transform the pervasive sense of loneliness and community retreat in Vancouver. The solution? A rooftop garden that has been a catalyst for harvest dinners, taco parties, "Wing Wednesdays" and much more. Assisted by a series of $200 to $500 Neighbourhood Small Grants from Vancouver Foundation, the garden experiment in building community has proven to be a resounding success. It sparked media coverage in the Vancouver Sun and elsewhere, and has even started influencing the way local developers think about condo design.
The next thing you knew we were making plans outside of gardening. We were planning social gatherings together, going for drinks, hanging out at the beach.
"This was my first home purchase, and I felt like I really wanted to invest in the community to build my home," says Hui, 33, a brand manager at Lululemon. "So I took that on. I wanted to run gatherings so that people would know each other by first name when they saw each other in the hall and that the conversations in the elevator would go beyond saying hi."
Like Hui, Cooke purchased his unit at James in a presale before moving in in 2012. Both were attracted to the building when they saw the top floor was not a private penthouse but a shared amenity space—one with a massive exterior patio planted with ornamental grasses. After residents moved in, many expressed interest in using the patio to grow food.
Cooke, 28, is a recent graduate of UBC's Food, Nutrition and Health program and a culinary instructor at The Dirty Apron. He suggested the building adopt a shared-use model to maximize the benefits for everyone. "There were around 65 owners who wanted a garden plot," recalls Cooke. "But there was only room for maybe 12 plots, and it would have had to be decided by a lottery. My vision was that we could all do it together, rather than a few people having their own little private space."
The motion passed unanimously. Six volunteers formed a Garden Committee to organize the transformation of the James rooftop patio into a working garden—from pulling out ornamental plants and selling them on Craigslist to buying seeds and rebuilding the soil. "It was pretty much an immediate success, a hit with a lot of people," recalls Cooke. "And it went beyond gardening to really growing the social aspect of the building. People got to know each other. Which was great to see, and we expanded from there."
In the past four years, grant monies from Vancouver Foundation and the City of Vancouver have helped secure an irrigation system and an industrial composter that can turn plant matter into soil in two weeks. The garden has grown to take over more and more of the rooftop space. It now comprises 16 beds and hundreds of square feet. Along with herbs, vegetables and huge amounts of salad greens, the patio produces apples, figs, plums, tayberries and more.
"Pretty much everything you can think of grows here," says Cooke. But the abundance of produce is only the most obvious payoff. Weekend garden gatherings of about 30 residents have been happening every two to three weeks from spring to fall for years now, and the community roots have grown beyond planting and weeding.
"As we'd hoped, people started to get to know each other," says Hui. "The next thing you knew we were making plans outside of gardening. We were planning social gatherings together, going for beers, hanging out at the beach."
It's been really exciting, and we have tons of gratitude for what these Vancouver Foundation grants have done for our community
A Social Committee organizes two annual long-table dinners in spring and fall, events enabled by a small Vancouver Foundation grant that allowed the purchase of some permanent dinnerware.  "The formal social events tend to run in tandem with the gardening seasons," says Hui. "The taco party kicks off garden season in April or May and then we'll usually do a harvest event in the fall." Last year 50 residents harvested and cooked together. Cooke taught people how to make their own fettuccine noodles and pesto (from the patio's abundance of basil), and everyone shared butternut squash and kale salad— along with a massive pot of homemade ratatouille.
"We just want to make sure that people are having fun," says Hui. "Our homes might be just 600 to 800 square feet, but because of this community and the people we have up here in the garden, it feels much much bigger."
The formality of structured events has composted into community soil, where people know each other well enough for get-togethers to spring up spontaneously. "It's been really exciting, and we have tons of gratitude for what these Vancouver Foundation grants have done for our community," says Hui. "We couldn't have done the things we have done without them, for sure." He adds that residents' intent is to become a fully self- sustaining model. This year residents didn't apply for a garden grant because they feel "pretty well-established and knew there were other garden groups that probably need the money."
Word about the tremendous results has reached nearby buildings and beyond. Several groups have visited the James patio to learn from the model. "There's a lot of pride and sense of community here, so much so that it's known in this area," says Cooke. "They tailored their gardens after this model, so they also have collaborative gardens now."
Both Cooke and Hui hope that the garden's success will influence future buildings. "I want to show that something like this can exist and can work, even in our 'city of glass' with high-rises and limited connection to agriculture and greenspace," says Cooke. "My hope is it will influence policy, where a shared amenity with garden space is part of what is expected."
They've already been interviewed by staff at Cressey, the developers who built James. "They're looking to leverage this model and replicate a lot of the wins here, because it's been so successful," says Hui. "It's interesting to think that what we've done in this little garden is in essence shaping the way that Vancouver is building."
ENDING URBAN ISOLATION
Vancouver Foundation's 2012 report, Connections and Engagement, surveyed over 3,800 metro Vancouver residents about their friendships, neighbourhood relationships and views about the larger community of metro Vancouver. The survey was designed to inform Vancouver Foundation's work as a community foundation. Since then, the survey has been often cited by the city and agencies that develop programs and policy.
Here is some of what the Foundation discovered:
• One-third of people said it's difficult to make new friends here. Those aged 25-34 are particularly affected by loneliness, especially if they live in a suite in a house or in a basement apartment.
• People who feel alone are twice as likely to report fair or poor health as people who do not feel alone. Research shows being lonely has as much impact on your health as being morbidly obese or smoking three packs of cigarettes a day.
• People who are socially engaged and visit with friends throughout the week are happier as they age.
• While most of us know the names of at least two of our neighbours, the connections typically stop there. Seventy-seven per cent of people in high-rises have not done a favour for their neighbours in the past 12 months.
• Many of us in metro Vancouver are retreating from community life. Most of us have not participated in neighbourhood and community activities.
• The most-cited reason for not participating in neighbourhood and community life is not lack of time, but a feeling that we have little to offer.
| | |
| --- | --- |
| Story By: | Tyee Bridge |
| Photos By: | Claudette Caracedo |
Read the latest edition of Vancouver Foundation magazine – The Nature of Belonging.