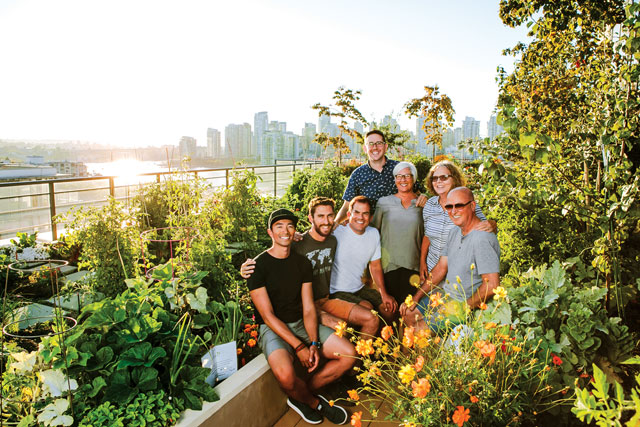 Cultivating Friendships
When residents of an Olympic Village condo decided to turn private plots into a community space, their gardening project turned into something more
Community can start with carrots—along with rosemary, squash, rhubarb and pumpkins. That's been the experience of Carlson Hui, Matt Cooke and other residents at a 155-unit condo complex called James.
Located in Olympic Village, the 14-storey high-rise has managed to transform the pervasive sense of loneliness and community retreat in Vancouver. The solution? A rooftop garden that has been a catalyst for harvest dinners, taco parties, "Wing Wednesdays" and much more. Assisted by a series of $200 to $500 Neighbourhood Small Grants from Vancouver Foundation, the garden experiment in building community has proven to be a resounding success. It sparked media coverage in the Vancouver Sun and elsewhere, and has even started influencing the way local developers think about condo design.
The next thing you knew we were making plans outside of gardening. We were planning social gatherings together, going for drinks, hanging out at the beach.
"This was my first home purchase, and I felt like I really wanted to invest in the community to build my home," says Hui, 33, a brand manager at Lululemon. "So I took that on. I wanted to run gatherings so that people would know each other by first name when they saw each other in the hall and that the conversations in the elevator would go beyond saying hi."
Like Hui, Cooke purchased his unit at James in a presale before moving in in 2012. Both were attracted to the building when they saw the top floor was not a private penthouse but a shared amenity space—one with a massive exterior patio planted with ornamental grasses. After residents moved in, many expressed interest in using the patio to grow food.
Cooke, 28, is a recent graduate of UBC's Food, Nutrition and Health program and a culinary instructor at The Dirty Apron. He suggested the building adopt a shared-use model to maximize the benefits for everyone. "There were around 65 owners who wanted a garden plot," recalls Cooke. "But there was only room for maybe 12 plots, and it would have had to be decided by a lottery. My vision was that we could all do it together, rather than a few people having their own little private space."
The motion passed unanimously. Six volunteers formed a Garden Committee to organize the transformation of the James rooftop patio into a working garden—from pulling out ornamental plants and selling them on Craigslist to buying seeds and rebuilding the soil. "It was pretty much an immediate success, a hit with a lot of people," recalls Cooke. "And it went beyond gardening to really growing the social aspect of the building. People got to know each other. Which was great to see, and we expanded from there."
In the past four years, grant monies from Vancouver Foundation and the City of Vancouver have helped secure an irrigation system and an industria