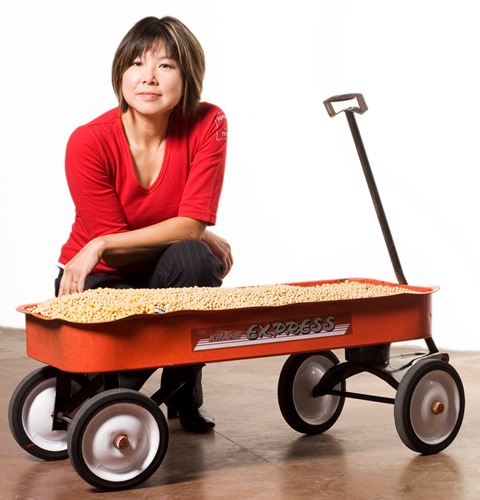 Donor Stories: Rita Cheng at Superior Tofu
Superior Tofu is a Vancouver based business that works hard to combine family and community values into their business practices.
Rita Cheng is the president of Superior Tofu and is heir to two generations of Chinese tofu makers. She grew up in the tofu manufacturing business and, at the age of 25, made the decision to leave her computer programming job and join the family business that turned soybeans into tofu.
Cheng enjoys describing how her grandfather would handcraft blocks of tofu, and then delicately place the tubs of tofu into his little red wagon to bring it to market. Every day he would shuffle around Chinatown, water spilling over the sides of the tubs as he negotiated the sidewalks and curbs, and would deliver his product directly to stores and restaurants. They have come along way from the days of pulling a little red wagon around Chinatown and now have a state-of-the-art manufacturing facility in the heart of Chinatown.
As a long-time community supporter Superior Tofu generously gives back some of the fortune they have received from the community over the years. Cheng works hard to incorporate a company culture of warmth and compassion passed down to her from her family. Cheng credits her father for her business sense. "I inherited my business sense from my father and I got my heart from my mother. My mother was an incredibly generous person. She would give you the shirt off her back."
Cheng loves to share her success with her community. Over the years, Superior Tofu has not only sponsored several community events but has also donated money to many local organizations such as SUCCESS, Richmond Hospital, Red Cross and United Way, to name just a few.
As well, Cheng donates a significant amount of delicious tofu to local schools for their lunch programs.
In 2007, Cheng's company established the Superior Tofu Community Fund with Vancouver Foundation. The fund is like a savings account that grows, and each year a portion of the income generated is used by the company to offer grants to non-profit groups of their choosing.
"I want to give back on a permanent basis. So I did all the research myself and selected Vancouver Foundation," notes Cheng.
Community foundations focus on addressing all kinds of needs in the local community as well as building legacies in those communities, they offer advice to donors on emerging community needs, innovative projects, and opportunities to make a real impact.
"We're all here as part of the bigger community of humankind," explains Cheng. "My goal is to work to improve people's lives — whatever that may be or whatever they may need — whether that is music lessons, a place to live, or whatever."
It is clear that Cheng is well on her way to making that goal a reality.
In 2014, the Superior Tofu Community Fund made a grant to support Sole Food Farms on their new campaign to set up two retail locations to sell produce year-round. Sole Food Farms transforms vacant urban land into street farms that grow artisan quality fruits and vegetables and hires people who normally experience barriers to employment. They sell their produce at farmers' markets and operate a share program where individuals can pay upfront and receive produce for 20 weeks in return.
Cheng is proud to support local food projects like Sole Food Farms that reflect the kind of hard work and community values that her company is so fortunate to have.
For more information about how your business can contribute to building legacies in the community it works in, please contact Calvin Fong in Donor Services at calvin.fong@vancouverfoundation.ca or 604.629.5357.